Okay so your big day is over (I know… bittersweet to say the least) and you're starting to settle into your new life. Have you thought about how you're going to go about changing your last name? It might be a tedious process, but if you schedule one day you can definitely knock it all out in a couple of hours!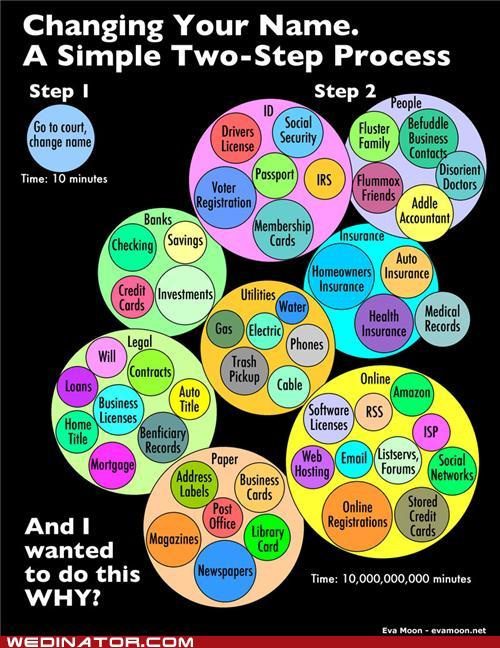 Step 1: New Social Security Card! Take your marriage license (it is important you bring the original) to the Social Security Office. If you fill out the application from online you can save yourself a little bit of time upon arrival too! Your SSN will remain the same, but your new card will have your brand new name on it! EEEK:) Usually takes about 10 days to receive your new card.
Step 2: New Drivers License! Take the receipt from the Social Security Office to the DMV with your old license and that trusty original marriage license and get a new driver license! If you want to wait until your new Social Security Card comes in you can do that too, but you might as well grab a good book and do all the crummy government stuff in the same day…
Step 3: Bank Accounts! Easiest way to do this is to go to a local branch of your bank with the new Social Security Card (or the receipt if you're doing this all in the same day), new drivers license, and original marriage license. Remember you will need to not only change the name on your account but also get a new debit / credit card, new checks, and new ID cards (if your banks still does this).
Step 4: Everything Else! Once you get your new Social Security Card in the mail and have your new license make sure to change the following other things to your new name:
– email
– employment documents (cards, W2 form, payroll)
– bills (electric and utility companies, cable, cell phone, internet, etc.)
– insurances
– passport
– IRD
– landlord or mortgage information
– doctor's forms and paperwork
– other credit card companies
– voter's registration (although some states will do this automatically with your new drivers license)
– attorney (will, loans, contracts, auto titles, business licenses, home title, etc.)
– membership cards (Sam's or Costco)
– social networks (Facebook, Instagram, Twitter, Pinterest, Blog, etc.)
– magazine / newspaper subscriptions
CONGRATULATIONS! Aren't you so glad you decided to change your name Mrs :) Image from wedinator.com (found on Pinterest)


Want to create her dream marriage proposal? We have the perfect way. Contact The Yes Girls to get started on your personalized marriage proposal, wedding plan, vow renewal, anniversary or date night today! We're so excited to work with you!