THE PERFECT ENGAGEMENT GIFT FOR A FABULOUS BRIDE-TO-BE! 

"JUST ENGAGED" GIFT BOX
$49.00

What's inside? 5 hand-selected engagement gifts all wrapped up in one fabulous black box and a congratulatory card signed with your name! Items like:
◊ May Design wedding planner/calendar
◊  QALO ring voucher (so she can select design & size she wants!)
◊ a beautiful dish to keep that diamond ring shiny and safe
◊ minty fresh treats
◊ cleaner for her bling bling
We guarantee your gift box will be chock-full of prettiness! Want to really spoil her with goodies? More add-on items (such as the perfect blush pink polish, tassle bottle opener and Mr and Mrs luggage tags) are available at check-out! We like to keep it fresh, thoughtful, and seasonal so gift items may vary.


"So excited for my Just Engaged box. Every bride needs this!" – Crystal
"Totally made my day! It's SO precious and so so thoughtful!"- Audrey
"I can't get enough of it. Want to order one for every friend!" -Elanor

GO AHEAD AND PAT YOURSELF ON THE BACK BECAUSE YOU ARE ABOUT TO MAKE HER DAY! 
Your best friend, sister, daughter-to-be, or favorite co-worker just said "yes!" Celebrate her joyful moment with this engagement gift box by The Yes Girls. The "Just Engaged" Gift Box is inspired by the bride-to-be and your genuine excitement!
In order to create the perfect gift box we asked engaged gals about their most valued engagement gifts. We scoured our favorite brands and shops for the very best engagement gift ideas and put them into a box!

How It Works:
1.  The "Just Engaged" Gift Box is beautifully packaged and card is hand signed with your name.
2. We ship the beautiful packaged gift box directly to your friend's doorstep (not inside an ugly shipping box).
 3. The surprise arrives! She opens memorable gifts and it's all thanks to you!
*Gift Box retail value = over $100. Currently only shipping within US.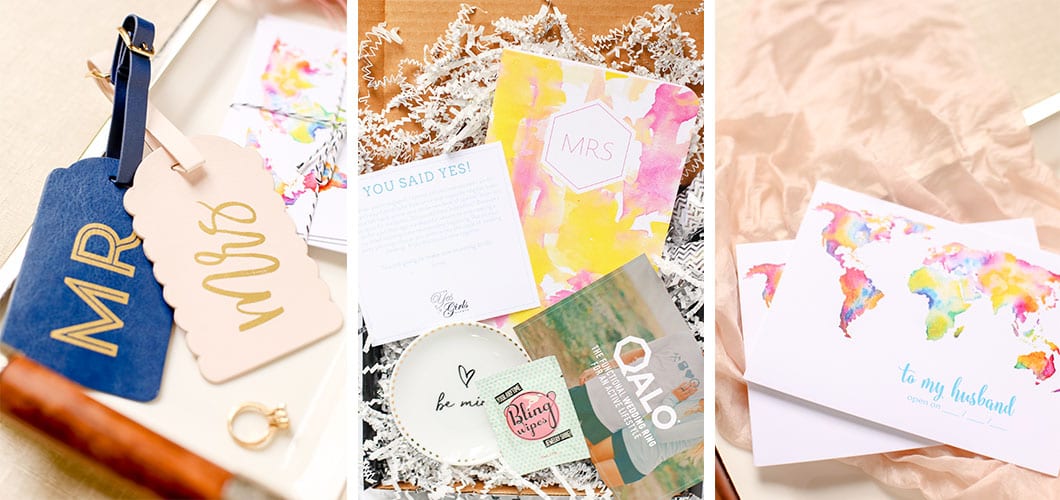 Questions? Contact us here.