The Yes Girls Signature Engagement Package
The World's Original Marriage Proposal Planners and Los Angeles acclaimed Jeweler have come together to create the world's finest engagement experience. Are you searching for a one-of-a-kind engagement ring?  Are you looking to plan a world class marriage proposal?  With The Yes Girls™ and Vanessa Leu Fine Jewelry, not only will you totally surprise your future fiancée but your engagement will go beyond her wildest dreams! To top it off, you'll enjoy a stress-free and luxurious experience yourself unlike any other.



Signature Ring + Proposal Package
Starting at $20,000
What Are The Benefits? 
♦ One-of-a-kind engagement ring designed by a renowned Los Angeles fine jeweler
♦ An unique and stress-free ring viewing experience; avoid an overwhelming day of shopping at jewelry stores and instead enjoy a drink and afternoon with your future best man and/or family
♦ Personalized marriage proposal ideas created by our team of female proposal experts
♦ Proposal planning (booking vendors and set up) by the world's original proposal planners
♦ An engagement coordinator and jeweler are available to answer questions and manage details from start to finish
♦ An unforgettable "She Said Yes" memory you'll cherish forever
You fill out our engagement ring/relationship questionnaire. The link to questionnaire available immediately upon purchase.
From your answers, The Yes Girls will create (2) or more personalized marriage proposal ideas (ideas are invented per client and NOT from a stock list of ideas).
From your answers and any desired phone or in person consultations, Vanessa Leu Fine Jewelers will create 3 custom sketches or renderings based on the specifications you provide (read details in Step 2).
During our consultation and from your questionnaire answers, we will go over who your fiancée is (her style, her likes and dislikes, lifestyle and any other considerations that may be important in her ring design), and any practical considerations (your budget, the timing and more).

We privately send you 3 custom sketches or renderings created from scratch and you choose the ring sketch you want designed in 3-D for your exclusive ring viewing.
Our jeweler will source and screen through diamonds and/or gemstones that fit the specifications you provide (all diamonds and gemstones are conflict-free).
We make it easy for you by walking you through the step-by-step process, making it pain-free, and even fun for you! Most importantly, you won't be "shopping" from a ready-made ring that could have been created for any other person.
Create an stress-free, memorable, and fun atmosphere without "sales pitch from multiple jewelers"
Coordinate private transportation to selected venue for exclusive diamonds and ring design viewing (within LA and OC counties).
Book private room with your favorite drinks and meal catered ($500 food and beverage included in package).
Enjoy the reveal of your 3-D custom ring design on screen to give final approval.
Expert jeweler will present your diamond and/or gemstone selection specifically chosen for your custom ring design. Our GIA-trained staff will sort and eliminate any "inferior" gemstones or diamonds, and show you diamonds or gemstones that meet our stringent beauty and quality standards. Security detail will be provided to ensure safety.
Set up recreational games such as Nintendo, Playstation, corn hole, ping pong, etc to host your future best man, her parents, your parents, or a couple siblings for an enjoyable afternoon.
Following your ring viewing experience, Jeweler will complete approved custom engagement ring within 4 weeks. (Master jeweler will handcraft your design from scratch and your finished ring will be available for pick up at our private LA show room)
Note: we can schedule videographer to capture the ring selection to add to your memorable proposal video (additional fees will apply).
From custom proposal ideas presented, client selects preferred idea.
We put together final quote based on your desired idea.
We will research and book all necessary vendors:

Venue, photographer, videography, up to $500 personalized decor are included in your package
Note: We are happy to book additional vendors and materials such as private transportation, flowers, catering, rentals, etc for an additional cost

We design and handle personalized items to create your customized proposal.
Includes up to 30 hours of proposal planning
Proposal planner personally available to discuss proposal details and questions.
Verify and confirm all final arrangements and costs
Provide client with organized and user-friendly timeline
Handle payments and arrivals with vendors involved
Plan all proposal details so it's memorable and stress-free
Orchestrate marriage proposal agenda effectively on the big day
Couple enjoy that unforgettable "She Said Yes" moment!
1) $5000 deposit: You will receive our questionnaire to begin your customized engagement ring and proposal experience.
2) After you fill out the questionnaire & The Yes Girls will email you personalized ideas & visual aids within (4) business days and Vanessa Leu will schedule consultation to discussed and review 3 custom engagement ring sketches.
3) Once you decide on your proposal idea and ring, we will put together your final custom quote. Deposit goes towards your proposal package.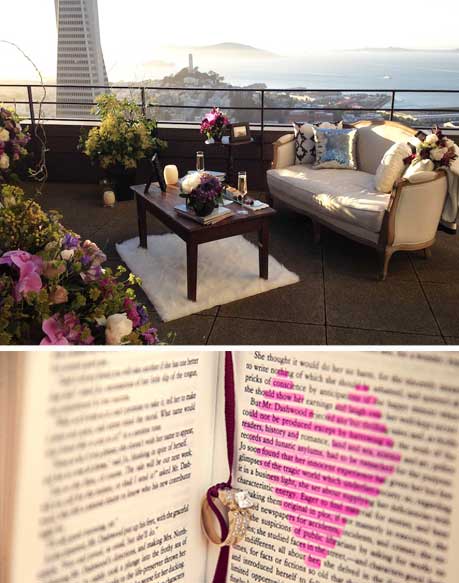 "Everything really did come out PERFECTLY!!!! I'm sure you can imagine all the response we are getting from it all, which is great because I am sure nothing makes my fiancée feel more special then all the small details and attention she is getting from your hard work! You guys did more than I could have ever expected!" Jason, Orange County, CA
"Everything was wonderful and my fiancée said our engagement day was a fairy tale. That's how wonderful you all did!" Jon, Los Angeles, CA
"I can't thank you and your team enough for the amazing job you did. I didn't think my idea was possible, but you made it happen. You guys totally exceeded my expectations. Everything was way better than I could have imagined! Every little detail was spot on. It was simply PERFECT!!!" Ryan, Orange County, CA
"She still can't believe that I was able to pull it off without her suspecting anything." Cedric, San Diego, CA

The Yes Girls™ donates 10% of all profits to 3 Strands Non-Profit
 Organization to help provide rescue for human trafficking