Thoughtful and Romantic Valentine's Day Proposal Ideas
Trying to plan your perfect marriage proposal on or around Valentine's Day? Not sure where to begin or how to bring all your ideas together? You've come to the right place. Ditch cliche and go with personal details about the two of you. If you're worried about timing we help with personalized proposal ideas and proposal planning catered to your relationship. Get started on your thoughtful and romantic proposal below!
That surprised "oh my gosh I can't believe he did this" reaction on her beautiful face will be well worth it! 

Package #1: Custom Proposal Ideas
$299 
$250 Valentine's Day Sale
With Package #1, you'll receive personalized proposal ideas invented just for you, NOT from a stock list of ideas for your proposal.
Chances are you've planned a better date than "over a romantic dinner," so let's ditch cliché and get personal. Whether you have the basics your idea or have no clue, this is the perfect place to start. Not only will you surprise her but you'll give her an engagement story she is in love with for Valentine's Day.  
You fill out our relationship questionnaire (breathe easy… questions aren't intrusive). Link to questionnaire available immediately upon purchase.
From your answers, The Yes Girls create two or more personalized marriage proposal ideas.
We email you custom proposal ideas & visual aids within (4) business days of questionnaire submission.
Bonus Gift: Our "Top 15 Favorite Marriage Proposal Ideas of the Month".
"These ideas look amazing! Thank you very much for your very detailed work, it is way more than I was expecting. I just read them and have not decided yet which way to take as both are really romantic and cover our personal history." Jaime
"Oh my god I love them… that just came out of my mouth as I was reading. And thank you for getting them to me so quickly… that was absolutely worth $299. They are both totally fabulous and I'm going to think hard and start looking into making one happen. Thank you so much, and I'll be in touch again as I move forward!" Brian
"Thank you so much for the proposal ideas!  I really appreciate your thoughts and the time you spent generating these suggestions.  I have no doubt that she would love either idea." Kevin
"Great ideas!  Ok now I'm getting excited thinking about how happy this will make her. Proposal Idea Number 2 is perfect for us." Albert
"Thank you so much for the ideas! I love them.  I am going to take them both into consideration and execute them on my own. Thank you again." Stephen
"Thanks for the customized proposal ideas! They're extremely romantic and sweet!" Edward
"Oh my! You girls are so awesome!!! LOVE proposal idea number one! It's perfect!" Autumn
"Yay!!! Thank you! I am going with Proposal Option Number 3! :) I love it! Thank you! Thank you!" Tyler
"I've received the proposal ideas and I think they are both great! I really like option 1 a little bit more and I think that would be the one I go with." Arun
"Received the ideas. Thanks these are both awesome! I will put some serious thought into it and let you know how I would like to move forward." Greg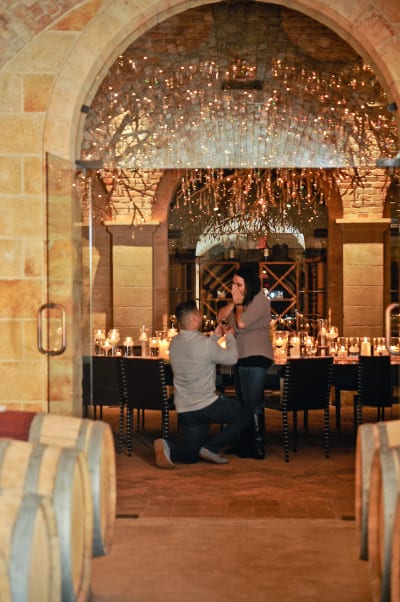 No need to do the typical 'dinner and rose petal' proposal. Cheers to your personalize Valentine's Day Proposal and being a romantic stud!