Planning to buy a diamond engagement ring? Here are 5 trending engagement ring styles from Fascinating Diamonds that will dominate in 2020. Take clues from their current style sheet to decide how you pick a piece she'll want to wear every day for the rest of her life. 2020 is a year that feels like "love is in the air" as we have seen 7 celeb couples getting engaged in the month of January and February alone.
New Year brings in new trends. Putting on an engagement ring signifies the first step to a lifetime commitment. Diamond engagement rings and colored engagement rings are pretty much in trend. Although oval, halo, princess cut engagement rings are widely admired by couples.
According to recent trends, ovals have a long journey to go. Right from rings and earrings to necklaces and bracelets, ovals have worked its way through. Brides are moving away from the traditional round diamonds to larger-looking fancy ovals and hence prefer oval engagement rings.
The above shown 1.13 carat oval shaped diamond engagement ring in 14K Rose Gold is brilliant artistry of small glistening diamonds studded on the shanks and forming an under halo below the spectacular center stone. This sparkle is enough to make your love shine for an eternity with an elegant statement of style.
Halo Engagement Rings & Under halo Engagement Rings
Halo engagement rings have been in trend for a couple of years now. As the new era brides prefer rings that come with a glittery band of diamonds around the center stone, rather than just the old era traditional solitaire rings. We see halo & under halo rings gaining popularity in 2020 as it gives your look a complete equilibrium of chic and modern.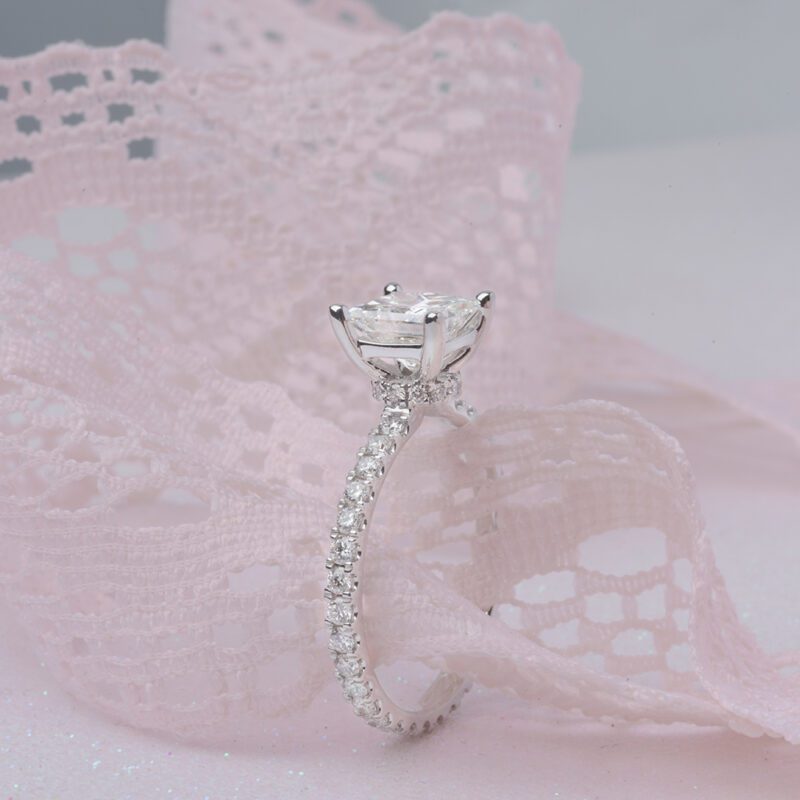 Timeless, sophisticated, and luxurious – just a few ways we would define this lavish 18k white gold princess cut diamond engagement ring which is also known for its sparkly under halo! She is sure to feel like royalty when you surprise her with this beautiful eternity diamond ring. The elegant shank parades its own sparkle as it flaunts shimmering round diamonds that beautifully compliments your personality
Art Deco & Vintage Engagement Rings 
Art deco and vintage engagement rings are known for adding an artistic style with a royal touch, as well as a high profile look. These types of rings come with an intricate design. Usually, the shanks of the rings are engraved with celtic, filigree, milgrain and more such designs to give a magnificent look to the ring.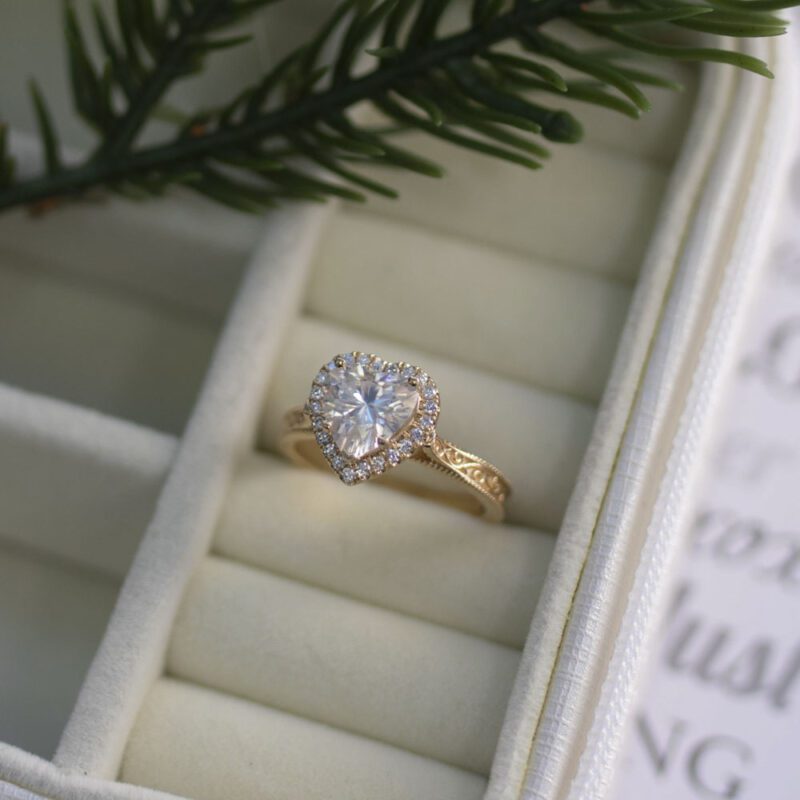 This magnificent heart shaped halo engagement ring in 14k yellow gold marks its place in today's trends with shimmering heart shaped diamonds beautifully studded in a prong setting with a hand-engraved fanciful filigree pattern along with a milgrain border, adding distinctive appeal.
"Women today want to stand out!" Today's brides are more concerned with being unique. Many women today prefer colorful gemstones over white diamonds so there is a slight move in trends from diamonds to emerald, ruby and sapphire engagement rings.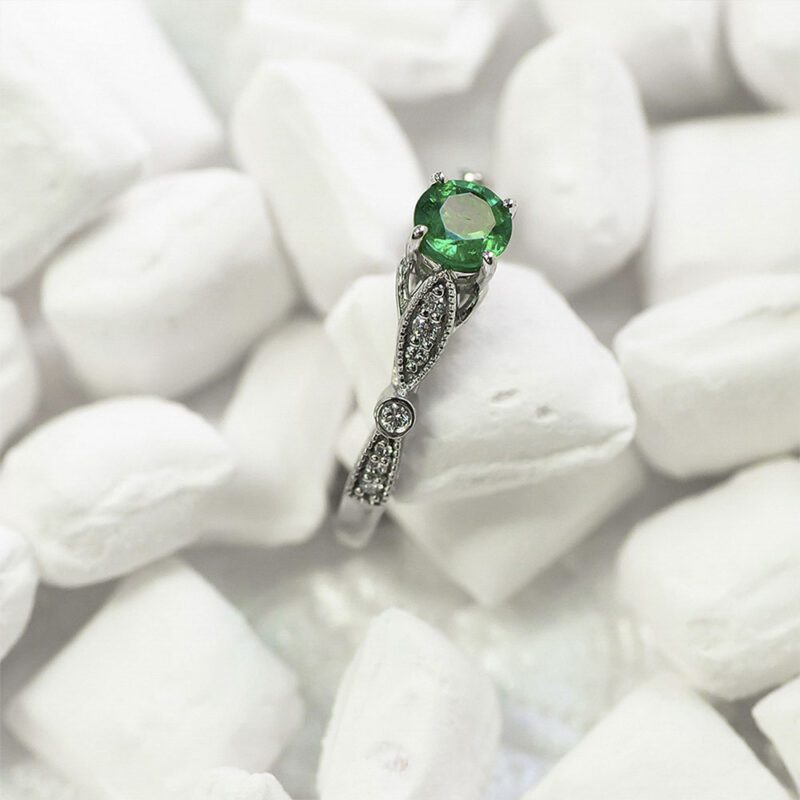 As emerald being one of the most auspicious gemstones for an engagement ring, it symbolizes a happy and successful marriage. This 0.63 carat vintage cathedral colored ring features marquise & dot shape design with a milgrain border holding a beautiful round shaped emerald at the hub in a cathedral style for adds flair and elegance to your appeal.
This ring style landmarked its popularity when Prince Harry proposed Meghan Markle with a custom made three stone diamond rings. The three stone implies the significance of past, present and future. Alternatively, the ring can also symbolize friendship, love and fidelity.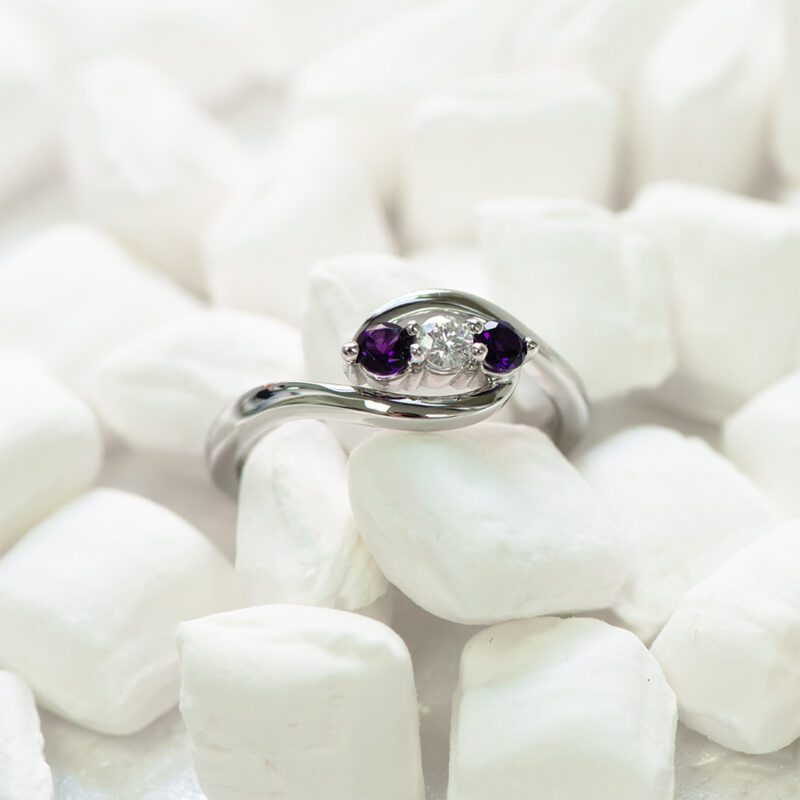 This 0.30 carat three stone engagement ring comes with a classic bypass design that never goes out of style! The elegant prongs secure the gems and allow light to hit them from all angles, maximizing their brilliance.
We hope we could help you choose a perfect engagement ring style for your beloved and add a unique grace to the most special day of your life. Do not forget to browse through our wide range of trending engagement ring styles at Fascinating Diamonds.