As many of you know, being engaged is a wonderful / crazy / exciting / hectic time in an adults life. Aaron and I have found so many nights sitting on the couch discussing different options and pieces of the wedding… the poor guy probably is bored to death, but in the moment every single decision seems like it's the biggest one yet. After a couple of months of this type of "date night" Aaron communicated that he missed our old life-style a little. We used to make a point once a month to try a new restaurant around the city, and once we got engaged everything changed to being about the wedding.
So we made a pact, engaged or not we are taking time out to date. Dates are what made our relationship as strong as it is today, and without them our love tends to get lost in the shuffle of life. So that's my message to all of you today, TAKE TIME OUT TO DATE ONE ANOTHER. Engaged, married, empty-nesters, whatever your life stage… keep going on dates!
Every Christmas since we have been together Aaron and I have gone to the same restaurant to celebrate and have a Christmas Date. We take a picture in the same spot of the restaurant and I made a little collage for y'all (clearly cell phone cameras have improved a lot over the last 3 years)! Dating one another is essential to starting our marriage off on the right foot :)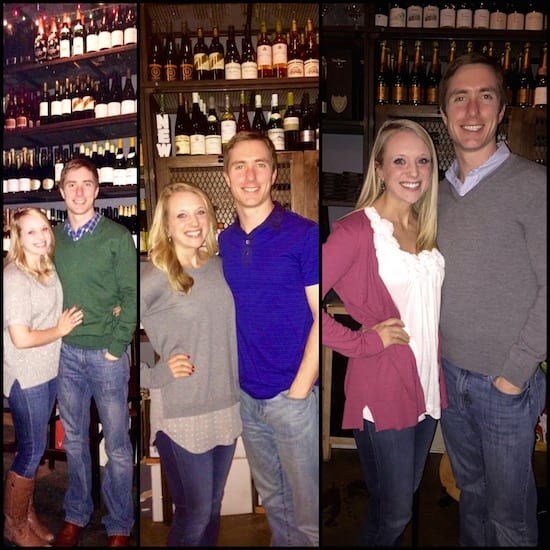 Want to create her dream marriage proposal? We have the perfect way. Contact The Yes Girls to get started on your personalized marriage proposal, wedding plan, vow renewal, anniversary or date night today! We're so excited to work with you!