Love hosting fun nights in with your friends? Or even just looking for a great at home date night idea? What about a blind beer tasting game?! It's fun, it's different (not that a good ole fashion pizza and movie night isn't awesome…) and it's not crazy expensive!
Draft Magazine asked Michael Ferrari, a cicerone and manager of The Common Table in Dallas, for his best blind tasting flight. "There is so much variation among beers that look exactly the same, and having beers that are visually indistinguishable leaves all of the guesswork to the two most important senses in beer sampling: smell and taste," he says. "The best mix is one that uses a few style archetypes with a couple of oddballs to keep things interesting.
How to Create an At Home Blind Beer Tasting Game:
Create the menu.
Put all the beer bottles into brown paper bags (ya know, the real classy ones from the liquor stores!) and then wrap a rubber band around the neck so there can't be cheaters!
Pour all your guests a sample of each beer. To keep all the beers organized, we recommend getting a butcher's paper table cloth. Then you can have each guest draw 5 circles around their beer mugs and write 1 through 5 under each circle. Pour everyone a sample of Beer #1 first, then Beer #2, and on and on.
Under each of their samples, guests can write on the butcher paper table cover and take notes about each flavor.
After the reveals, the guest that got the most guesses correct gets to take home the left over beer!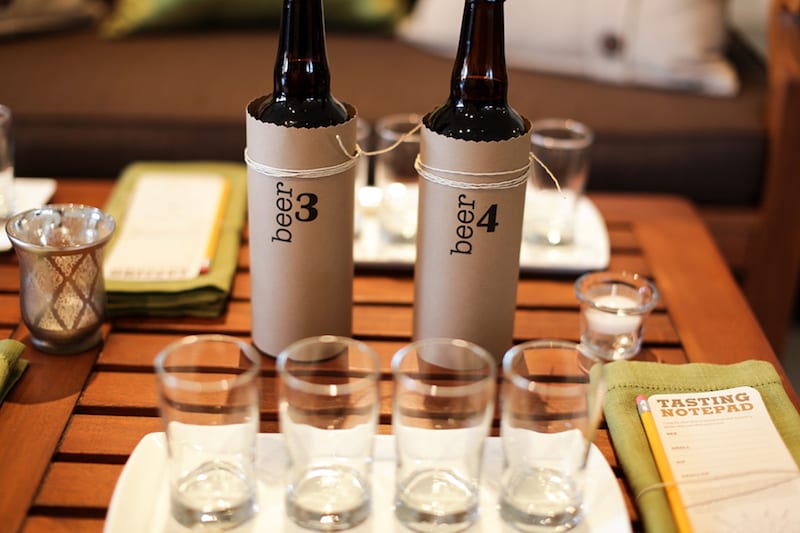 Want to create her dream marriage proposal? We have the perfect way. Contact The Yes Girls to get started on your personalized marriage proposal, wedding plan, vow renewal, anniversary or date night today! We're so excited to work with you!