Hibernation Season is Almost Upon Us
But don't succumb yet! Before you break out your "comfy" pants and settle in for a winter on the sofa you have to get yourself well-prepared. Now, normally that would mean a quick trip to CostCo/Wal-Mart/Target (or, if you're in NYC like us, maybe Trader Joes or Fairway), but in this case there's more to it than stocking up on cases of cocoa powder and s'mores supplies. Before you make your run, how about throwing a new skill in the mix?
We're huge fans of a cooking class as a great excuse for a date night. Not only do you get to learn something new, but you get to do it in a warm kitchen that smells amazing. AND, this is the date that keeps on giving. Once you've learned your new skill, you can turn any night at home into a date night by cracking open a bottle of wine and practicing what you've learned.
Our go-to during the winter months is homemade pasta. It's shockingly easy, doesn't require a ton of specialized kitchen supplies (although a good pasta roller does help), and it will easily eat up 3 hours on a Sunday afternoon/evening.
Here's the ingredients:
1 bottle of wine (white or red, your choice)
1-2 cups of flour
2-4 eggs
2 Tablespoons of Olive Oil
2 Teaspoons of salt
And here's the basics:
Open a bottle of wine. Drink 1 glass together while you're gathering your ingredients. This is important.
Mix 1 Cup of flour, 1 egg, 1 Tablespoon of olive oil, and 1 teaspoon of salt. (Double the mixture if you want leftovers, which freeze well.)
There are 2 ways to make your dough mixture. The easiest way is in a food processor: add the ingredients in order and pulse until well-mixed. The other method is by hand, which you can learn how to do in 90 seconds here.
Once you've started your mixture, knead it well for 5-10 minutes until the dough stops "sucking up" more flour and is a firm, springy ball.
Refrigerate for 30 minutes. Drink second glass of wine.
Roll the dough flat and then cut into your preferred shape. This is where a pasta roller comes in VERY handy, but the rolling process can be done with a rolling pin if you have the energy.
This recipe makes excellent ravioli which can be filled with whatever you'd like (just remember, your filling should be cooked before it goes into your pasta). We enjoy it topped with a sage & brown butter sauce with toasted walnuts, which is also incredibly simple to make:
Heat your favorite pan over medium-high heat for a couple of minutes.
Take ~2 Tablespoons of butter from the fridge and drop the cold butter directly into the hot pan. Stir slowly until the butter begins to brown.
Add your herbs/spices and walnuts, or whatever else you'd like to the sauce. You may need to drop the heat a little as you cook the sage and other ingredients.
Top directly onto your cooked pasta and enjoy immediately.
Don't forget to finish off the wine!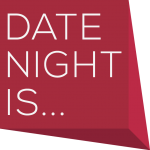 Learn more about the all-new Date Night Is…, coming soon.


Want to create her dream marriage proposal? We have the perfect way. Contact The Yes Girls to get started on your personalized marriage proposal, wedding plan, vow renewal, anniversary or date night today! We're so excited to work with you!