It's seems like this past month, quite a few young ladies have new, sparkly rings on their left hand! Engagement season has just begun (the Holidays are always a biggie) which means more engagement parties and wedding festivities are right around the corner. Engagement parties nowadays are most popular immediately following the proposal in which the fiance plans but typically receives help hosting from his and/or the brides close family.
For us married folk, your engagement may be long gone, but that is why it's important to recognize anniversaries. If you're thinking of throwing your parents or good friends an anniversary party this year…do it! Their commitment is worth celebrating! Here are a few guest-friendly and memorable themes for an upcoming engagement or anniversary party.
Milestone Memories

Adorn the room with milestone memorabilia from your relationship and life spent together. For example if it's a seated dinner design themed centerpieces such as where you met, first date, first child (and any that followed), favorite vacation together, etc.
Black and White Romantic Affair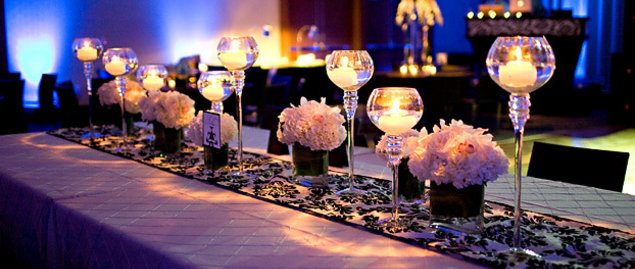 Invite guests to enjoy a romantic, chic e-party by attending in their little black dress or suit. Guests will look sharp while contributing to the rooms color ambiance.
Champagne and Cupcakes
This is the perfect option for a "sweet" gathering with a cost-friendly budget. You can select a variety of cupcakes that appeal to the couple's future wedding colors or if it's an anniversary, incorporate the their wedding's color palette.
Photos: Photo Frames & Table from Green Wedding Shoes, Black and White table setting from Project Wedding, Pink Cupcakes from Green Wedding Shoes, Champagne Toppers from Etsy.
Love,



Want to create her dream marriage proposal? We have the perfect way. Contact The Yes Girls to get started on your personalized marriage proposal, wedding plan, vow renewal, anniversary or date night today! We're so excited to work with you!