As we have announced many times, my bff, Hannah, is getting married this summer! Hannah asked me to be her Maid of Honor in January and I thus began planning her wedding shower. I have to be really honest and admit, I hate showers. I think the parties are awkward, the small talk is miserable, and no-one enjoys watching one person open presents that they specifically asked for on some registry at Target! So when other people volunteered to throw Hannah a wedding shower I graciously accepted the offer and told Hannah that I was going to throw her an OUT OF THIS WORLD LINGERIE SHOWER!!! I obviously can't spill the beans and tell you everything I have planned for the special night (stay tuned for a post around March 26th), but I can share the fun invites I just sent out to everyone:)
I started by creating them on photoshop, but after hours of labor I quickly decided this was a little out of my reach. So I hopped on over to etsy.com and found a seller that was willing to help me make customized invites. I sent her what I had in my head and then she created these beautiful cards! The poem is a mixture of sayings that I found online and pulled together and wrote. The gray boxes are just to cover up the address and my phone number for privacy purposes.
Anyway, hope you enjoy and Happy Tuesday :)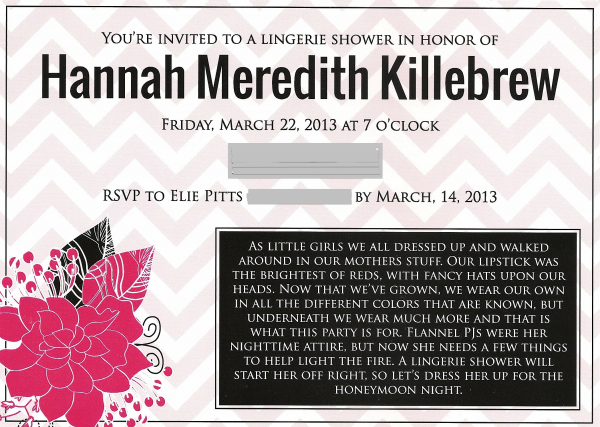 Want to create her dream marriage proposal? We have the perfect way. Contact The Yes Girls to get started on your personalized marriage proposal, wedding plan, vow renewal, anniversary or date night today! We're so excited to work with you!