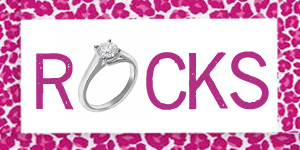 Hello everyone!! Monday "Rocks"! is back after a few weeks off! Congratulations to our Bringing Back Romance winners and also, to our very own Yes Girl, Kendall and her new husband Tommy! The wedding was absolutely amazing, everything went wonderfully! It was great to see everyone and to dance the night away! Here are my picks for this week…

This modern princess cut engagement ring is so beautiful. It is on the larger side but that's why I love it! It's covered in diamonds and I can just imagine it's sparkle, the diamonds continue onto the triple row shank. The height of this ring adds a dramatic effect and would be sure to catch attention! You can find this gorgeous ring at Shiree Odiz.

This Harry Winston piece is a little more modest compared to my other picks, but nonetheless, breath-taking. A thin, diamond coated band holds a cushion-cut, colorless diamond center stone and pave diamonds all set in platinum. You can pair this with two matching wedding bands to add more "whoa" or keep it beautifully simple.

Hard to tell because there is so much detail, but this is a 3 stone diamond engagement ring from Since 1910. There is no other greater word to describe this ring but "rich." This ring is overwhelming but in a very good way. This is a princess-cut (fitting, since it looks like royalty), surrounded by two smaller princess diamonds. In addition there are pave-set round brilliant cut diamonds which surround all three stones and are also set underneath the basket. It's easy to get lost in all it's glamour!

This round cut diamond is from one of my favorite designers, Danhov. Again a little more simple compared to the rest, but still very enchanting. It has a diamond-masked, side split shank carrying the center stone and pave diamonds, much similar to the Harry Winston piece above. Don't let the simplicity of this ring fool you, once this is on your finger, it will take over!
I hope you have enjoyed this week's engagement ring picks!
I'll see everyone next Monday, have a great week!
Love,



Want to create her dream marriage proposal? We have the perfect way. Contact The Yes Girls to get started on your personalized marriage proposal, wedding plan, vow renewal, anniversary or date night today! We're so excited to work with you!