Any chance you caught this almost-failed proposal a couple of weeks ago? Being a huge sports fan personally, I love finding videos that combine my passion for sports and love of weddings. However, the moral of this story is that proposing on a scoreboard is a big NO-NO! Having his proposal on the Wrigley Field scoreboard probably cost this fiance-to-be about $150. Now, I love baseball way more than the average girl and I still think that money could have been spent on a much more meaningful and personal proposal. PLUS, his girlfriend was grabbing some beers while he was trying to propose to her! How terrible would that be to miss your own proposal!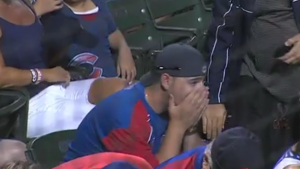 Here are some fun ways to incorporate sports into any marriage proposal:
1) You can go to a game and have a private area or special box that is all set up for the magic moment. Make sure you include a couple of her favorite things (peanuts and Cracker Jacks anyone?)!
2) You could buy a baseball and hollow it out to make a box so that when you get down on one knee you can open the ball to give her the ring!
3) If you are really set on the idea of a scoreboard you can make a scoreboard and have it hanging at whatever venue you choose. This way you can have the proposal you may have been thinking of, but she definitely won't miss it when she goes to buy some beer!
What do you guys think, any stories of a great sports-related proposal?
Here is an example of a past sports marriage proposal by TYG.


Want to create her dream marriage proposal? We have the perfect way. Contact The Yes Girls to get started on your personalized marriage proposal, wedding plan, vow renewal, anniversary or date night today! We're so excited to work with you!