Last month we had the pleasure of helping Daniel create the perfect marriage proposal for his lovely (at the time) girlfriend, Megan. Daniel and Megan met in college and while he fell in love almost immediately, it took her a little more time to realize what a catch she had found. They dated throughout college and after graduation Megan went into law school. When Daniel first called us and inquired about our services I right away knew this guy was our ideal client. His passion for creating the perfect moment for his love was so clear. Now normally when a client fills out our "Package #1 questionnaire" it ends up being about 3 pages long of answers and cute stories, etc. but not Daniel's! His questionnaire was 7 pages long and made me tear up reading it! This guy LOVES his fiancé. Being that both of these lovebirds have a strong love language of "words of affirmation" we knew we wanted to somehow show Megan all of the wonderful things Daniel wrote about her in the questionnaire. So that's where the idea of a customized book came into play. The title "A Case for Love" came from the inspiration of Megan currently being in law school. We filled nearly 200 pages with stories, memories, photos, and quotes from Daniel's questionnaire and created a beautiful bound leather book (just like in the fairytales that Daniel wanted Megan to be reminded of)! Congratulations you two, we are so thankful to have been a part of your beautiful proposal!
Vendor Love:
Marriage Proposal Planning: The Yes Girls Events
Photographer: Jashim Jalal Photography
Here is a sneak peek of what a page in the book looked like: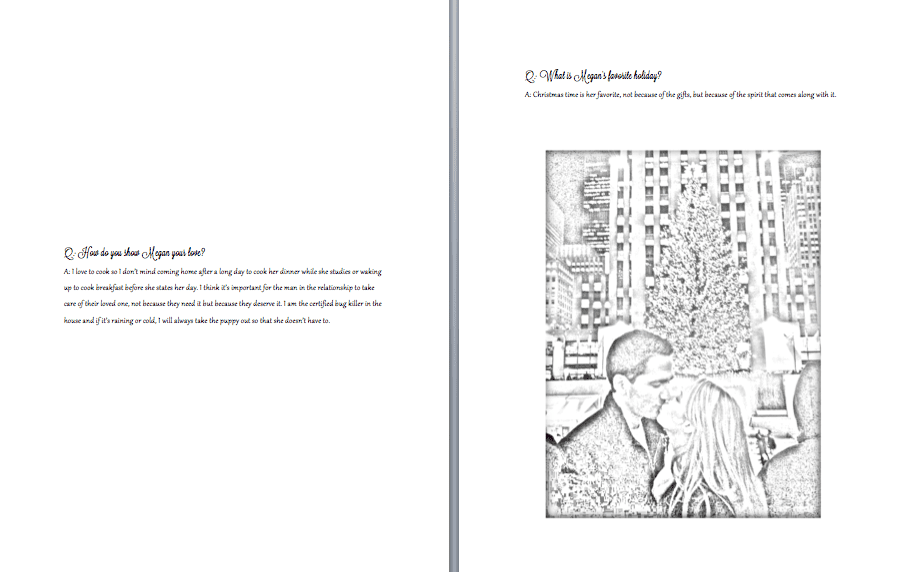 Want to create her dream marriage proposal? We have the perfect way. Contact The Yes Girls to get started on your personalized marriage proposal, wedding plan, vow renewal, anniversary or date night today! We're so excited to work with you!