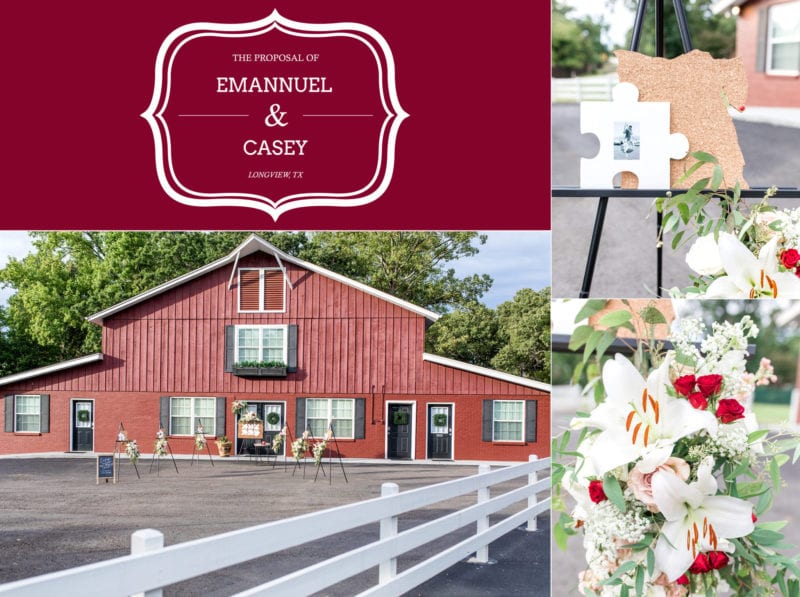 Emannuel and Casey traveled all the way from California to Longview for a very short family visit (or so Casey thought!)  After a family party, Casey went to get her nails done with her sisters, leaving Emannuel and our A-team to transform their AirBnB into a picture-perfect proposal.  Seven easels featured cork boards in the shape of the cities and states that they visited, along with a puzzle piece picture frame.  Each easel was decorated with white lilies (Casey's favorite) and pops of red (her favorite color) to add personal touches.  At the end of the aisle, a puzzle board was waiting for the two of them to put together the puzzle pieces.  The last piece was blank, and represented their new memory in Texas.  After they put together the puzzle, Emmanuel got down on one knee and popped the question.  They completed the puzzle by taking a Polaroid and placing it on the last puzzle piece. To make a happy moment even better, Casey's friends and family came out of hiding with heart-shaped sparklers to celebrate as they "cheers"ed to life as an engaged couple!
Proposal planning and design: The Yes Girls
Photographer: Hollie Kinler
Venue: Red Barn, Longview, Texas


Want to create her dream marriage proposal? We have the perfect way. Contact The Yes Girls to get started on your personalized marriage proposal, wedding plan, vow renewal, anniversary or date night today! We're so excited to work with you!