I'm just going to put it out there plain and simple…my dream job would be to spruce up The Bachelorette or The Bachelor's marriage proposal! The Bachelor's marriage proposals are always in stunning locations but have the same exact set up; it KILLS me that it's not customized to the couple. The Yes Girls are here to rescue future Bachelor couples and America from "just another" Bachelor marriage proposal! What I wouldn't give just to add a few personal touches to that moment, and it's totally doable! ABC and The Bachelor producers this is my PLEA. Please let The Yes Girls come help the next season's bachelor pop the question in a way the show has never seen!
3 Easy Ways To Have Personalized Emily and Jef's Proposal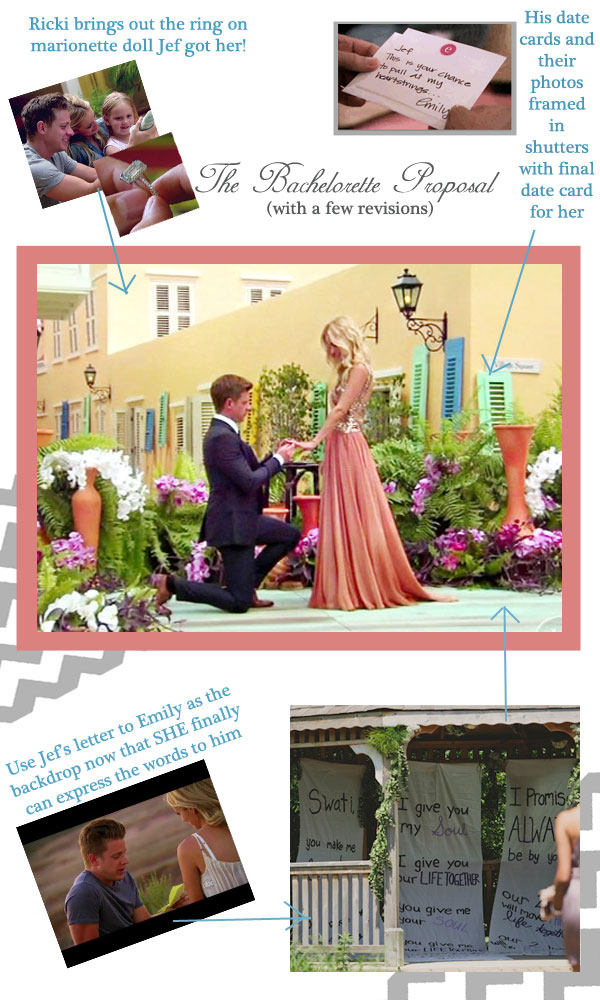 We have it all figured out. By the time The Bachelor says goodbye to the first girl, we can come in, change the setting, so it's now a "happier" moment for him; we throw in personalized elements for the girl who stole his heart and capitalize on the couple's Bachelor experience, then voila not only is America in love with finding out who the proposal is going to but how he proposed! Please, please, please! I'm not even going to be attempt to be subtle because that is how much I know we can do wonders for the final episode, and the moment America, and more importantly the newly engaged couple, will never forget! It only makes sense…end it with a real bang!
Give us a call anytime @fleissmeister, Warner Horizon Television, ABC, Next Entertainment! We are dying to discuss this further with you. Thank you kindly. Yours truly, The Yes Girls.
#TheYesGirlsHelpBachelor #BachelorProposal. Tweet away!


Want to create her dream marriage proposal? We have the perfect way. Contact The Yes Girls to get started on your personalized marriage proposal, wedding plan, vow renewal, anniversary or date night today! We're so excited to work with you!