Are you a Yes Girls Fan in the Dallas / Ft Worth area? Well then you are in luck! TONIGHT The Yes Girls will be featured on the WFAA (Dallas' ABC News Station) 5pm news! Being our Dallas Yes Girl, I was interviewed last week by David Schechter about the Valentine's Day Proposal in Highland Park! Below is a picture of our client, Joey, being interviewed across the lake from his actual proposal space. You can barely see the statue I posted on our instagram during the proposal, but it is at the very top right corner of the picture!
Unfortunately, if you are not in the DFW area you will not be able to view the segment live. But don't fret! As soon as WFAA posts the video on their website we will share with all of you on our Facebook, Twitter, Instagram, and of course here on the Blog! That will probably not be shared until later this week…
Confession: I'm pretty nervous to see myself on tv… but being interviewed was really fun so I hope that shows through! See y'all tonight!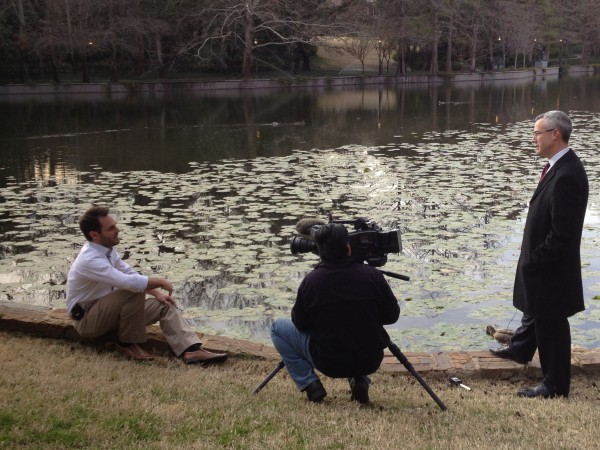 Want to create her dream marriage proposal? We have the perfect way. Contact The Yes Girls to get started on your personalized marriage proposal, wedding plan, vow renewal, anniversary or date night today! We're so excited to work with you!