In the midst of a day where every detail is so planned out, it's nice to have a few surprises thrown into the mix. Some of my favorite stories from grooms have been about their excitement in receiving a gift from the bride right before they are set to walk down the aisle. These gifts don't have to be expensive nor complicated and can really show your fiancé how much thought you've put into spending the rest of your life with him.
"Open when…" letters. Spend some time in the weeks leading up to your big day to write a series of letters for your spouse-to-be, to be opened at particular times in your relationship such as your one year anniversary, your first fight, or after the birth of your first child. Place these letters in a box and have your maid of honor present them to him along with a heart felt note to get him down the aisle.
No Cold Feet Socks. Of course your groom will appreciate the humor and a new pair of socks to walk down the aisle in. Make sure you get a pair to match the color scheme that are comfortable enough for him to dance the night away in.
Get Him There on Time Watch. Your man will do a double take when he receives a new watch on the big day. Not only will this make him excited, but he and his groomsmen will have no excuse in being late. Make sure the time is set correctly and leave a note to remind him of what time he gets to become the luckiest man.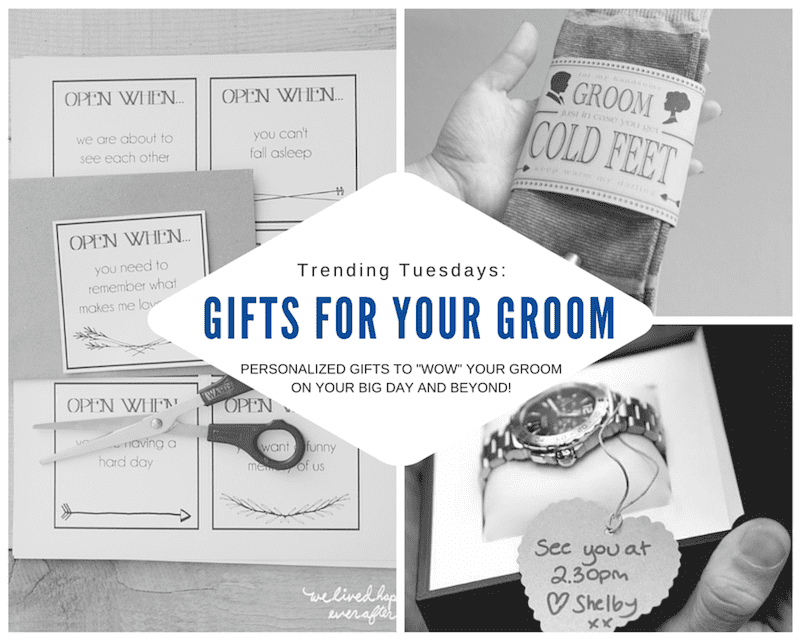 Image Credits: Open When Envelopes ; No Cold Feet Socks ; Groom's Watch


Want to create her dream marriage proposal? We have the perfect way. Contact The Yes Girls to get started on your personalized marriage proposal, wedding plan, vow renewal, anniversary or date night today! We're so excited to work with you!