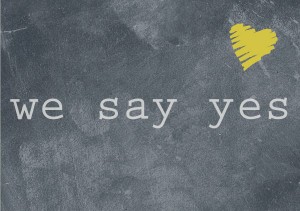 This week's "We Say Yes, Wednesday" column is devoted to the selection of my bridesmaids' outfits. When I first started looking, my number one priority was respecting everyone's limited budgets. I understand how costs can add up to be a bridesmaid. Additionally, with twelve girls,  I knew it would be a challenge to find one style that looked good on each of them. It took me almost six months to find all of their outfits, but I was so excited with the results!
I bought my gown within the first three weeks of being engaged. The body of my dress was loaded with ruffles, and I knew I wanted to carry out the ruffle theme on the girls' outfits. I found the gray blouses on sale at Antrhoplogie first. I loved these tops, but was only able to find four. I then found the skirt at Ann Taylor Loft on sale for $11.  The skirts  had a hint of the color blush with silver threads over it. My friend, who is a stylist, helped me decide to go with four girls in the skirts and tops and the rest in different purple dresses. I loved the contrast.
I decided if I positioned the four outfits evenly throughout the twelve, I  could match two girls to one purple dress, which also helped keep a sense of order. I found two dresses at American Eagle, two dresses at Kohl's, two dresses at Lulus.com and two dresses at Forever 21. All of the dresses were under $45, and each had a ruffle element to them.
For their shoes, I wanted simple gray pumps to tie in more of the gray colors I was using. I wanted their shoes and bouquets, with the gray Dusty Miller floral accents, to coordinate.  I found the shoes for $30 at Target.
Lastly, since eight of the bridesmaids were wearing purple dresses, I needed a way to weave like colors throughout, besides the shoes. For their bridesmaids' gifts, I gave them all a gray chiffon clutch purchased online through etsy and I gave each of them a different accessory to wear… belts, hair flowers, headbands, rings and necklaces. Most of the accessories were gray and silver, which also unified them. Even though they had at least one other person wearing their outfit, they got to feel special with the accessory they wore!
Styling each of the girls was one of my favorite parts of my wedding. I was so happy with how they all looked together and they all ended up paying $45 each! Success!
I hope you are all inspired to be creative with your bridal party!
Love,



Want to create her dream marriage proposal? We have the perfect way. Contact The Yes Girls to get started on your personalized marriage proposal, wedding plan, vow renewal, anniversary or date night today! We're so excited to work with you!