How to know if he is The ONE | Wednesday's Woman
A long time ago, I received some great advice and I am going to pass it along to you: Write down on a piece of paper all of the qualities your ideal mate would have. All of them. Don't hold back.
Let's say you love roller coasters and you would ideally love to be with a guy that likes to go to amusement parks with you, put that on the list. Or how about you know that you don't like scuba diving so you would not want a partner that was obsessed with that activity.
Write it all down. What are his favorite foods? What kind of work does he do? What kind of personality does he have? Does he have a lot of friends? Does he like to hike?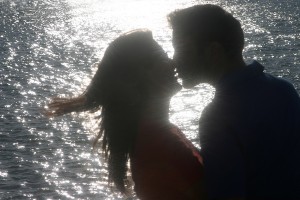 Then choose your non-negotiables. For example, it might be a non negotiable for your partner to share your faith or political views. It might be a non negotiable for your partner to want to have children. It is really important to know exactly what you absolutely must have in a relationship.
How many times have you heard of someone who wrote down all of the qualities they were looking for in a partner and then a year or two later found someone with all or almost all of those qualities?
When you know what you really want and need in a relationship, you are far more likely to attract that kind of partner.
What if you are already dating someone?
Then this is just as important. Write down honestly the characteristics of your ideal man. If the guy you are dating now does not have those all important non-negotiable qualities, then you can tell pretty quickly you probably are not going to want to date this guy for long.
On the other hand, if you see he matches up very closely to what you have on your list, then that is a sign he could be the one.
How many of us have a friend who is with someone that just seems wrong for them? Find Mr. Right by knowing what you want and need and you will be amazed at how he can suddenly appear.
If you like this article please share!
Love,
The Yes Girls


Want to create her dream marriage proposal? We have the perfect way. Contact The Yes Girls to get started on your personalized marriage proposal, wedding plan, vow renewal, anniversary or date night today! We're so excited to work with you!