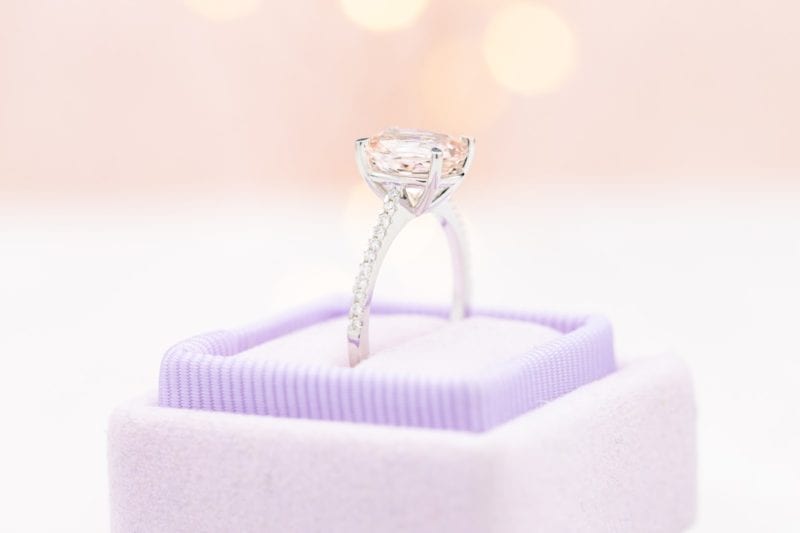 We love a thoughtful, meaningful proposal! Whether it's public and spectacular or quiet and personal, it's an opportunity to capture just a bit of the life a couple has built together and to create a perfect memory. One of many wonderful memories leading up to that moment, through to the wedding day, and on to a lifetime together. So it's no wonder that we love The Yes Girls and their focus on helping create incredible proposals. In many ways, we're in a similar line of business. At CustomMade, we design and create custom engagement rings, helping our customers create a ring that's beautiful and captures their relationship, their story, their style, their personalities.
So, why create a custom engagement ring? There are thousands of pretty rings on the shelves of jewelry stores, and many more settings you can browse online. But when you're making one of the most expensive and important purchases of your life, we'd argue that searching through a mountain of ring designs is not the way to go. Instead, we believe someone should guide you through the important and, for most people, unfamiliar process. We've built a business around the idea that you should partner with a team of experts (artists, design and style specialists, gemologists, designers, and jewelers) who can guide you through the experience of creating something just for you. Because you may need just a little bit of help understanding diamonds, design styles, and durability. And when you put part of yourself into the process of designing and creating a ring just for your special someone, the ring means so much more. It's not just something you picked off a shelf. It's a ring you took time and care to create, something that only exists for the two of you, for the perfect moment of your proposal, and for a lifetime together.
We picked a few recent examples to share a bit about how this works.
First up: Joseph. He'd already been searching for a bit by the time he came to us. He'd seen some halo styles he liked, but nothing had the kind of band design he was hoping to see. We paired him with Meylan on our design team, who started the discussion by talking a bit about style. She showed Joseph a handful of halo and vining band examples, and got his thoughts on what he liked and didn't among them. With that guidance in hand, one of our artists put together a few concept sketches, capturing the style of floral sunburst halo he loved, and showing him some options for the band styling. He loved one with somewhat more modern styling, so we were ready to find the right center stone. Our gem specialist found a handful of round brilliant cut diamond options, both natural and lab-made, and walked Joseph through the trade-offs in price and appearance. Joseph selected a beautiful diamond with near-perfect Hearts & Arrows symmetry. With a beautiful center stone selected, we finalized the design in 3D. He asked us to make the halo just a bit more understated, a bit lower and less prominent, before giving us the thumbs up that the design looked just right. We think you'll agree that the finished piece is a knockout with beautiful sparkle and elegant curves.
Kegan came to us with an emerald in hand. Or, more precisely, in an heirloom earring. It's a common and wonderful choice to bring a bit of family history to a ring design with a family gem or diamond. He asked us to help him design a ring in yellow gold — a classic pairing for emerald — with a hint of nature and a bit of Celtic inspiration. Our artist, Jaclyn, sketched a few rings in a three-stone style and found a look he loved. A pairing of clean lines and classic elegance, with just a hint of nature in the band detailing. A delicate, tapered band sets off the center stone while keeping the ring feeling light, and two trillion cut diamonds add sparkle. It's hard to find a more perfect pairing than emerald and gold!
Finally, we have Ivan. He knew a few important things about her style, but he was open to a lot of possible directions. He wanted something with detail and filigree, but not bulky, and with a low profile. And he wanted light to move through the piece, ideally with a bright, center gemstone. Our artist got to work on design concepts for the bridal set, framing curves of delicate metal in a filigree style that would give the ring a lot of personality and let plenty of light through. We tried a lot of options for the matching wedding band before settling on a delicate look with simple beading echoing an element in the engagement ring design. Our gem specialist explored a lot of really interesting options with Ivan. We started by looking at various shades of morganite and pink sapphire, which we often custom cut for customers in a range of colors from warm peachy tones to bright pinks. But Ivan was particularly interested in something unique and a bit less common, so we ended up looking at some really interesting tourmaline options. The pear cut tourmaline that Ivan ultimately chose shows a range of colors from raspberry pink to deep red depending on the lighting, and absolutely checks the box for being both beautiful and distinctive. A gorgeous gem that isn't likely to show up in any of her friends' rings.
Every story is a bit different, and every customer is looking for something distinct. Some of our projects focus extensively on understanding and selecting the perfect diamond. Others are all about design choices that match her personality and lifestyle. But every project results in an incredibly meaningful ring, imbued with a ton of love poured into it by the person designing it.
Ready to get started on your custom ring?  Click here to reach out to the CustomMade team for your custom diamond or gemstone engagement ring!


Want to create her dream marriage proposal? We have the perfect way. Contact The Yes Girls to get started on your personalized marriage proposal, wedding plan, vow renewal, anniversary or date night today! We're so excited to work with you!