If you've been following The Yes Girls Blog for a while now, then you'll remember the series we did of "Brides Tell All". This series was a tip and a regret from past brides to help new brides and give them advice before their big day! If you haven't seen it yet, then make sure to check out that category over on the right column. But since I'm a blabber, and can't keep my advice to just one tip and one regret, I am going to split them up into a couple of posts :) So today is a list of tips that I would like to pass on to future brides. Things that I feel are "must do"s on your wedding day!
Don't drink too much coffee (if any at all). I am a huge coffee addict. HUGE. I love the taste, the smell, the warmth… everything about coffee! We even had a barista at our cocktail hour at the wedding! But, in my experience as a planner, girls get a little bit of nerves on their wedding day… and since coffee is a diarrhetic it can make those nerves become… well… awkwardly present in your day. So my suggestion is to keep the coffee to one cup at most.
Take time with your groom alone. Not with a photographer. Not with your MOH or mom there. Just the two of you, alone drinking in that moment. Your day flies by so fast, make sure that you've made time to take a deep breath and remember why you're there. Plus, isn't he so handsome!! Soak it in!
Don't stress about the timeline. Hopefully you have someone that's "in charge" of your day that isn't you. (If you can't afford a professional planner, I still recommend asking a friend to be your "coordinator" that day so she is in charge of the timeline.) Then, let go of it! Just go with the flow and trust that person with keeping the schedule.
Pee before you get in your dress. Seems like an obvious thing… but seriously, it will save you so much hassle later if you don't have to ask all your bridesmaids to come hold up your dress so you can squat over the potty. Similarly, drink lots of water in the morning and then stop when you get in the dress. If you have minimal intake of liquids you'll have minimal out-take.
Plan your meals. I was so nauseous and nervous on the big day that I wasn't hungry at all. Like not even a little! So I had a handful of snack items (nuts, crackers, turkey meat, etc) that I would occasionally take a bite of while getting dressed. Then my groom and I had decided ahead of time that during our seated dinner we would be walking around and greeting all our guests instead of eating. But, if you know my husband at all, you know he doesn't miss a meal! So we planned on stopping by In-n-Out after the reception was over to grab some food.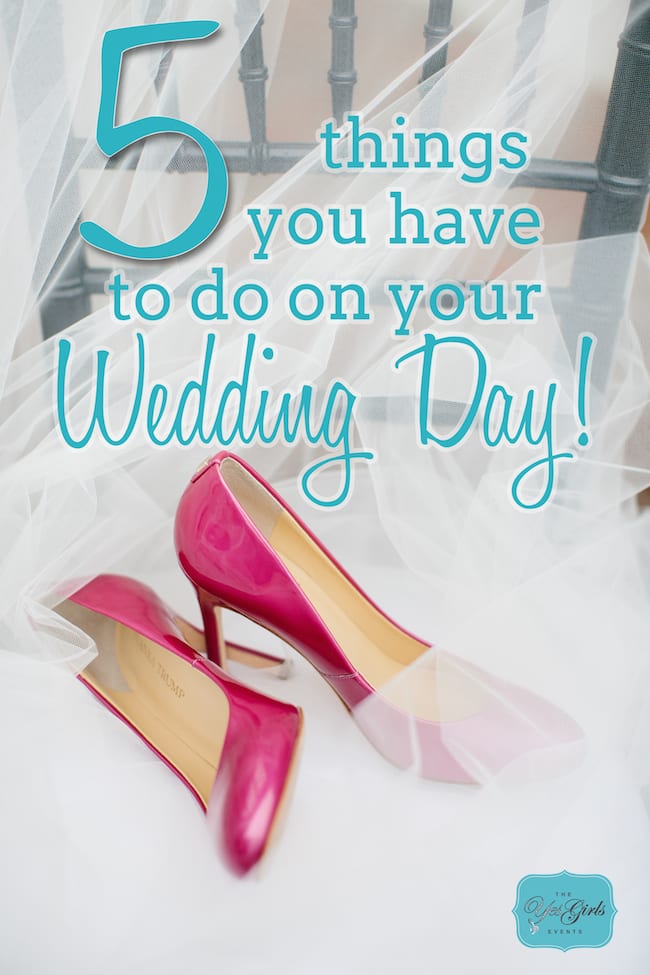 What are some helpful tips that others gave you before your wedding day? Comment with the tips and maybe we will feature them on our next blog! Beautiful Image from
Kendal Hanna Photography


Want to create her dream marriage proposal? We have the perfect way. Contact The Yes Girls to get started on your personalized marriage proposal, wedding plan, vow renewal, anniversary or date night today! We're so excited to work with you!