In honor of NATIONAL PROPOSAL DAY (March 20th) we are sharing our most popular and requested wedding proposal checklist… 5 Things NOT to do when proposing. 
Here is the thing, we can share all the DO's of proposing such as make it personal, where to hide the right box, what you need to look for in a location, best times of day to capture photos, ideal proposal timeline, the pros and cons of indoor vs outdoor venues, and so on, but we found many "proposers" want the blunt, straight to the point, what do I need to avoid, so my proposal goes smoothly list.
5 WAYS TO RUIN YOUR MARRIAGE PROPOSAL:
1. NOT CONSIDERING WEATHER OR LOCATION FACTORS
These are a few common mishaps. Lit candles on the beach easily blow out (be mindful of that ocean breeze), rose petals on a windy rooftop (use a spray bottle to weigh them down with water or replace that with mini flower vases), and flash photography for an evening proposal might distract her. Consider how the weather can effect your set up.
2. NOT FACTORING IN BUFFER TIME
Two reasons you want to give yourself a little buffer time. 1. She could be running late 2. If you're running behind schedule you'll start to stress, making you "act weird" and sets you two up perfectly for a pre-proposal tiff. You both want to be in an awesome mood going into this moment!
3. NOT MAKING THE PROPOSAL ABOUT HER. (AKA I'M WORRIED SHE MIGHT BE DISAPPOINTED WITH MY PROPOSAL IDEA(S). 
Start by making the details personalized to her. If you cater the proposal location and set up to your relationship then you're already moving in the right direction! For example, don't go with a beach location if her favorite place to be is in the garden.
If you are concerned your significant other will be disappointed with the proposal and/or you're not sure how to tie all your ideas together then you are in good company. Good news, we've got your back! Almost all of our clients start with our CUSTOM PROPOSAL IDEAS PACKAGE  where they can receive TWO proposal ideas completely custom to what their girlfriend would want and love!
4. NOT CONSIDERING THE PROPOSAL FLOW
Put together a timeline. The biggest mistake we see is someone planning to have dinner BEFORE versus after the proposal. Dinner before the proposal leaves you nervous and the timeline unpredictable. You book a photographer to be there at 5pm to capture the moment but she decides she wants dessert so now you aren't leaving until 5:30pm. We always recommend scheduling a celebratory dinner AFTER your proposal moment.
If you are worried about your proposal not going according to plan, you are in good company. That is typically one of the biggest concerns. Here is the thing, something might not go perfect but if you have a well-thought-out timeline, vendors are all in the know, and all the details and decor reflect things your partner loves and your relationship, then she will love it!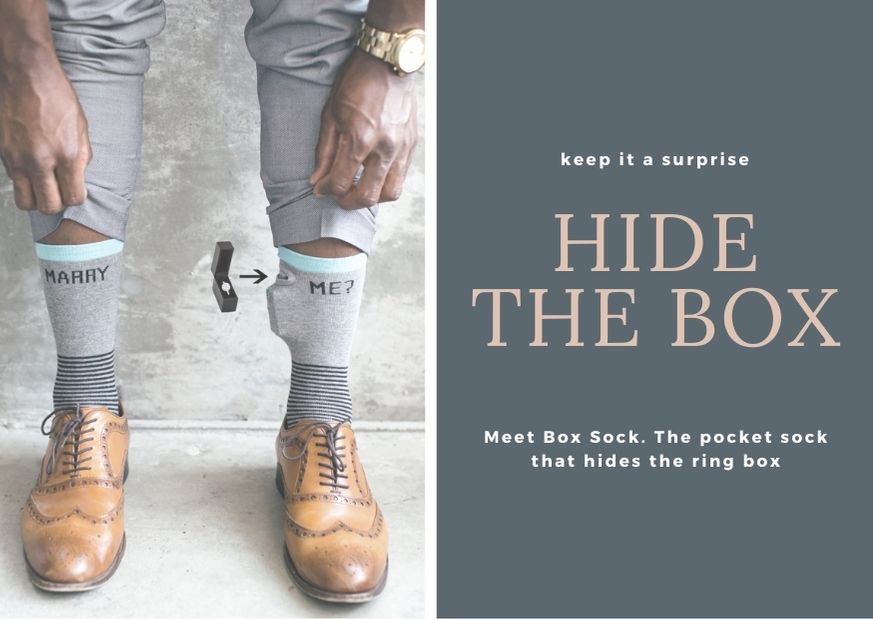 5. NOT HIDING THE RING BOX WELL 
Don't plan an amazing proposal only to have her notice the ring while you're walking around together that day. Where should you hide the ring box? Simple! BOX SOCK – the pocket sock that hides the engagement ring box. It comes with a discreet black ring box to ensure she doesn't notice it in your pant or jacket pocket.
If you are traveling for your proposal, slide the ring box into the Box Sock's pocket and place a note on top that says, "shhh…engagement ring. Please keep hidden." If security does go through your carry on luggage they know to not blatantly pull out the ring.
WANT MORE IDEAS TO MAKE YOUR PROPOSAL A-MAZ-ING?!
Feel free to contact us with any questions to get started creating a memorable proposal catered to your relationship.
It's a once in a lifetime moment. Let's do it right!