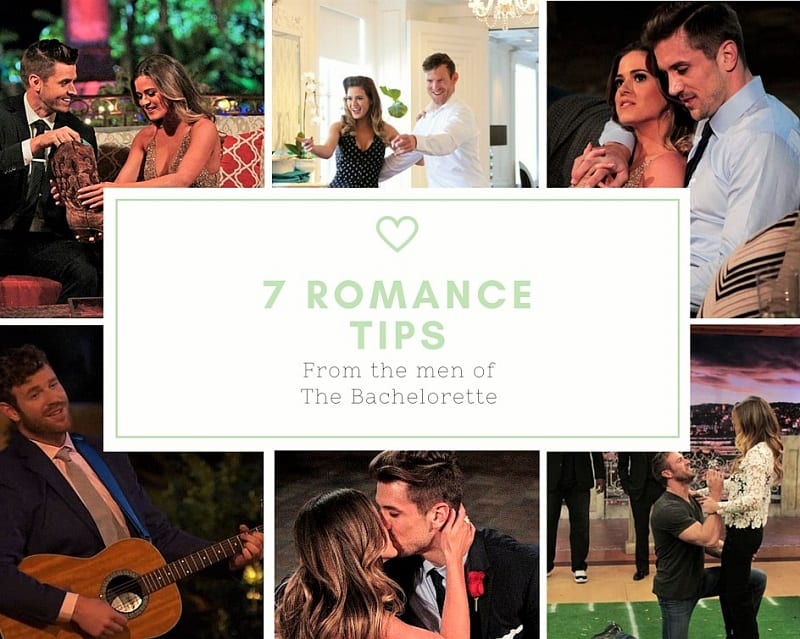 There's a reason almost all women are obsessed with The Bachelorette.  Sure, we love our fair-share of drama, and it's always fun when they keep around the crazies (Hello, Chad!) but there's definitely more to it than that.  From the moment those men step out of the limo, they instantly turn on the charm- every single one of them!  We just can't help but fall for all of the sweet things they say and do.  If a t.v. show can make us
that
happy, it shouldn't be that hard, right?  Here's seven tips to take from the men of the Bachelorette to make your lady's heart melt.
1. Get a little cheesy.
If you've watched the show, you'll know that some of the guys are real cheese-balls, especially this season. Sometimes, being cheesy isn't always a bad thing.  As long as you're not drilling out perverted pick-up lines, it can even be endearing!
2. Share your feelings.
Maybe you already do this, maybe you don't… but it's so so important!!  In a long term relationship, it's easy to fall in the habit of not sharing your thoughts or feelings with your partner because you assume they already know how you're feeling, but it just doesn't work that way.  Don't assume she knows that you think she looks good when you go out.  Don't assume she knows that you think she's the most incredible person you've ever met.  Men and women think differently, so while you may only need to hear a compliment once, women need to hear them everyday.  It's not a hard task- simply telling her that you love having her around can change the entire structure of your relationship for the better.
3. Make every kiss the "First Kiss".
One of my favorite parts of the show is the first kiss.  There isn't a woman out there who didn't get butterflies after Jordan and Jojo's kiss on night one.  Wouldn't you love to be the person to make your lady feel that way?  Remember back to when you first started dating, gather the feelings you had right before you kissed her for the first time, and then go for it.  You'll both be feeling it, and I guarantee you won't be able to stop!
4. Plan extraordinary dates!
It's definitely a fact that the extravagant dates help to light the sparks between contestants on the show- but here's why.  As humans, we're always looking for new adventures and things to try.  When we do something crazy or visit a mind-blowing place with someone, our mind associates that amazing feeling of breaking out of our comfort zone with the person we experience it with.  At least once a year, plan a surprise date to keep both of you on your toes.  You won't regret the memories, or how happy she will be creating them with you.
5. Steal her for some alone time.
If you two are constantly around other couples or out on the town, ask her to sneak away for a few minutes to have some one-on-one time.  Not only will it prove that you value quality time with her, but also that you're still interested in learning more little details to love about her.
6. Go on group dates.
No, not with a bunch of other guys, but with other couples.  No matter how much you think you only need each other, it's healthy to be around other couples (that have stable relationships.)  Believe it or not, relationships tend to mimic the ones that we see most often.  This means that hanging around with couples that are constantly fighting and breaking up, might actually take a negative toll on your own relationship, while spending time with happy couples might even make you and your lady closer.
7. Give the relationship your all.
On The Bachelorette, the men are always giving the leading lady their full attention.  They listen when she's talking, they open up and share their deepest feelings, and they keep an open mind whether it's about a date, character flaw, or challenge they have to overcome.  At that point, they are willing to do anything to win her heart, and that's exactly how a relationship should be every single day of every single year.
Picture Credits: People ; E News ; ET ; Daily Mail ; Just Jared ; I Hate Green Beans


Want to create her dream marriage proposal? We have the perfect way. Contact The Yes Girls to get started on your personalized marriage proposal, wedding plan, vow renewal, anniversary or date night today! We're so excited to work with you!