Funny story, over the last 8 months of being engaged I've spent hours planning different aspects of our wedding day. Cake tastings, venue scouting, dress shopping, and the list goes on and on and on. And people keep asking me one question, "how does it feel to finally be planning your own wedding?" Well the fact is, that I haven't really felt like I'm planning my own wedding. I plan romantic events everyday for other people (and absolutely love it, I might add)! So planning our wedding feels just like a normal day at work. That's been my answer to everyone's question… I've just admitted that it hasn't really hit me yet that I'm planning my own big day.
Until the last two weekends. On January 16th I had my very first bridal shower! Having an event that was all about Aaron and me definitely made things feel more real! And then on January 23rd we had a couple's shower. Talk about two wonderful weekends back-to-back!
Today I'm not only rambling on about how bizarre it feels to be planning a wedding where I will be in white at the front of the aisle (instead of running around trying to not be caught in any pictures like normal), but I'm also sharing the beautiful bridal shower dresses that I wore at my last two showers! I spent weeks searching for all different white dresses to wear to my many "bridal events" and these two dresses are probably my favorite! (Except of course, my actual bridal gown is my favorite white dress!)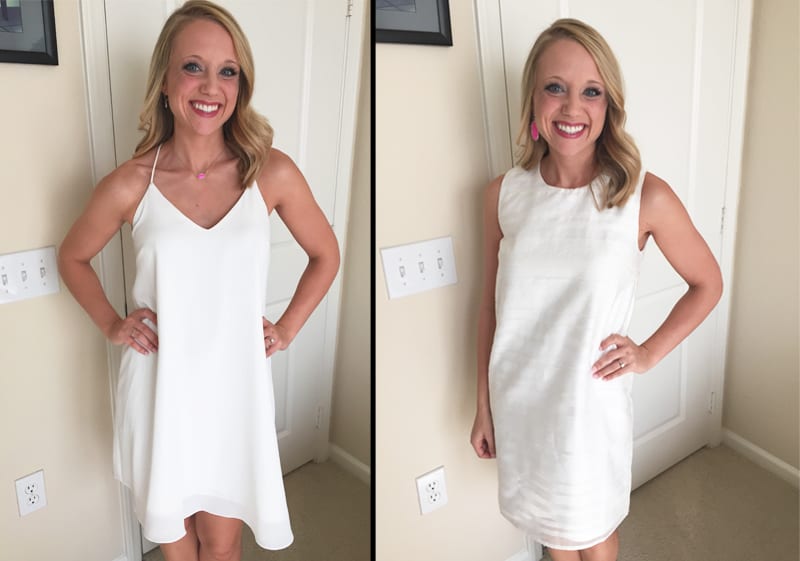 Dress on the left is from Red Dress Boutique (The Sailing Into Santa Barbara Dress)
Dress on the right is from ModCloth (The Wisps of Whimsy Dress)


Want to create her dream marriage proposal? We have the perfect way. Contact The Yes Girls to get started on your personalized marriage proposal, wedding plan, vow renewal, anniversary or date night today! We're so excited to work with you!