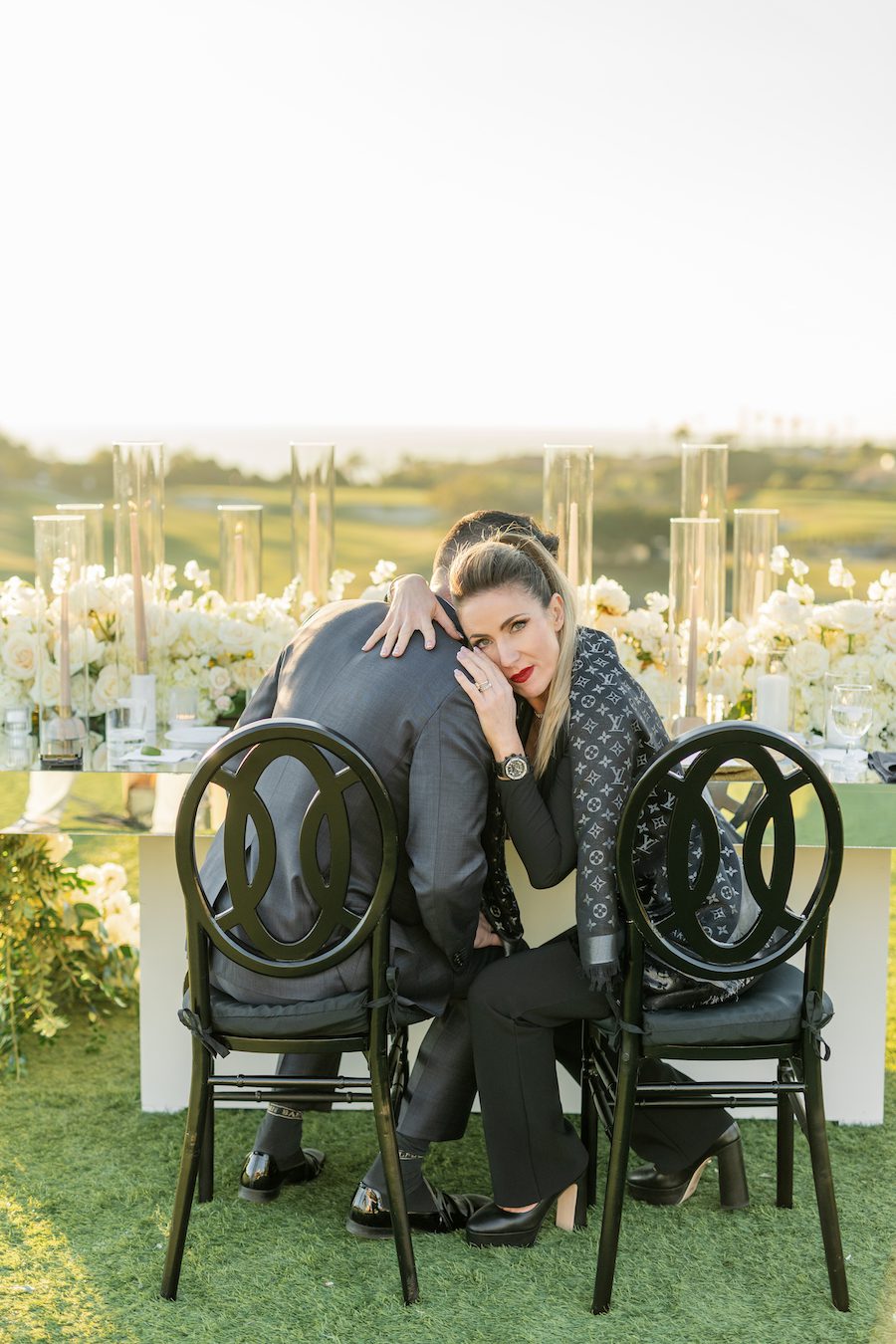 Welcome back for the Part 2 of this breathtaking 20-Year Anniversary celebration! After finally drying their eyes from the most gorgeous memory walkthrough, this beautiful client headed down closer to the beach for another romantic surprise!
If you are looking to charm her all over again and dance like it is the first time- well, do we have the set up for you! This gorgeous, romantic, whimsical, and dare I say fairy-tale-like set up brought in all the right elements to make this the most magical night! Let us help you bring your true love to life!
Bringing True Love to Life:
The couple arrived to the gorgeous beach view lawn with a stunning set up before them! Complete with market string lights, a private dance floor, a floral filled sweetheart table, and even snow…this setup was something out of a dream! It was hard to pick a favorite moment from everything that this day had to offer!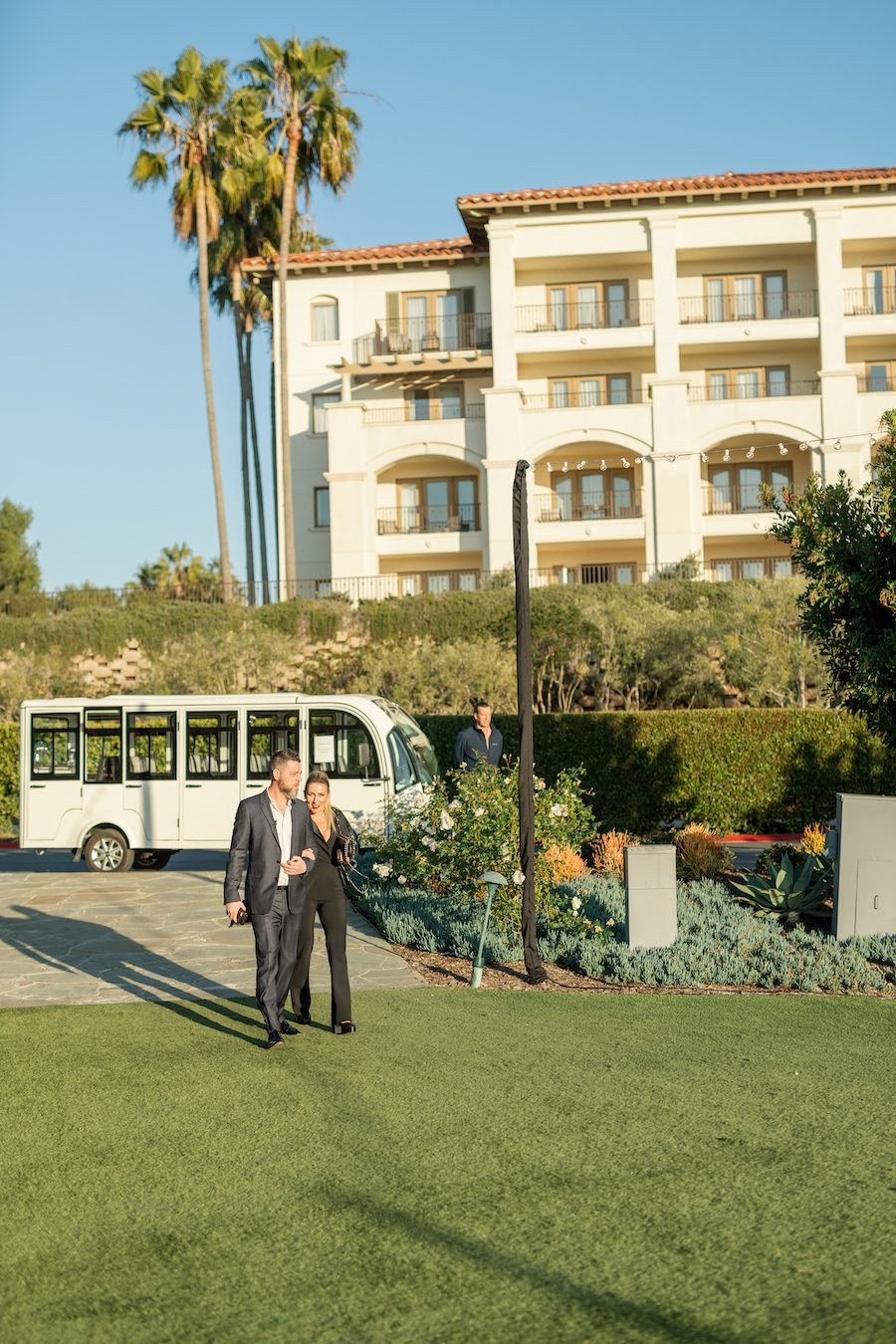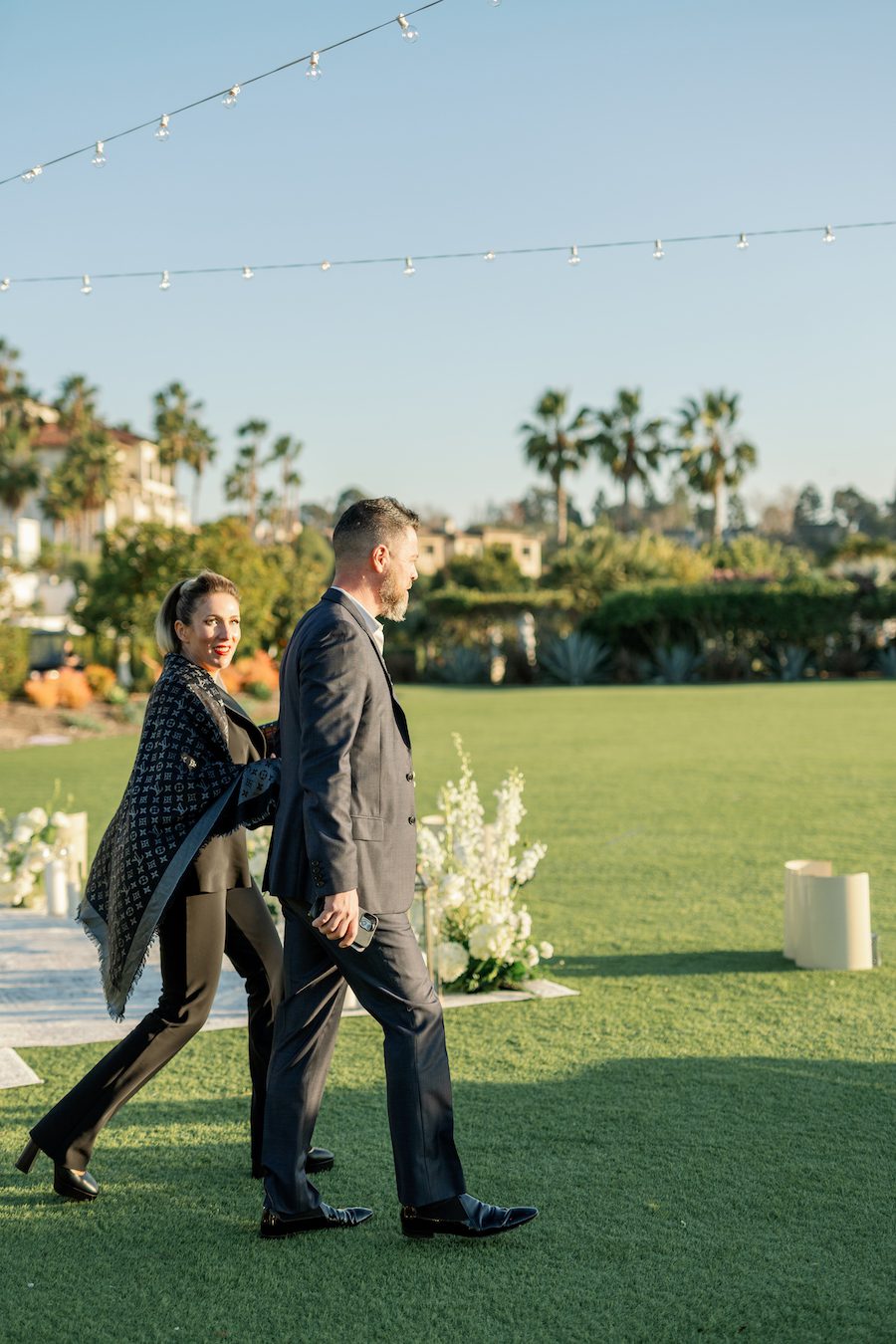 The Breathtaking 20-Year Anniversary Idea Inspiration:
Roman and Anna were celebrating their 20-year anniversary, and the first part of the day was to honor and remember the past 20 years they have spent and created together! While the second part of this evening was to fall in love with each other all over again! And of course the best part… to re-propose!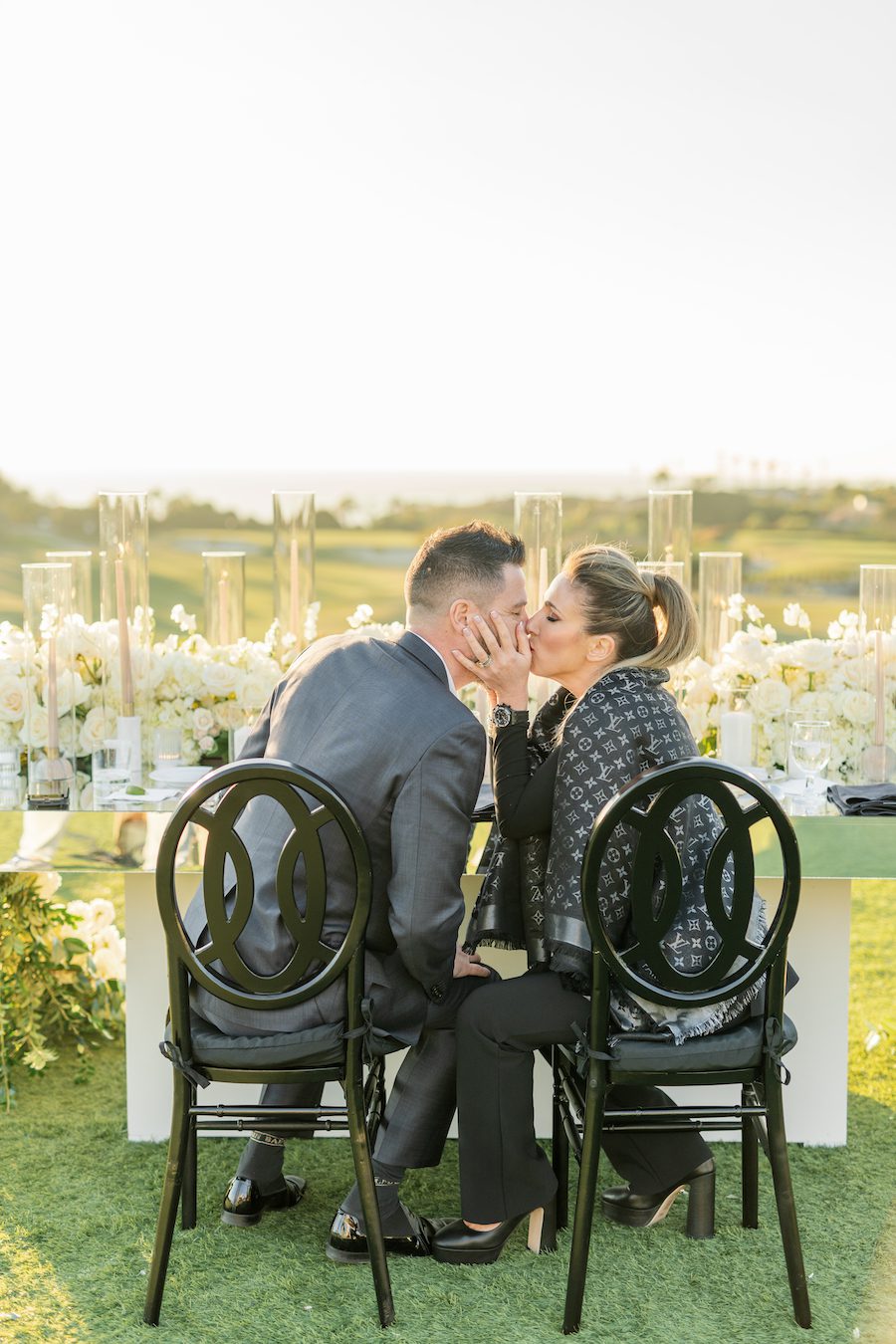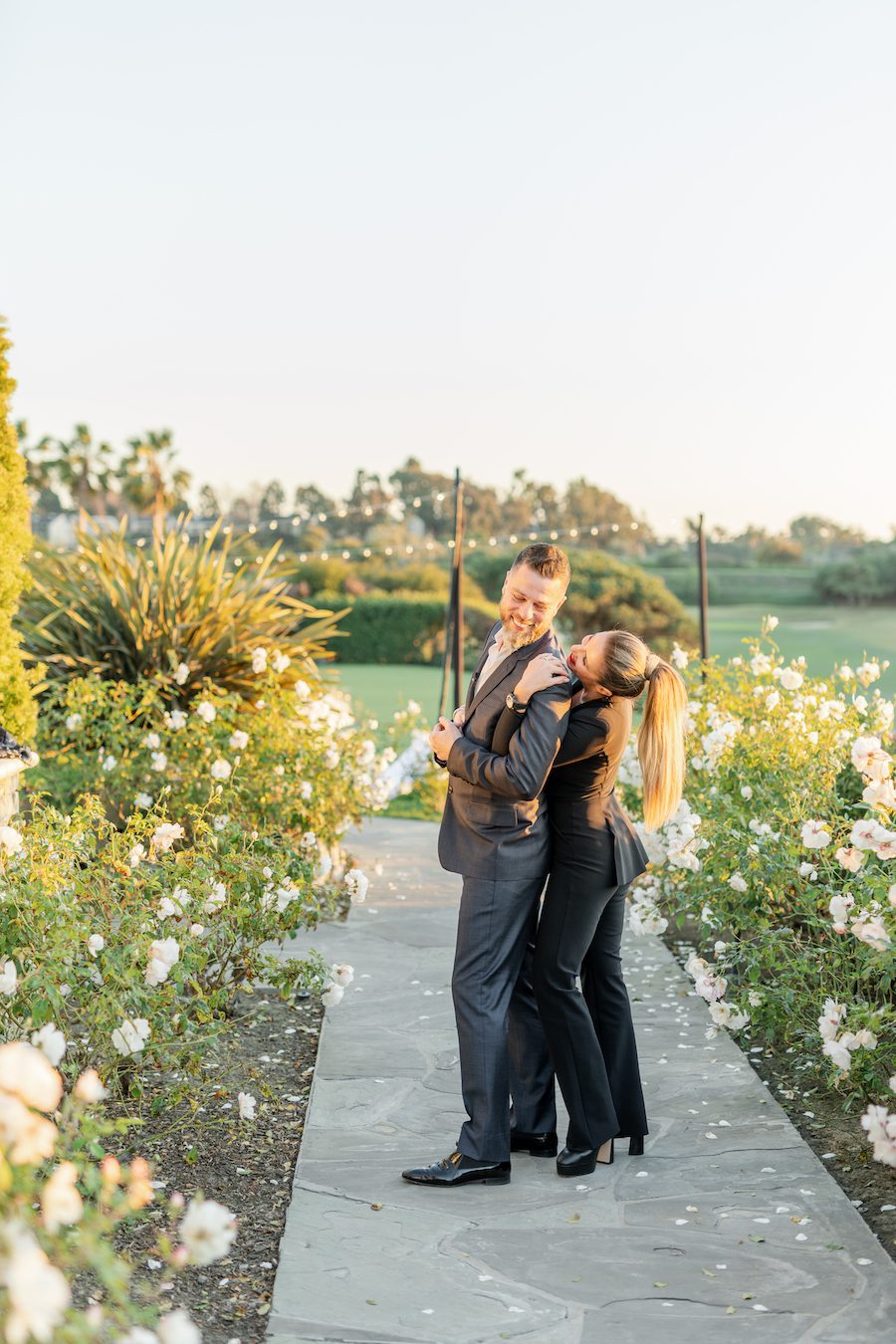 The Breathtaking 20-Year Anniversary Event Details:
Whilst the details were more reserved for this part 2, elegance was key here at this stunning dinner for two! We had a completely different look for this ocean view set up! To begin, the couple arrived and they were greeted by their stunning sweetheart table! The table was set with custom menus that read "Happy 20th Anniversary Roman and Anna". Little did she know, they would be enjoying a 5-course, Michelin Star chef prepared meal! All courses had been specially picked out and paired with a gorgeous wine from their on-site sommelier! The couple dined at their floral filled mirrored table, all whilst enjoying the sun set over the sea! It was dreamy to say the least!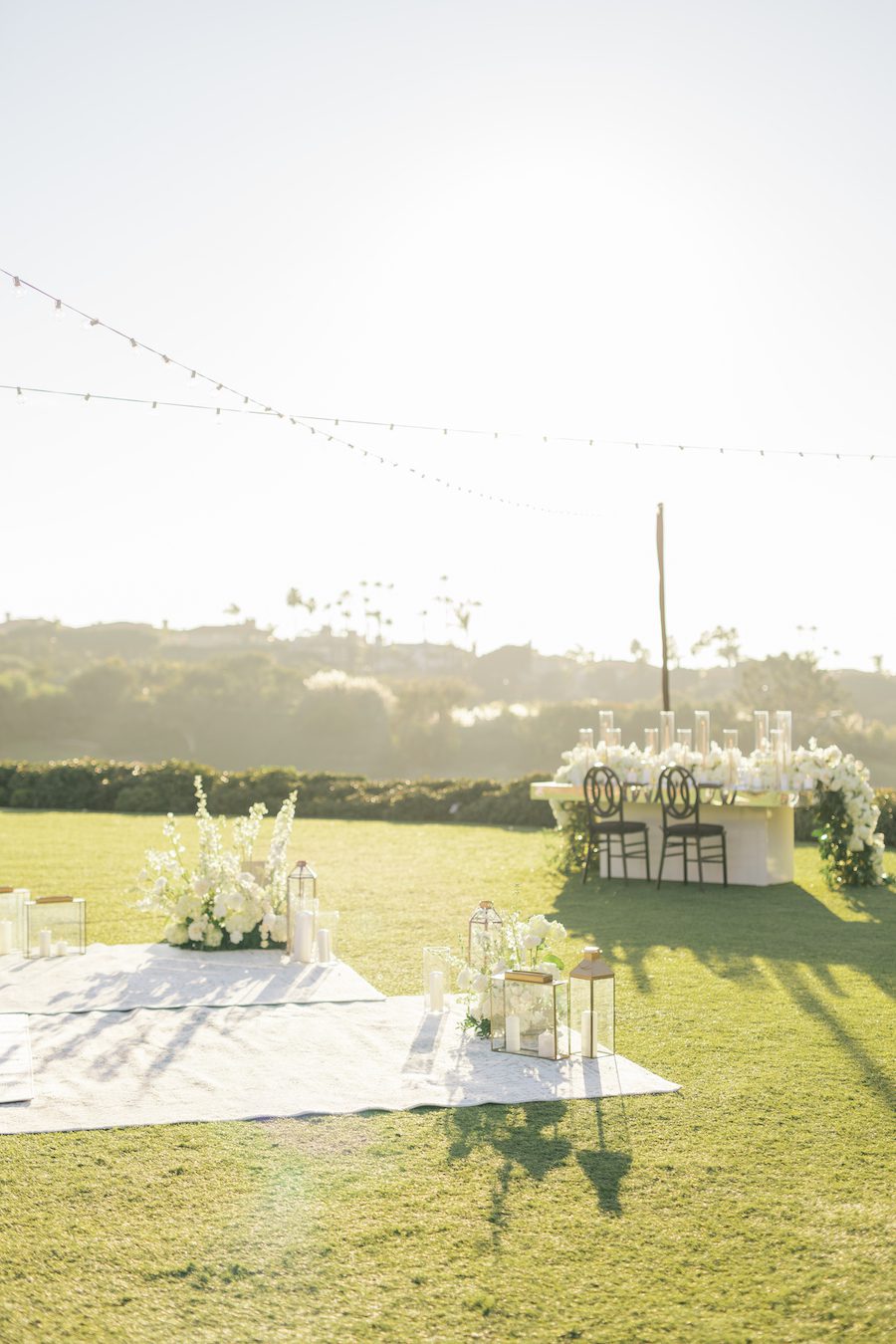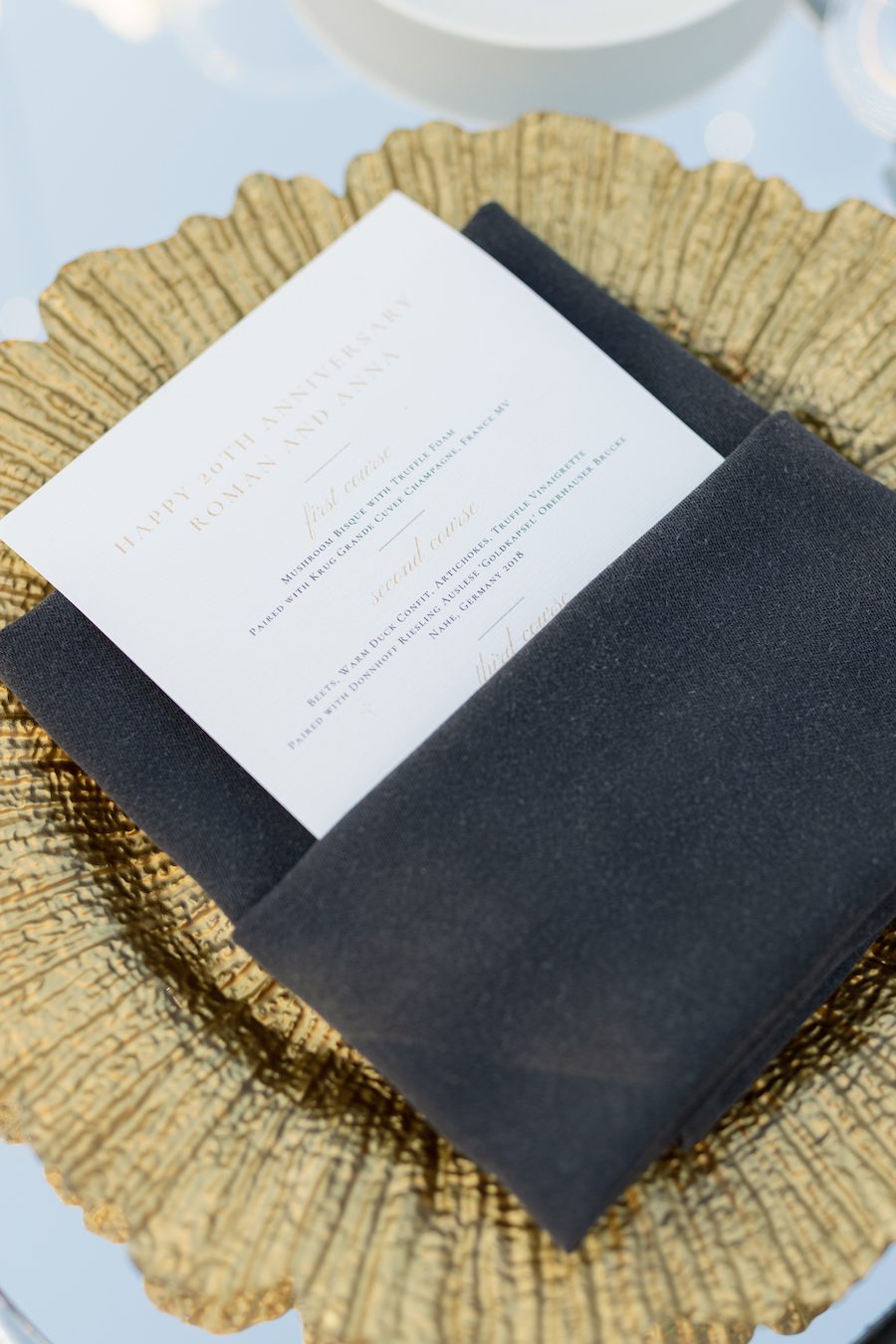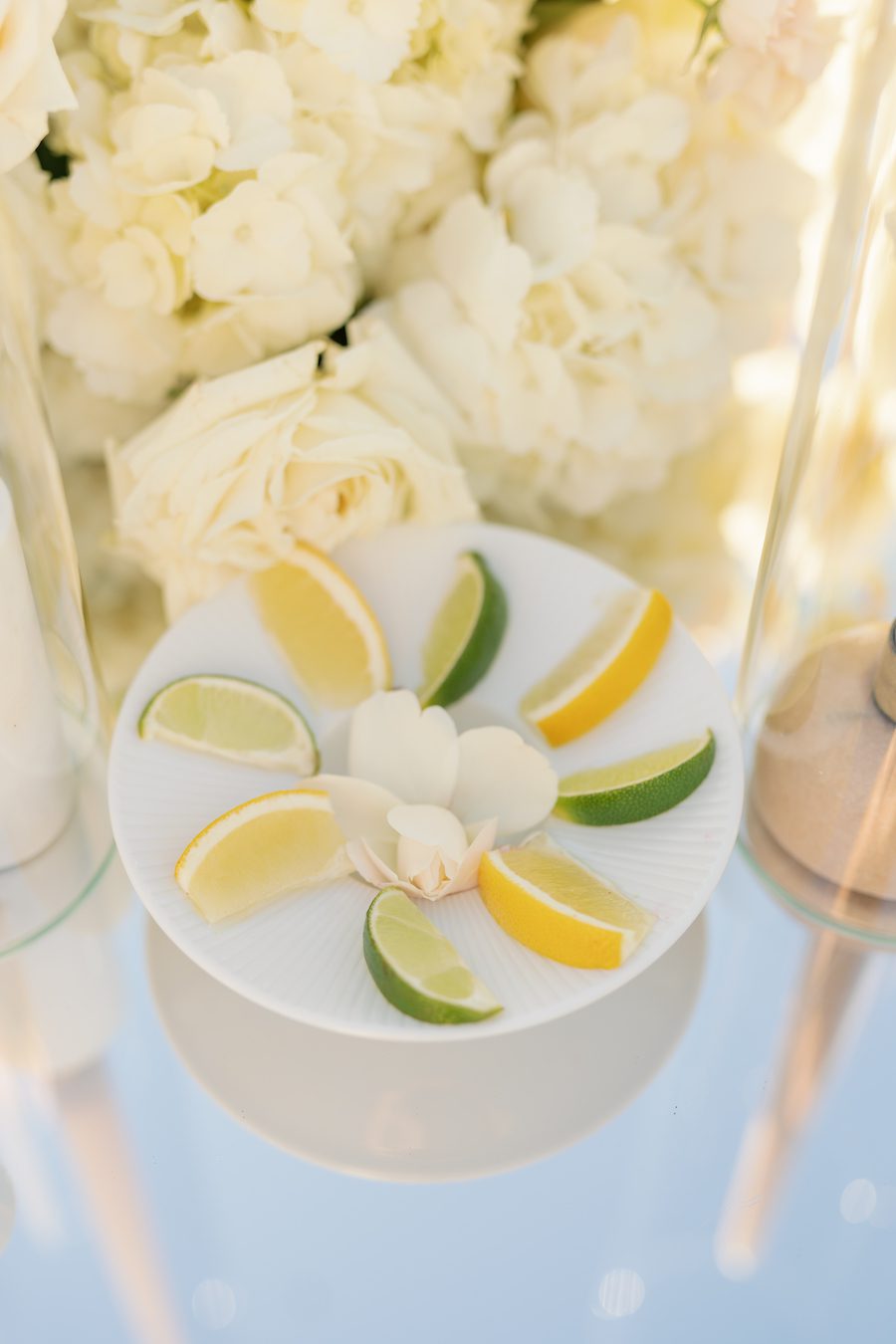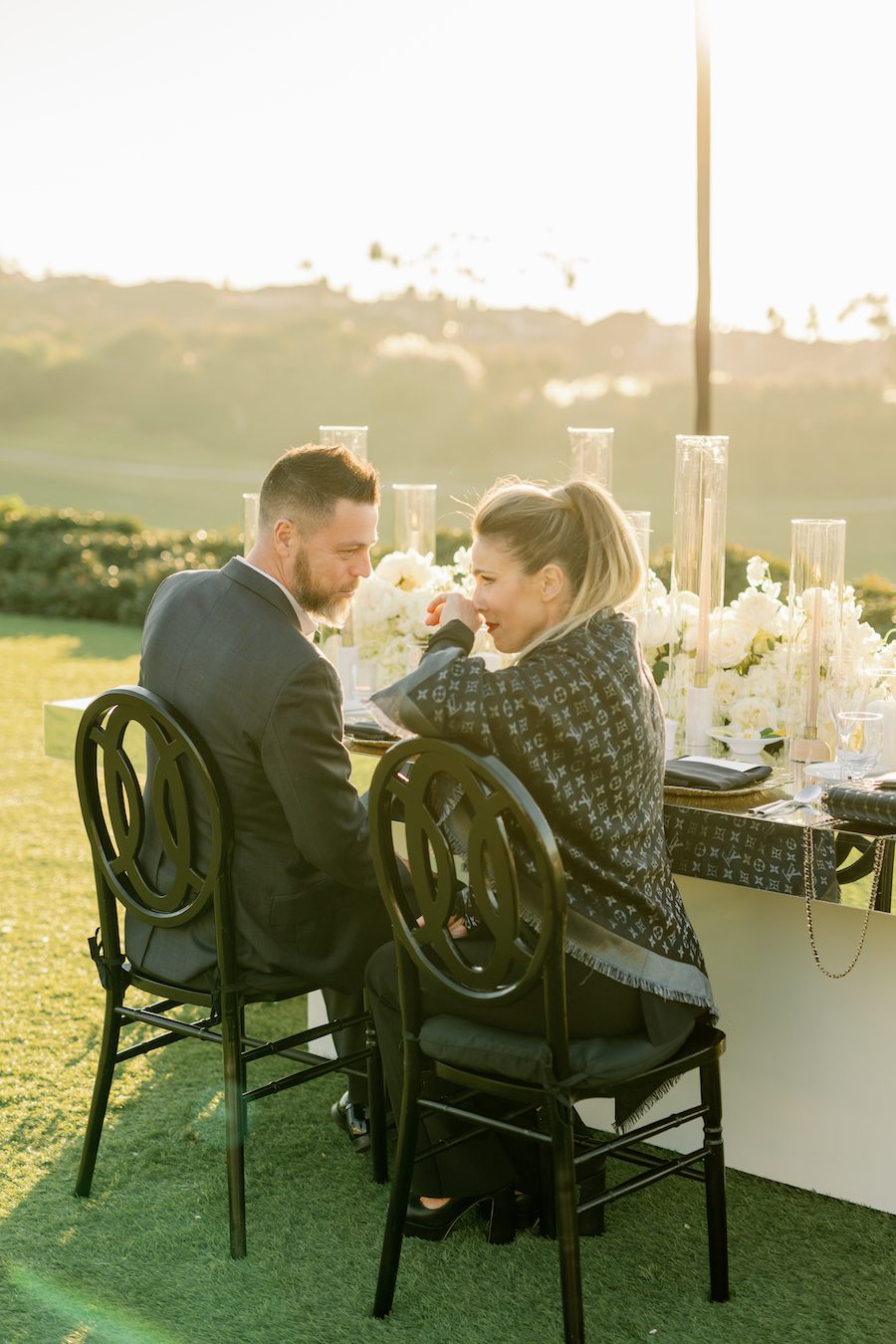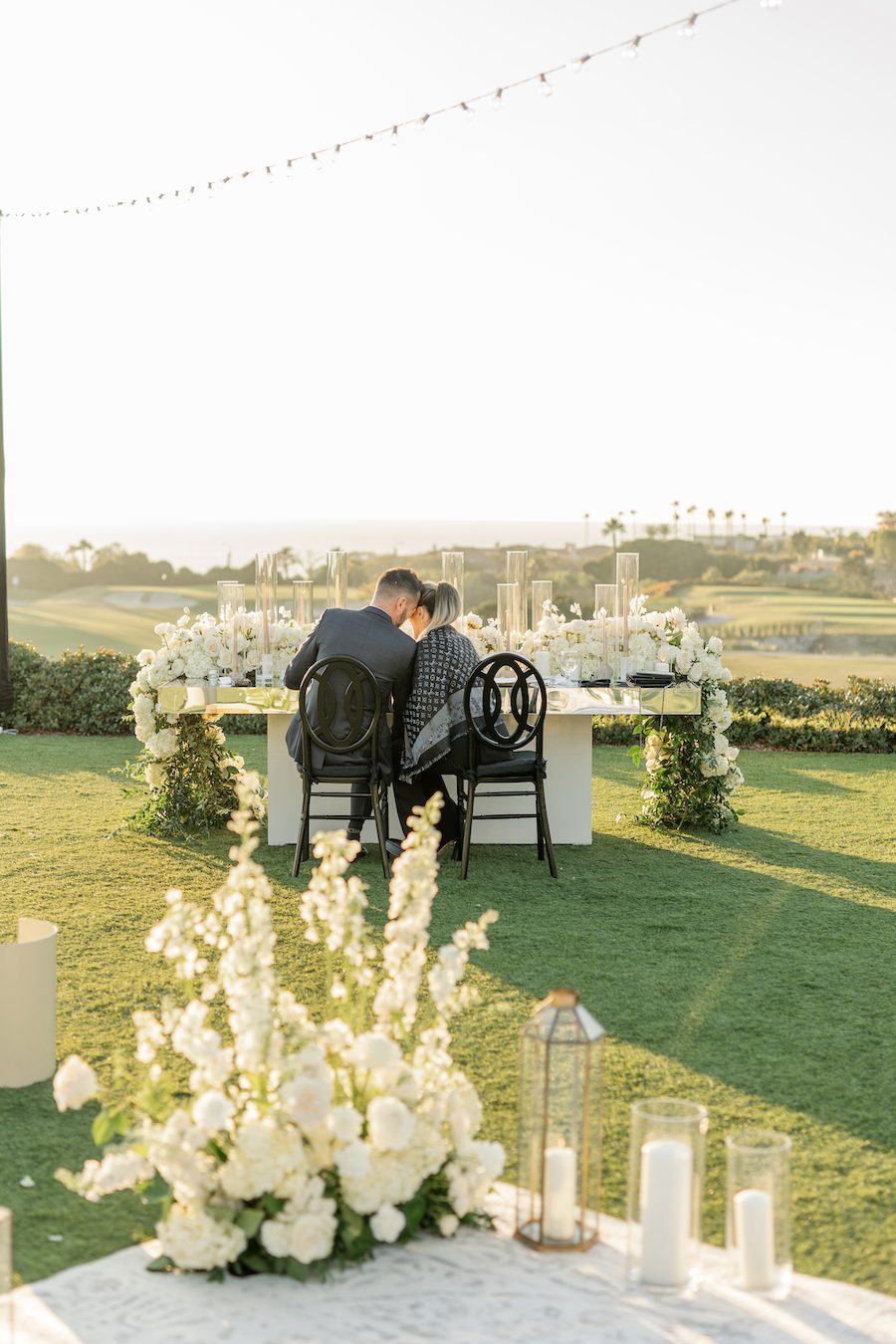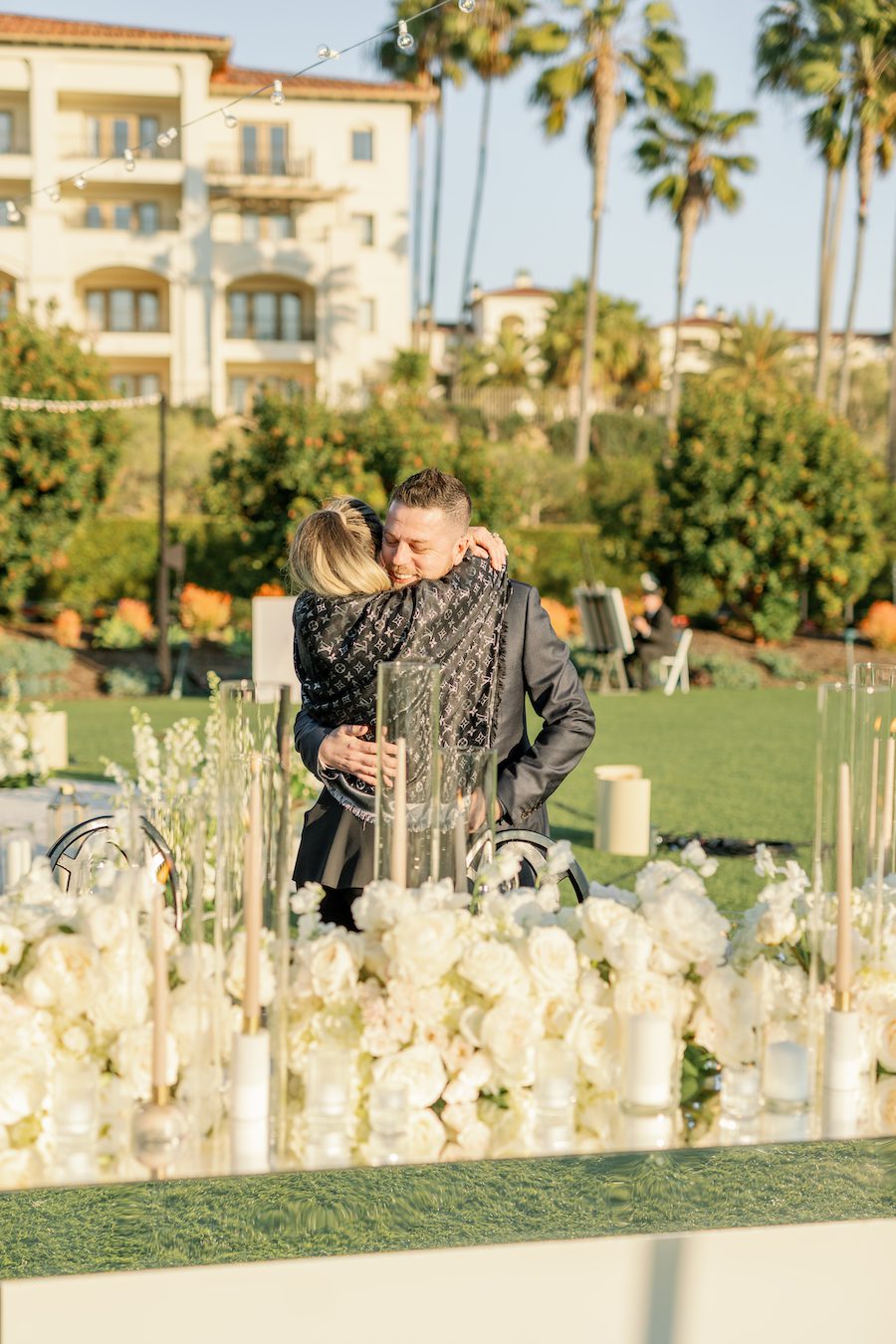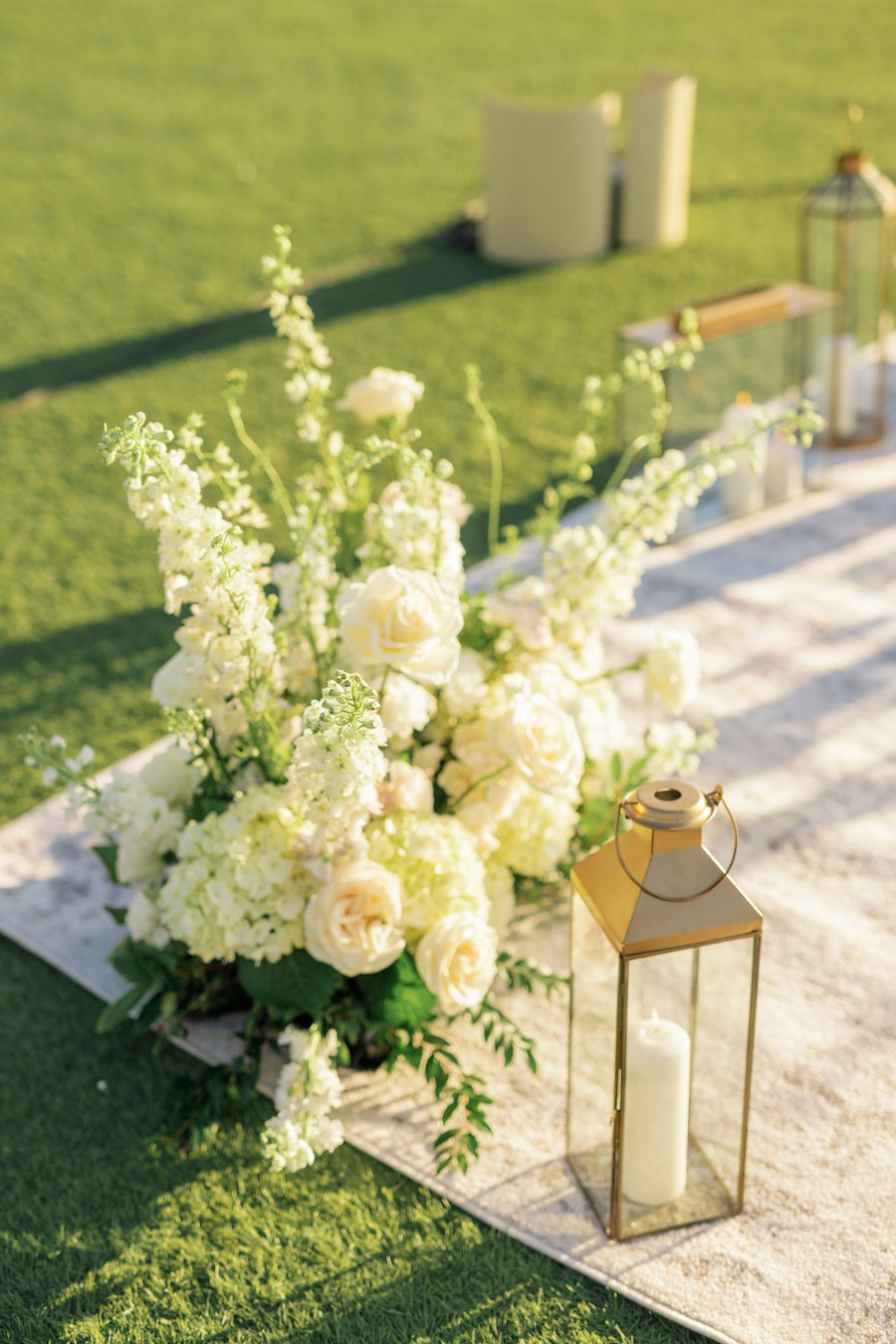 A Romantic Dance Party for Two:
At course 4 Roman asked Anna, "may I have this dance?", which is when the real fun began! Her favorite Russian song began to play and she immediately broke out dancing! The couple took to their gorgeously set up dance floor and danced the night away! At the climax of the song CO2 fogger and light machines went off for an added epic effect! It truly was one big magical moment.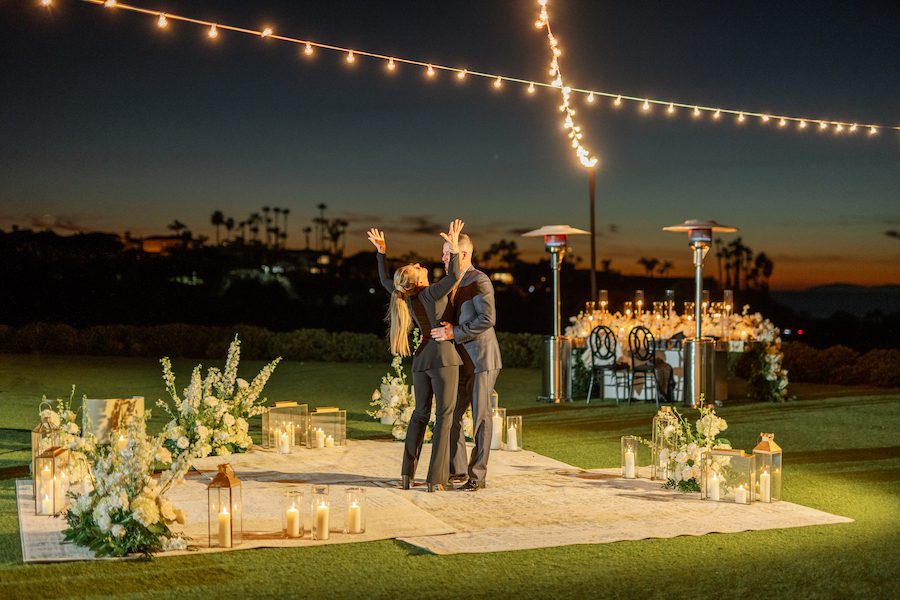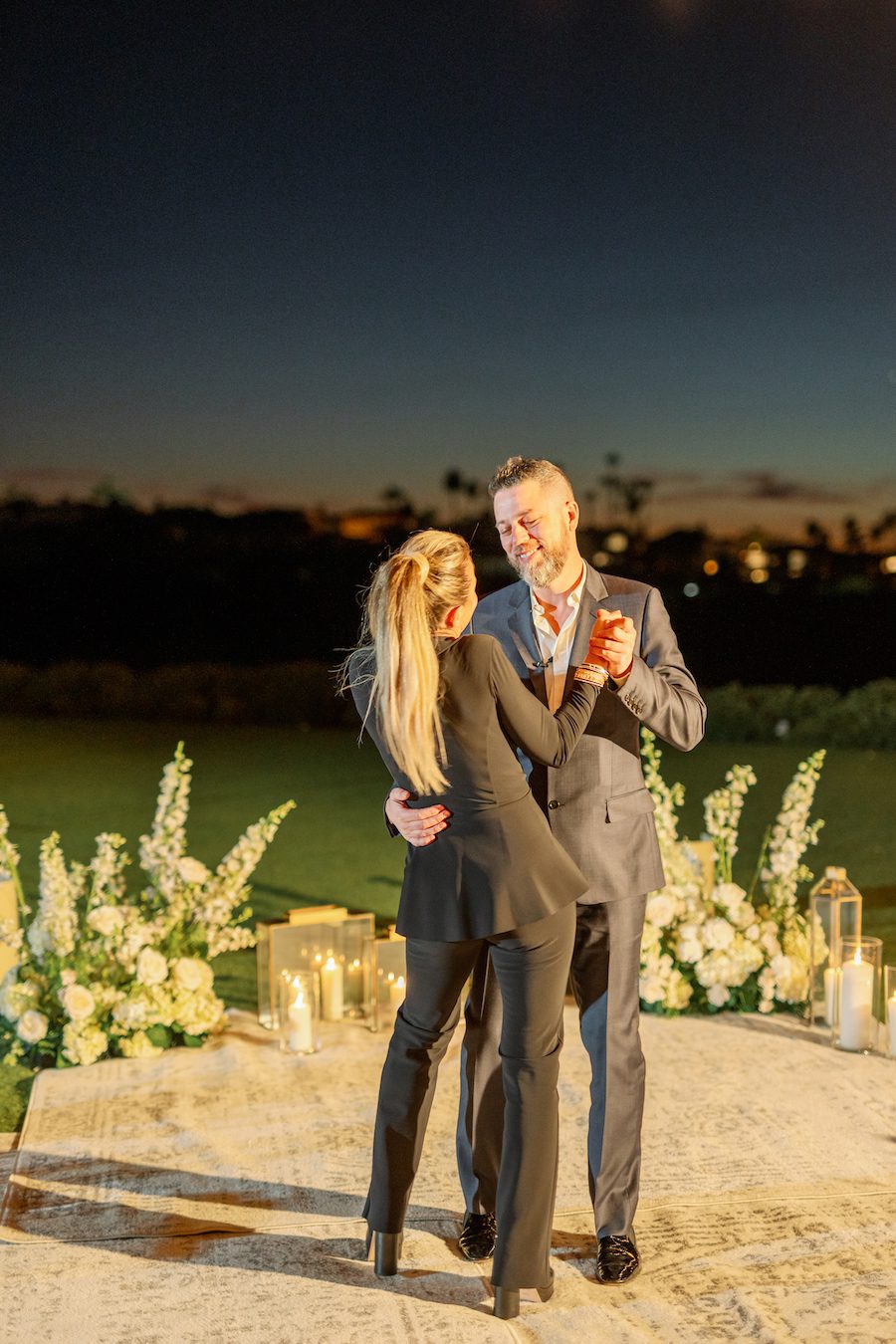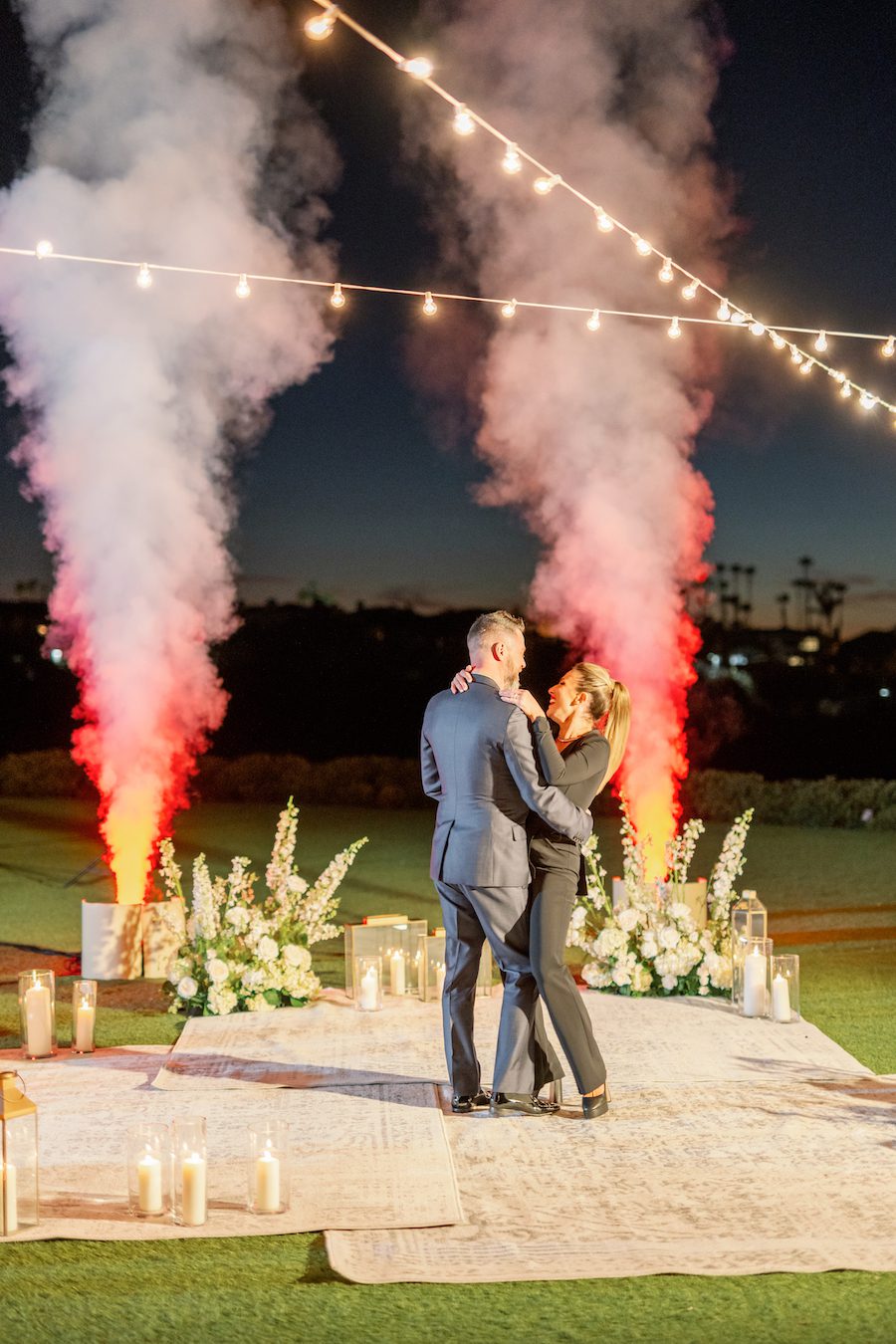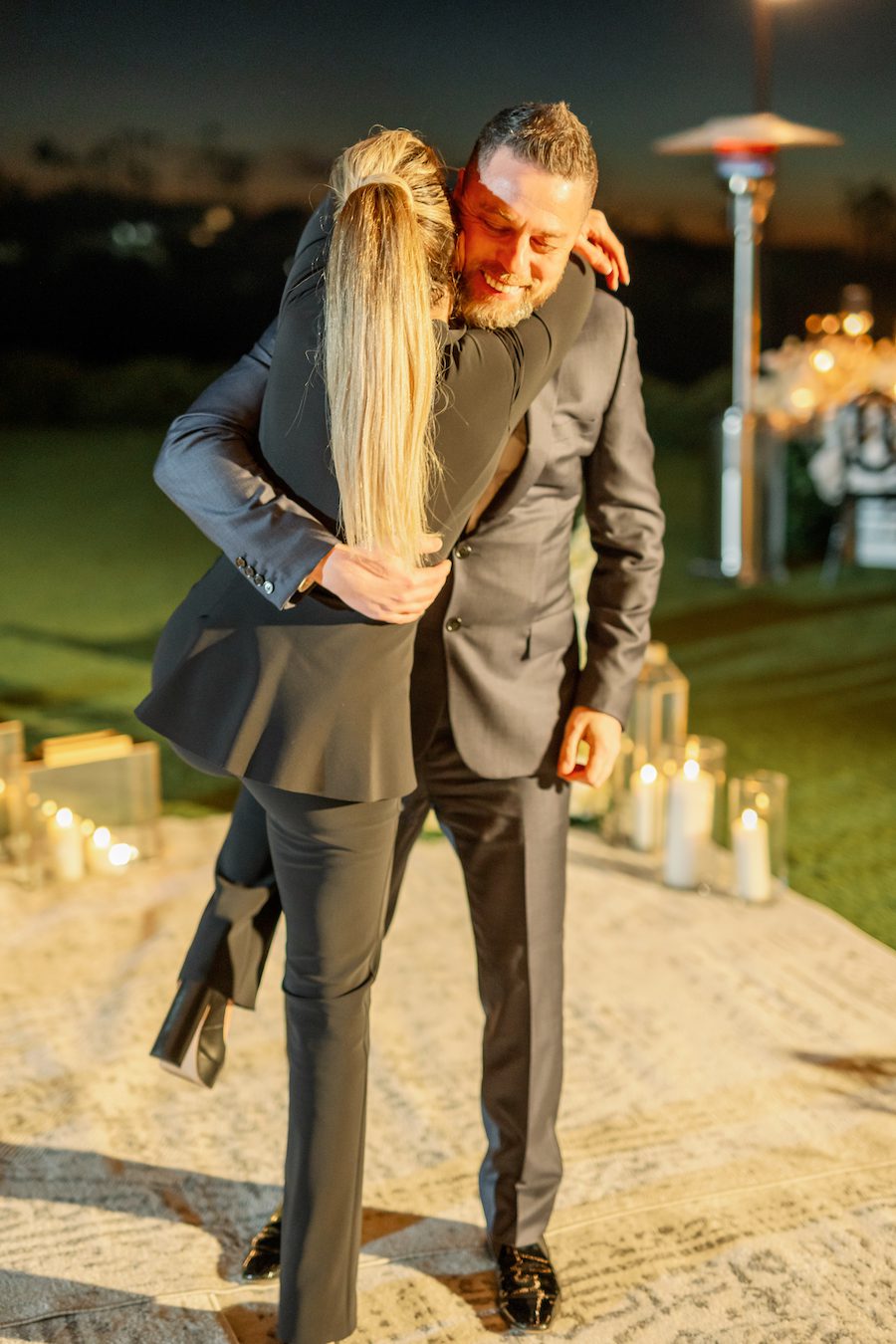 Did You Say Snow at the Beach?
Roman was not yet done! He led her off the dance floor and said "do you remember how it snowed on our wedding day?" Just like that…it began to snow! Anna was truly in awe of this surreal moment! She stood with her arms wide open, spinning in the snow falling at the beach! She was taking it all in and that's when it happened! Roman got down on one knee and re-proposed! She said yes, again! Happy tears and snow all around!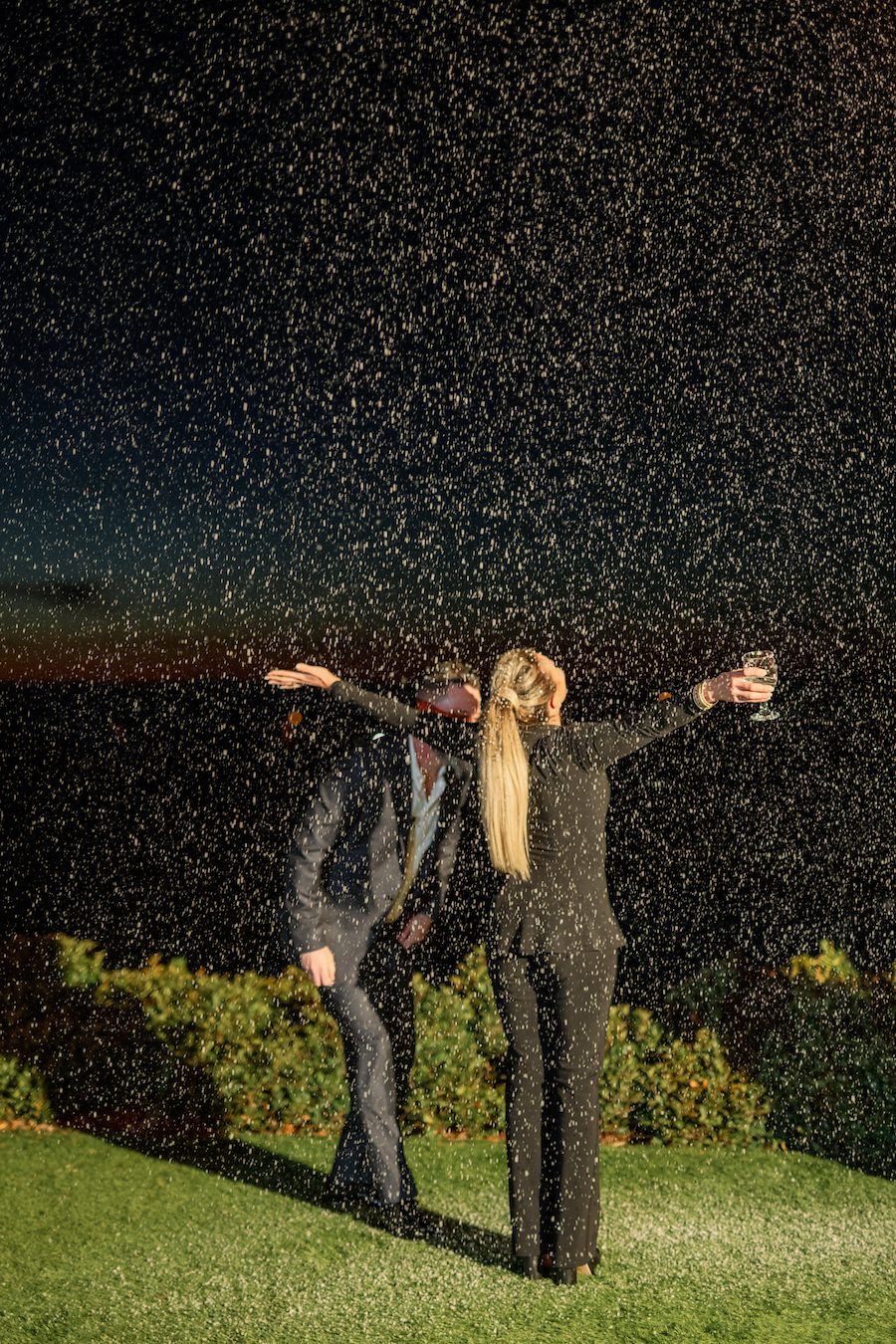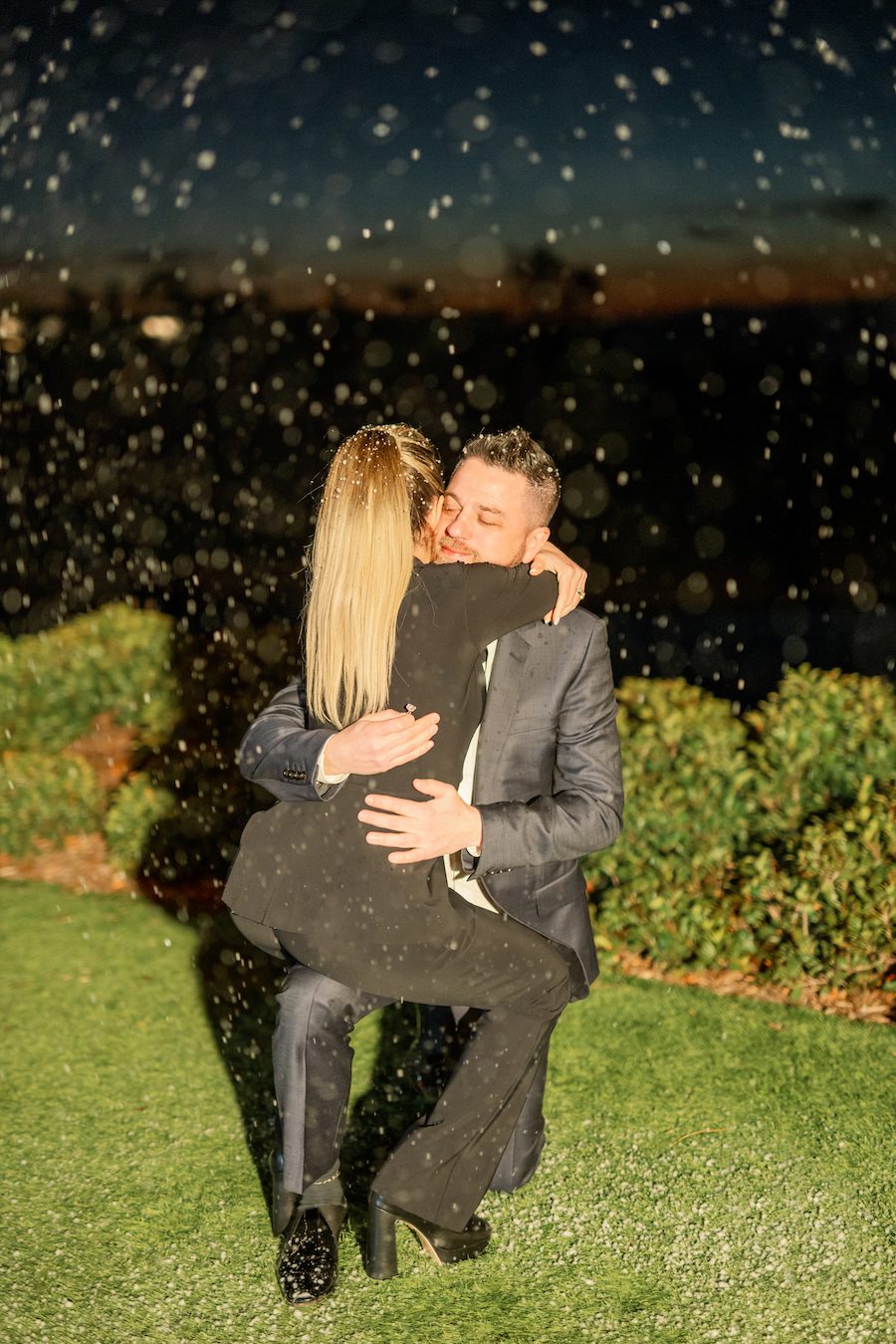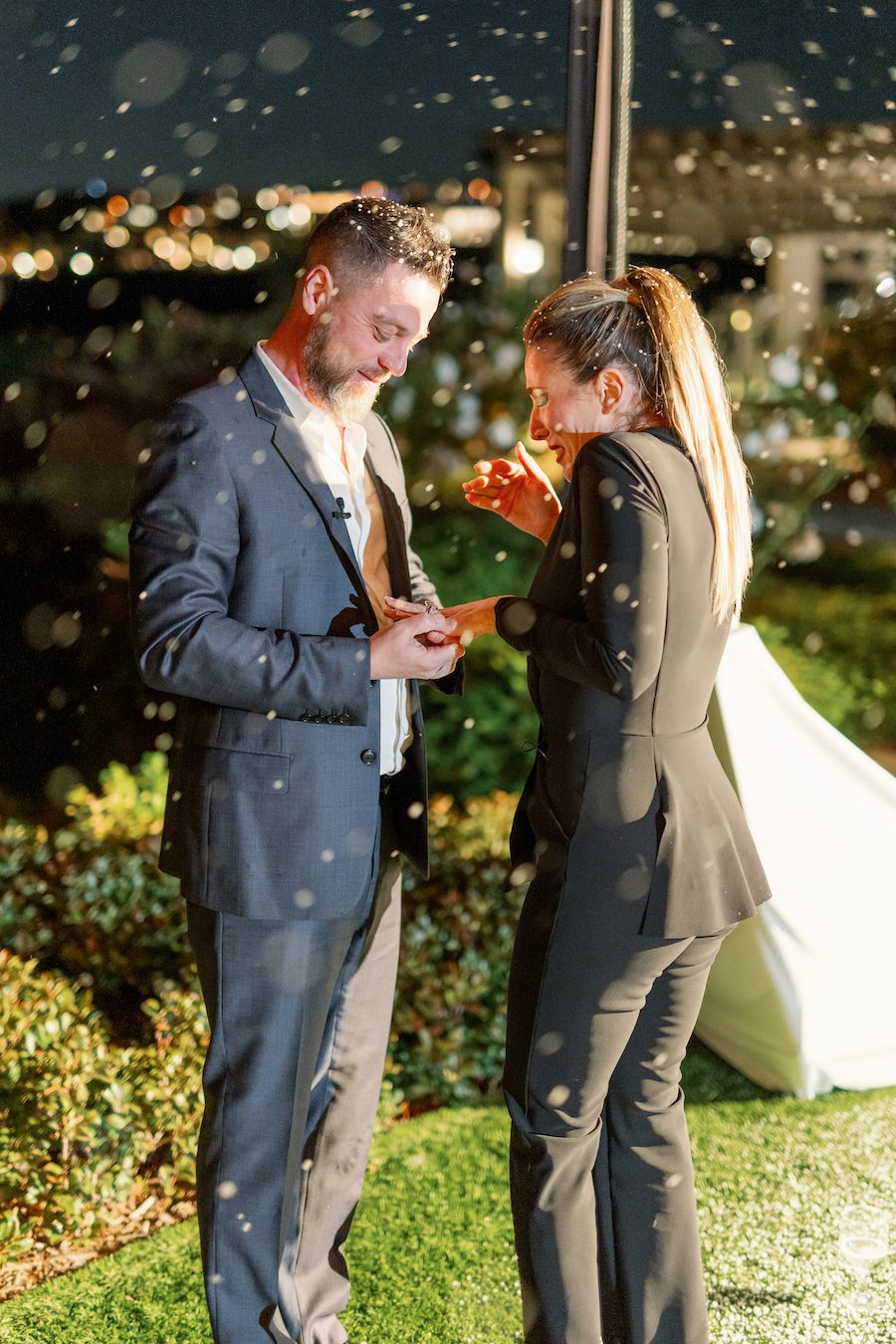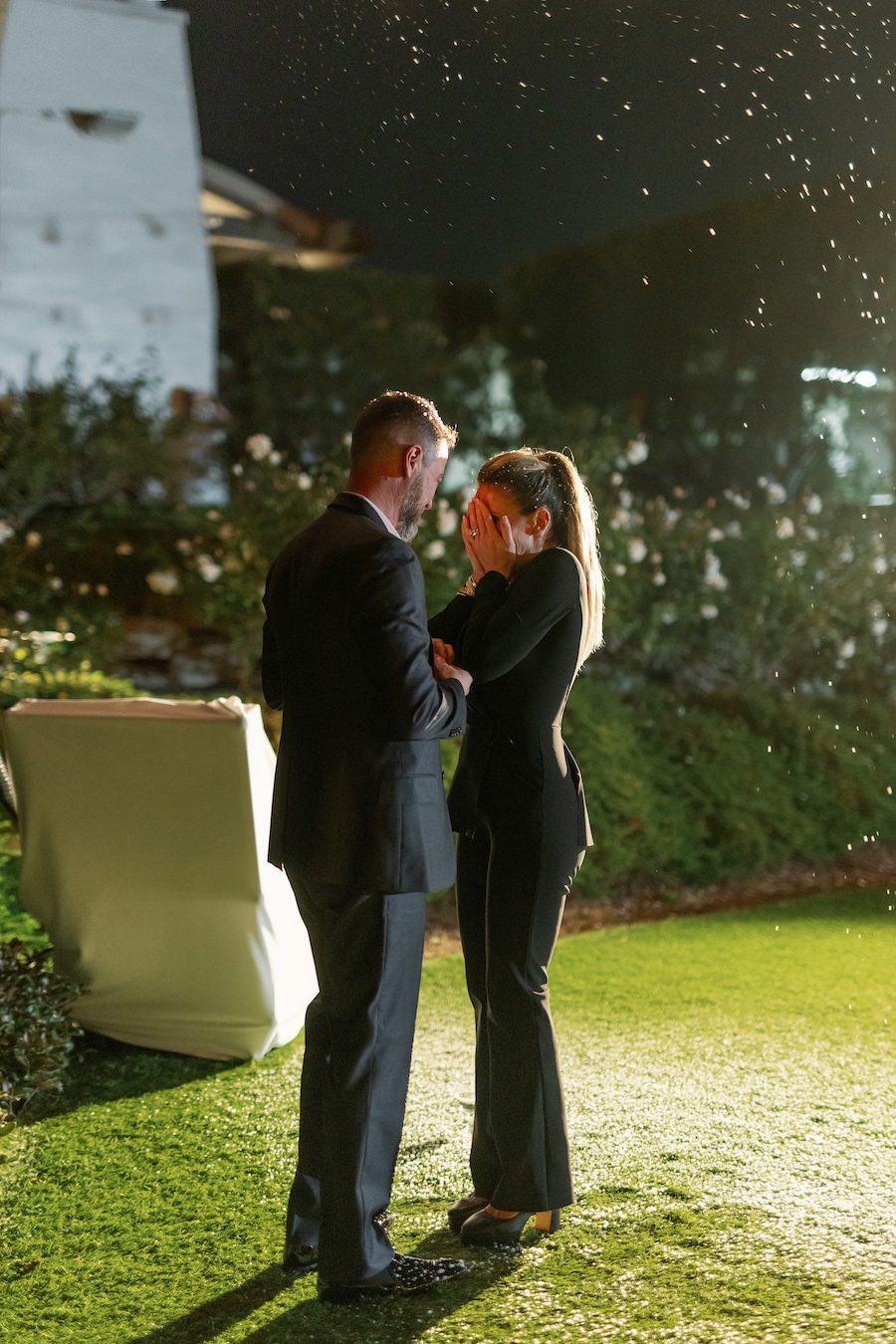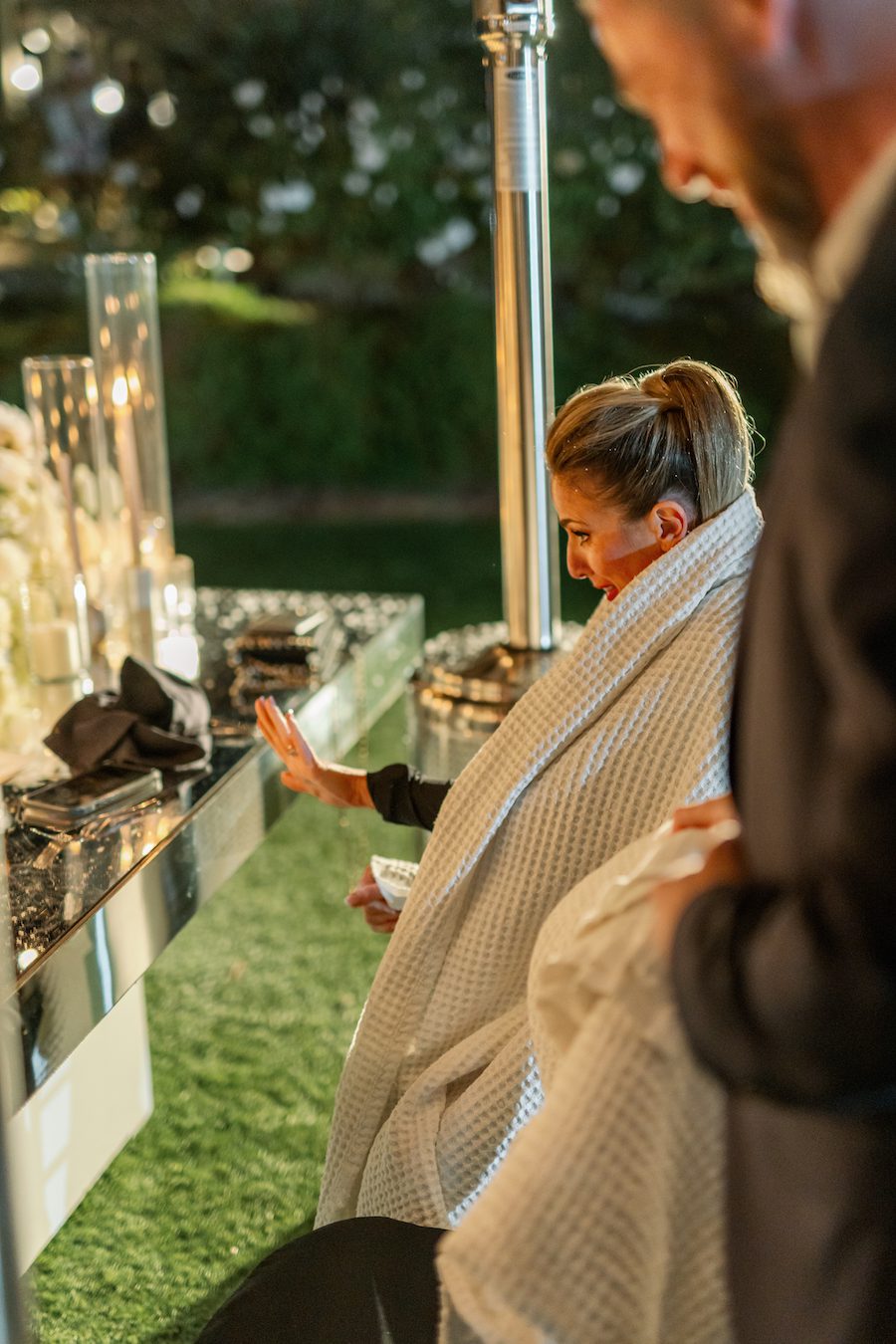 Delicious Dessert Details!
The happy couple returned back to their table for their final course..dessert! This course was also a surprise for Roman, as we worked closely with the chef and creative team to think of something to be equally as special as this moment! The chef curated a mini "wedding cake" design- complete with all of Roman and Anna's favorite things, chocolate, a variety of different doughs, and more chocolate! This was such a special moment as the couple was able to re-create their "cutting of the cake" moment from their actual wedding! It made for such adorable photos, great laughs, and of course a delicious dessert!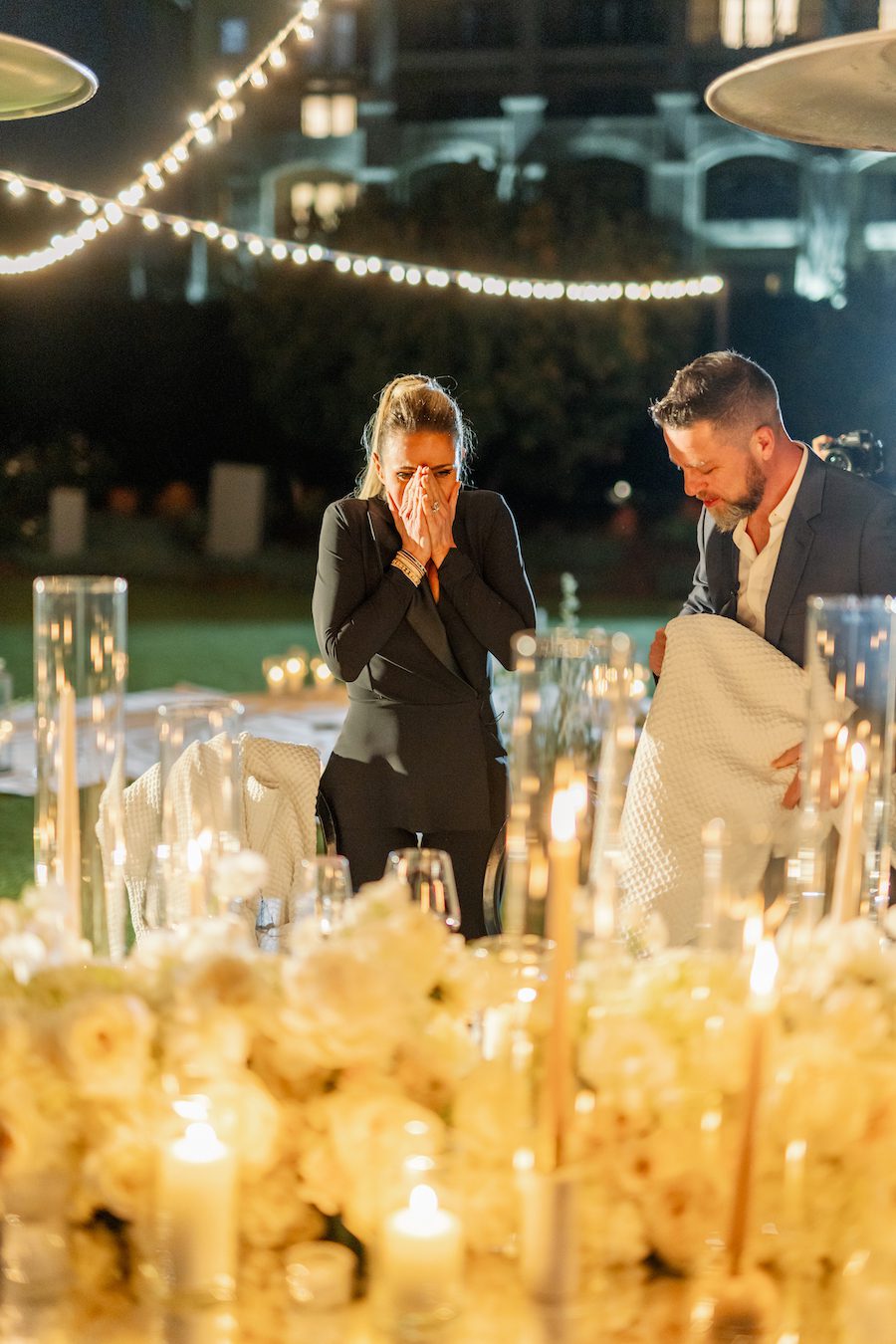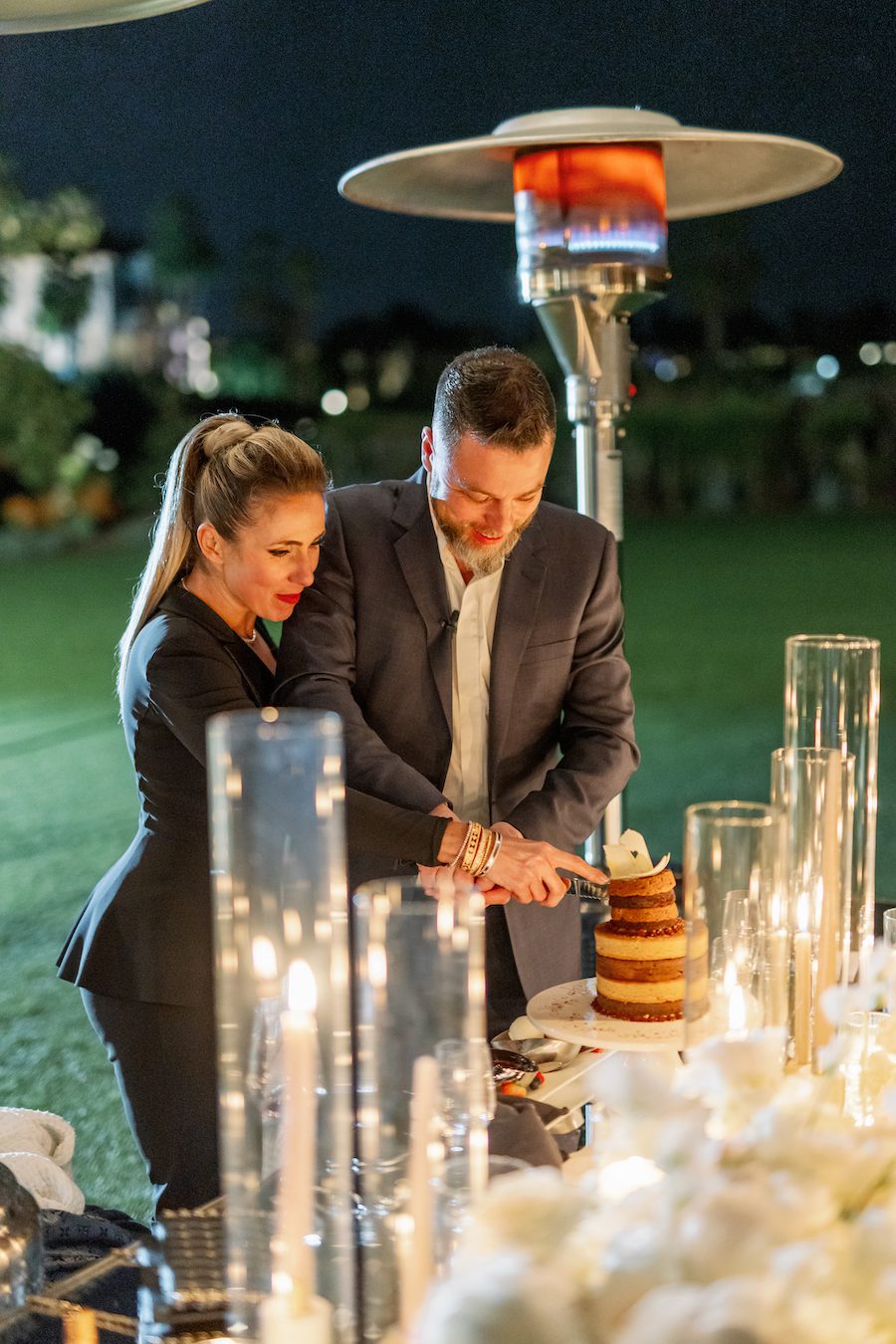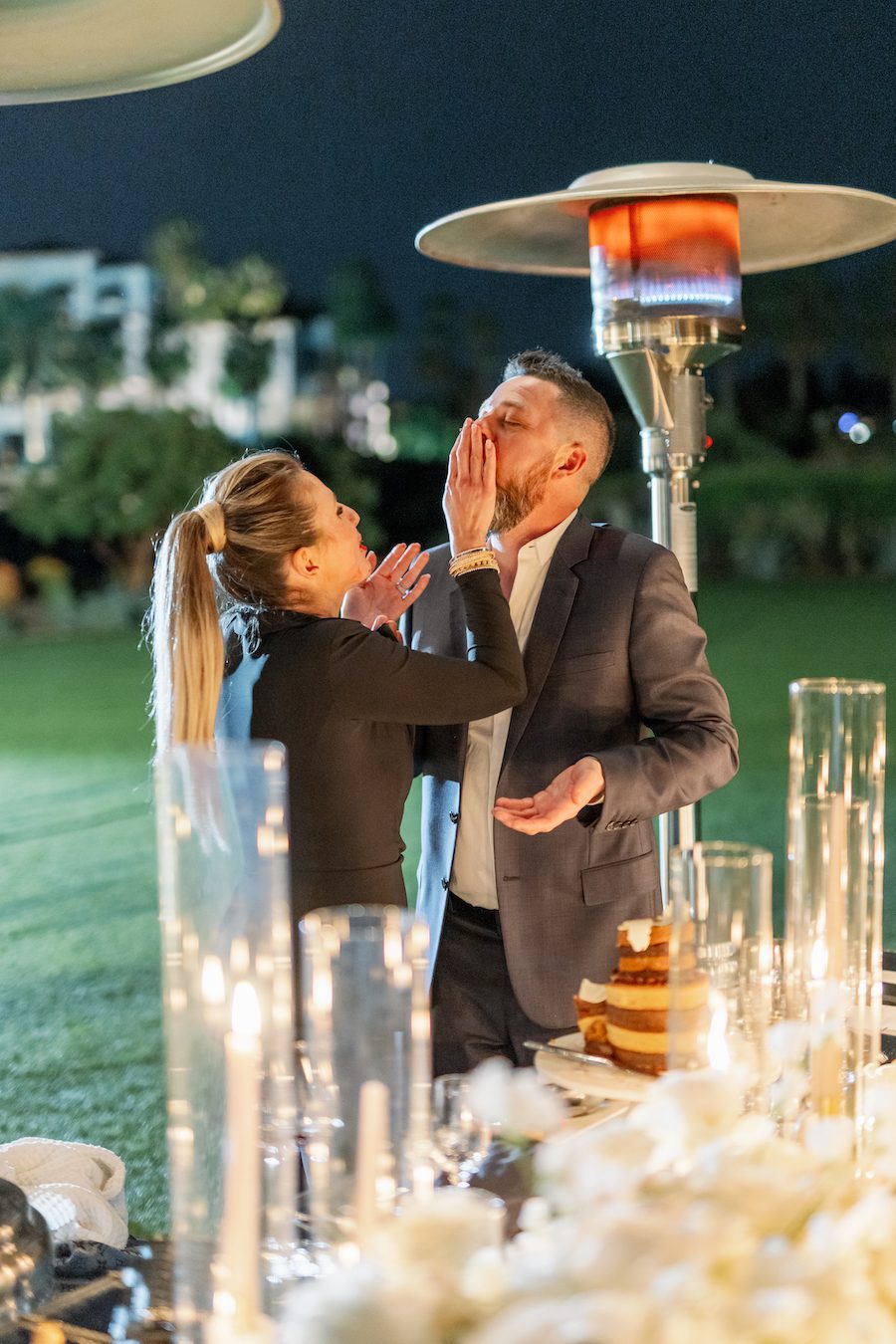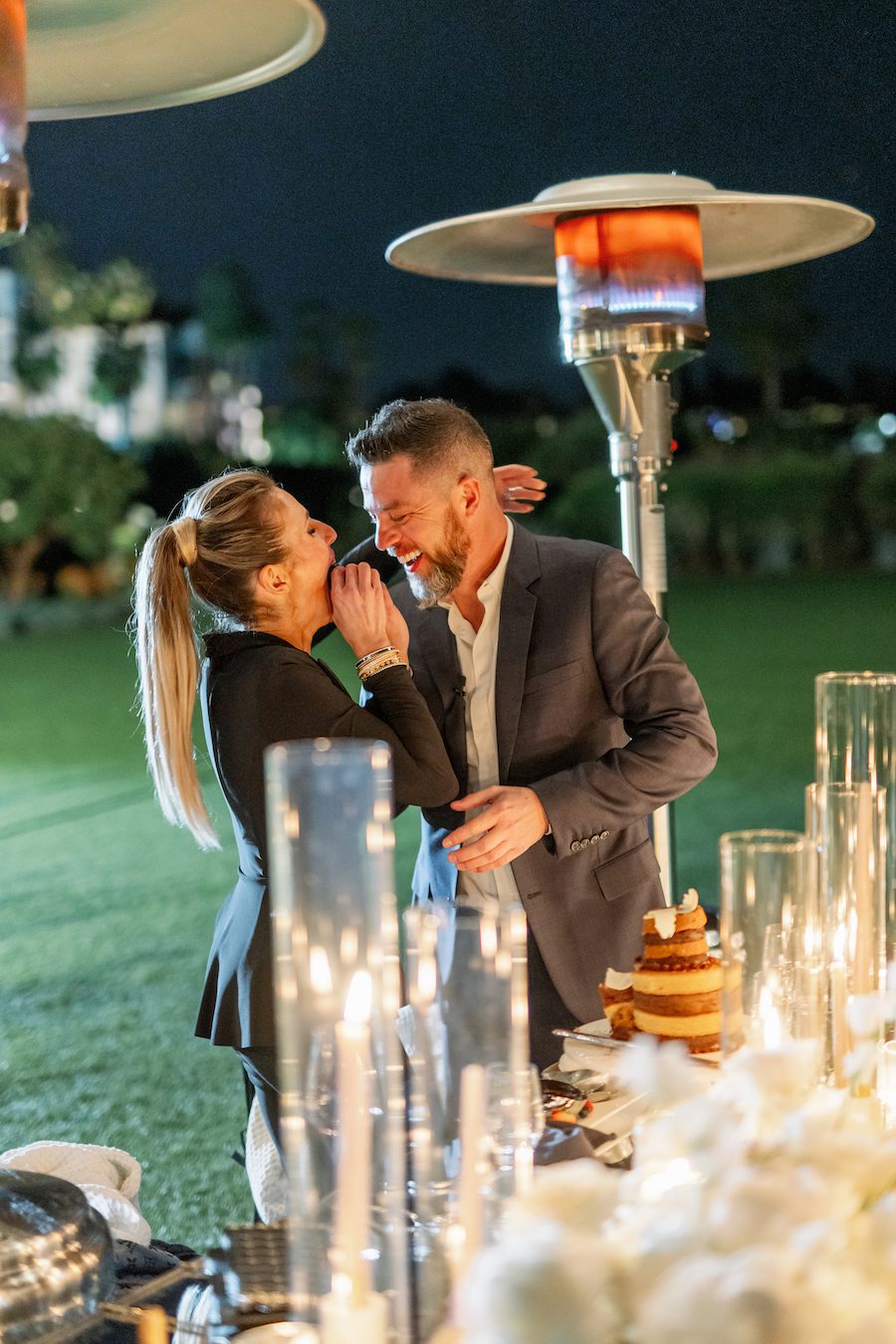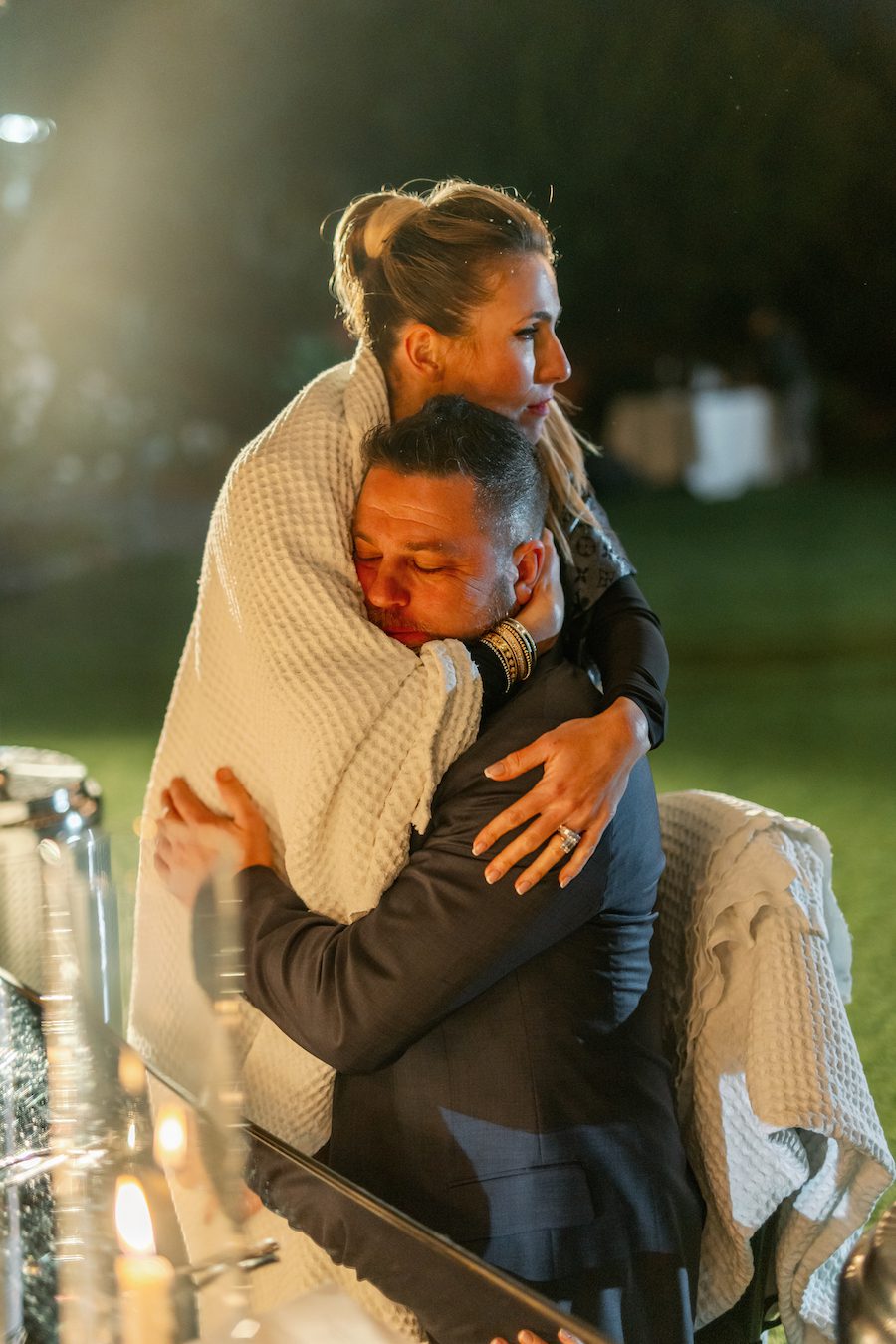 But wait there's more…again!
Just when she thought it was all over and time to head back to their room- Roman told her he had one more thing left for her! The whole time they were there, we had a live artist painting the whole scene! The progression of the night and their beautiful set up was all stunningly captured on canvas! Since the part 1 of this epic 20-year anniversary experience was museum inspired and all of their photos were on display, Roman thought it only fitting to have a "piece" from that magical day! The final piece to their museum of 20 years, and looking forward to 20 more!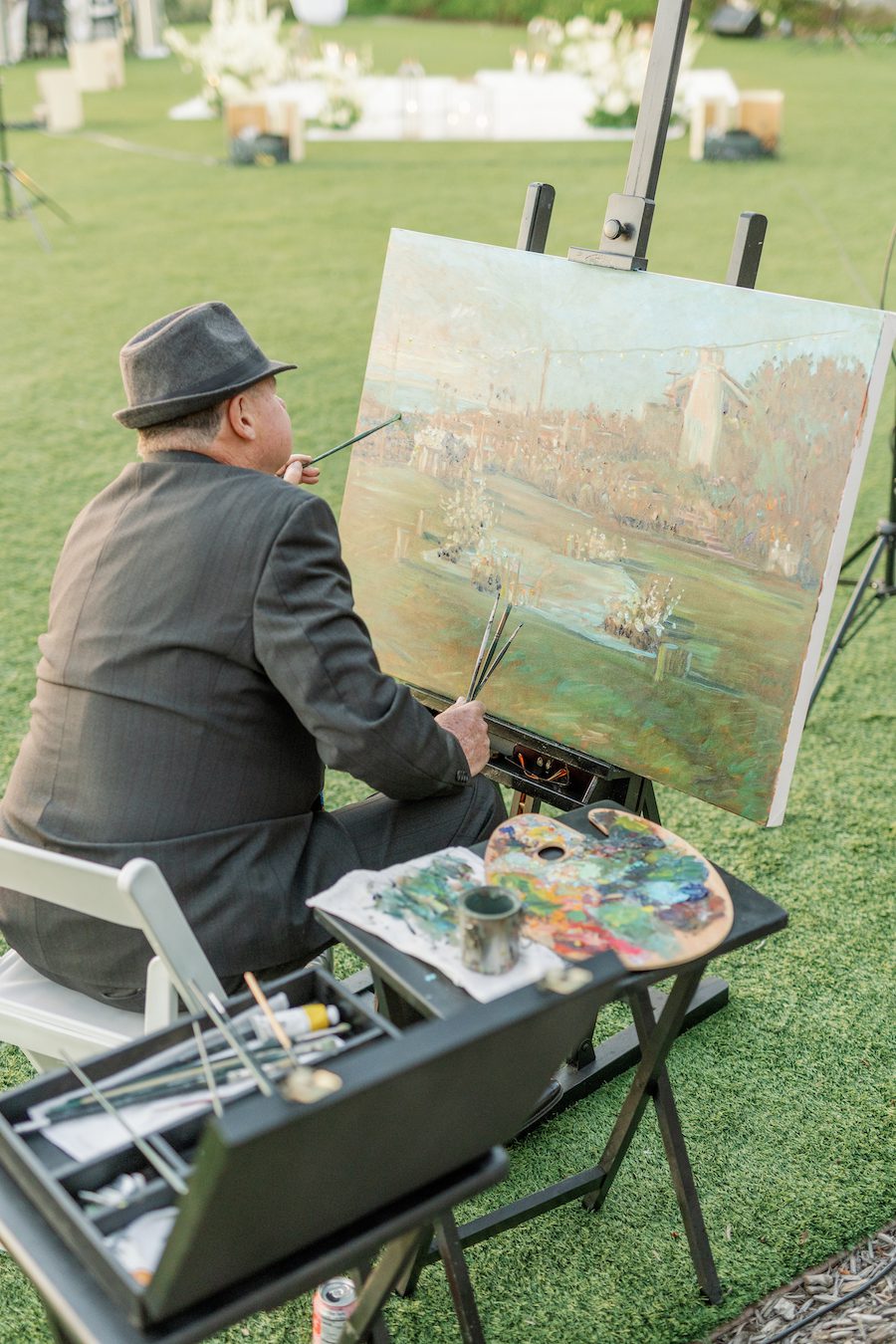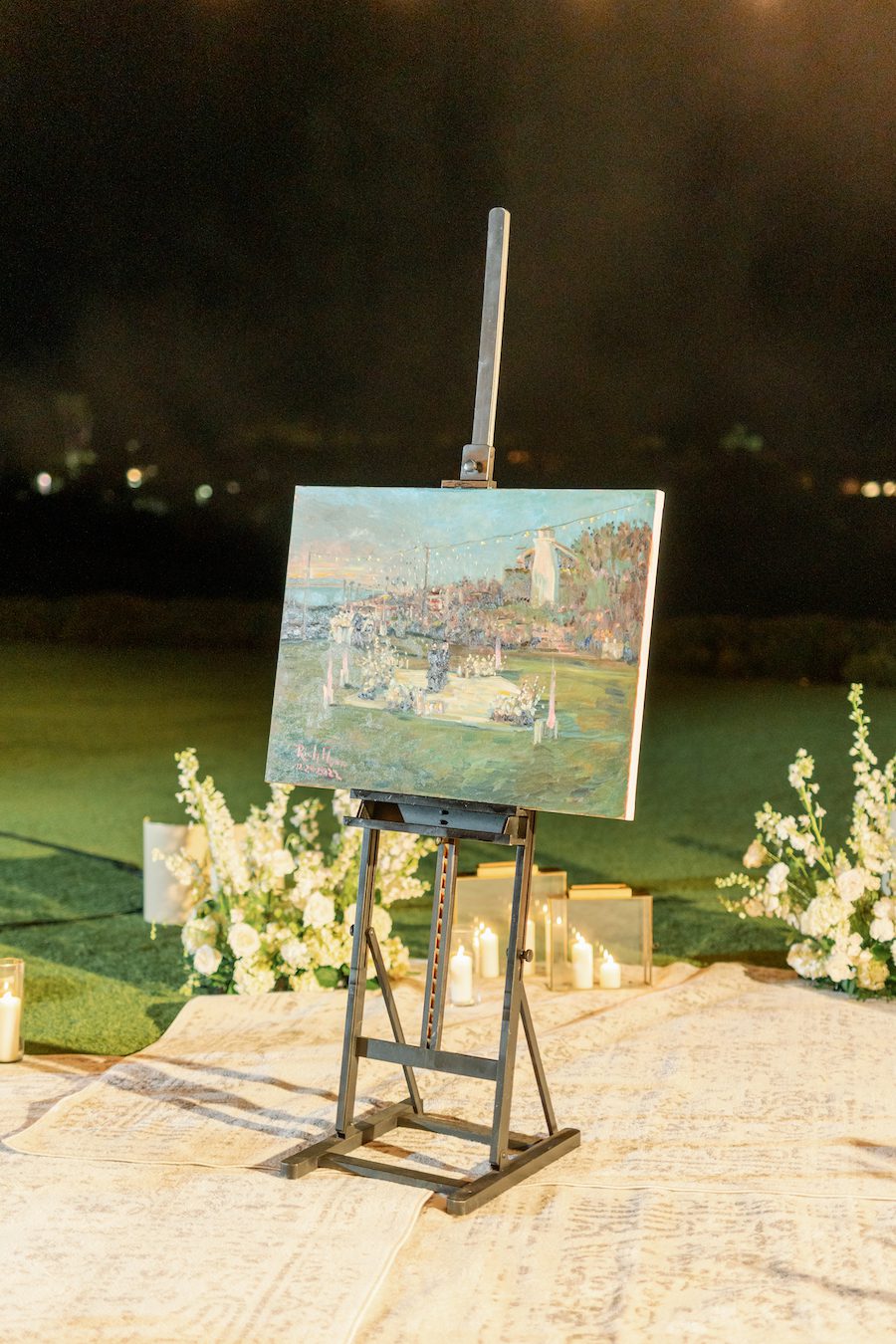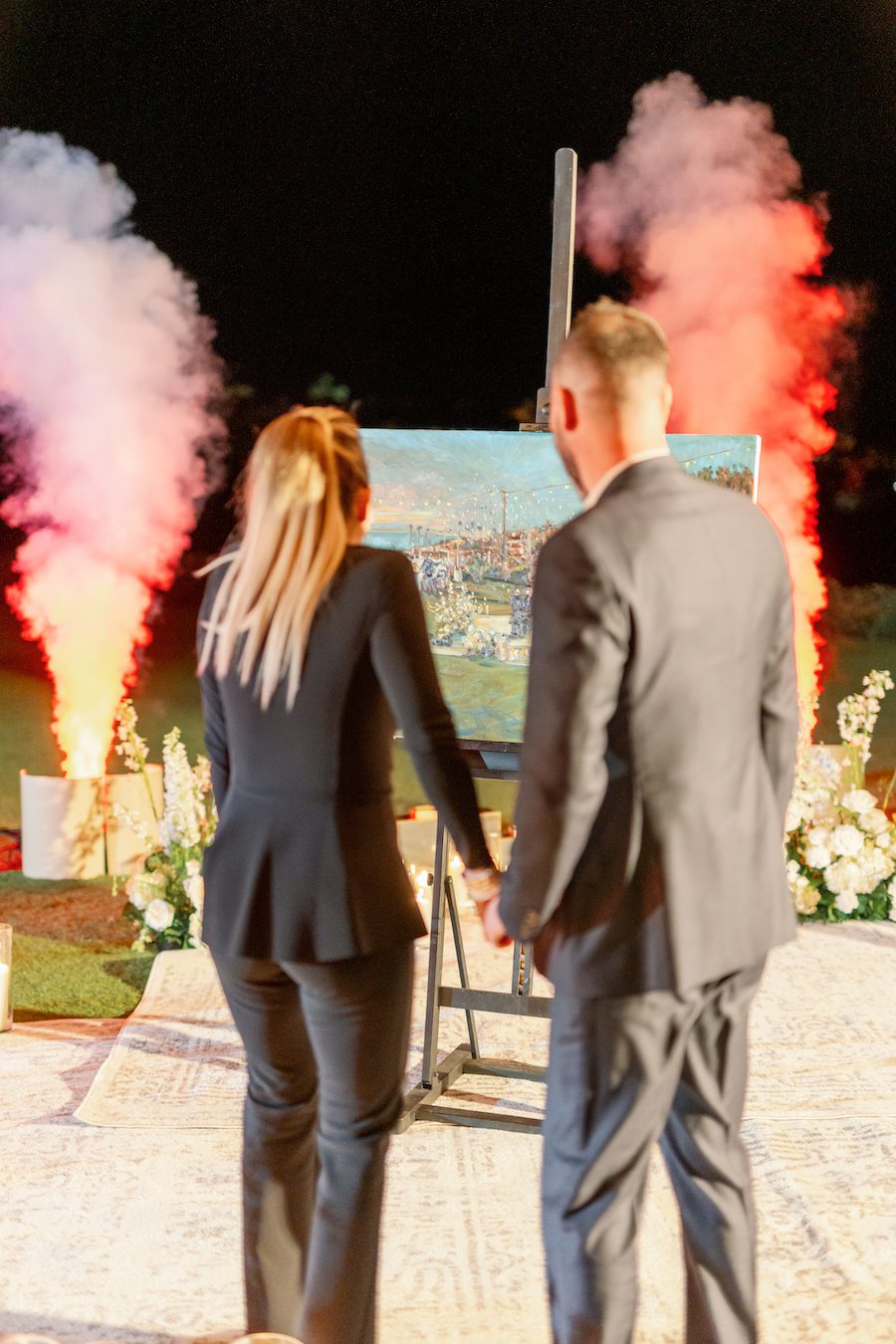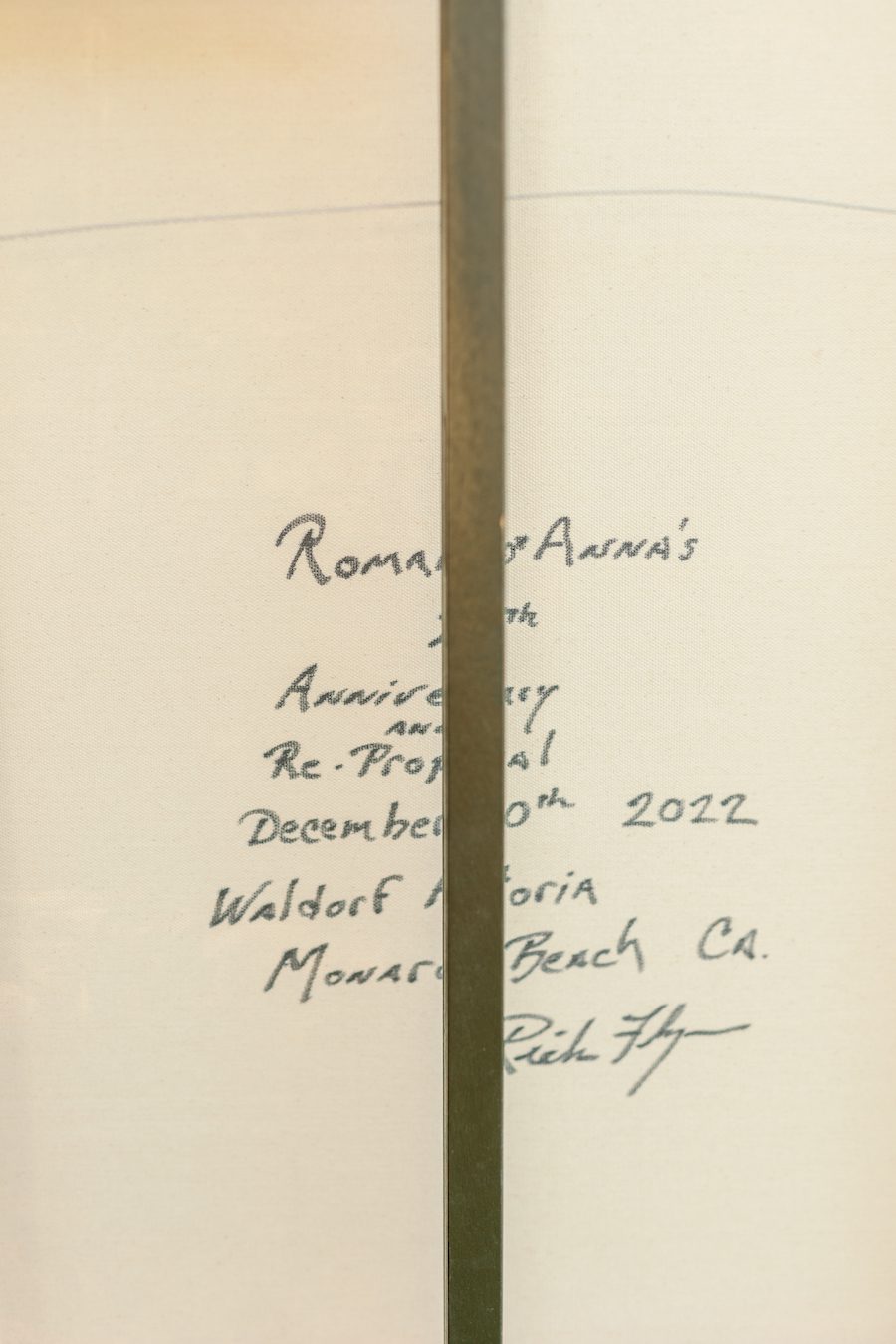 The Anniversary Celebration and Re-proposal of Her Dreams:
Roman truly blew this out of the water when it came to thoughtfulness, he did not miss a beat! He honored her in every way that he could think of and this whole day was a true display of real love! I mean…he made it snow in Southern California, how can you top that!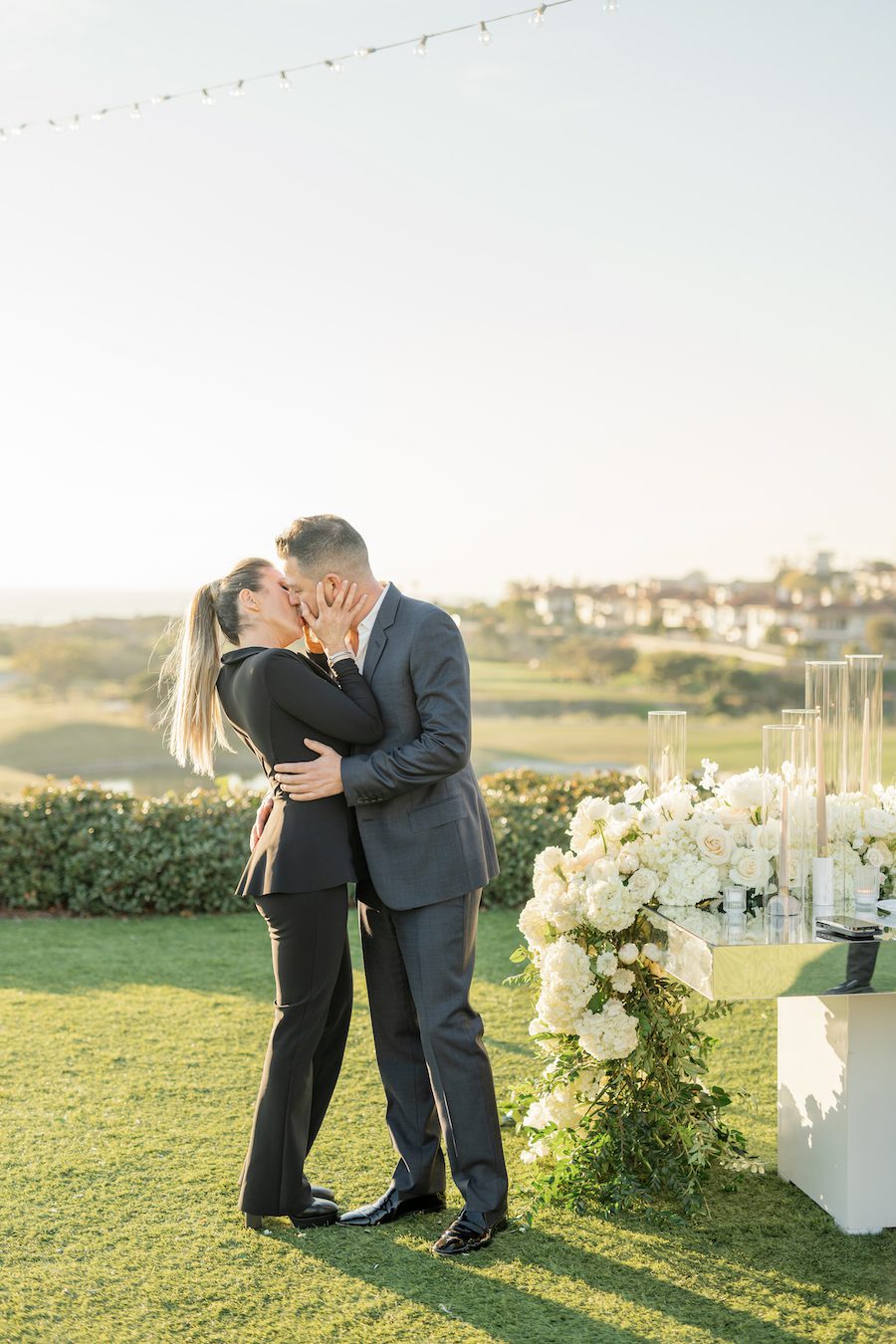 It was truly a night to remember and surely one for the books! Click here for part one incase you missed it to read more about this breathtaking Laguna Beach 20-year anniversary celebration and re-proposal!
120 Year Anniversary Re-Proposal in Laguna Beach
Looking to plan a luxury anniversary or re-proposal?
We can help. Your romantic and thoughtful event begins here.
---
Vendors:
Proposal and Anniversary Planners: The Yes Girls | Location: Orange County, CA | Photo: Purity Weddings