So you popped the question. She said YES! You popped the champagne and celebrated. Now what?
Do you have any personalized decor pieces from your proposal to take home and reflect on? That's where Get Wickd comes into play. You keep that champagne / wine bottle from your proposal (or any special event), send it in, and they will make it into a beautiful candle! They will even etch a message on the back of the bottle for you – you can add the proposal date and your names, or part of your proposal speech, anything. Plus, if you sneak the bottle home somehow (like maybe a family member grabs it after the proposal celebration) and send it off without your bride-to-be knowing about it, you can give it to her as a surprise gift! Can you imagine how special it would be to open such a meaningful and thoughtful gift on Christmas morning?!
We are very proud to be partnering with this awesome company to bring these unique candles to our clients. Check out Get Wickd and all the luxury candles they have to offer by clicking here.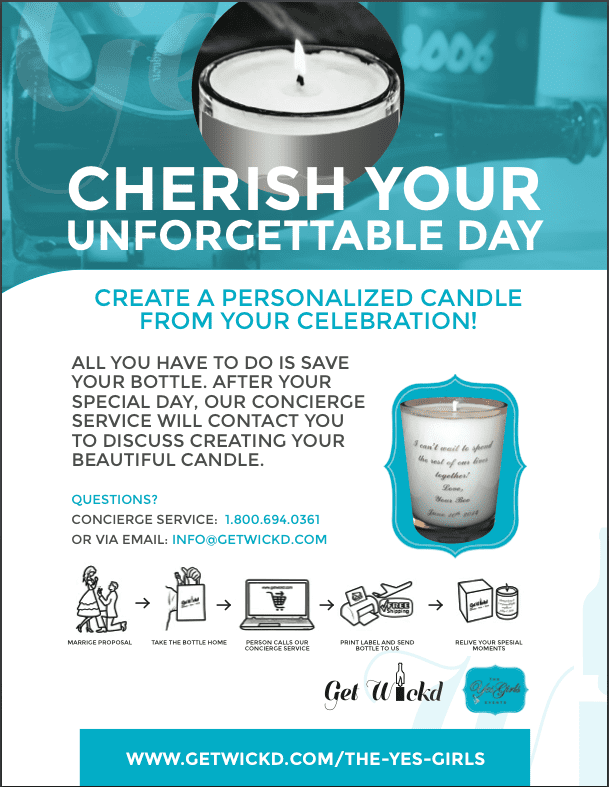 Want to create her dream marriage proposal? We have the perfect way. Contact The Yes Girls to get started on your personalized marriage proposal, wedding plan, vow renewal, anniversary or date night today! We're so excited to work with you!