For all you beautiful brides-to-be, Her Room is sharing their expertise on finding the perfect bridal lingerie that fits your body type. Not only will you look hot but you will feel it on that long awaited wedding night! Plus let's be serious, before the wedding it can be rather hard to find time to shop around; selecting options online is way more convenient. 
"It may have seemed like a whirlwind, from the proposal all the way to choosing the perfect hairstyle, but your magical day is finally almost here. You've found the dress that brings everyone to tears, got just the right shoes to dance the night away in, selected a gorgeous color scheme that accentuates the day perfectly, picked out amazingly cute bridesmaids dresses, found the venue of your dreams, ordered your delicious cake and beautiful flowers, made sure to get your 'something old, something new, something borrowed and something blue'. Your list seems to be right in check. But wait, have you tried on your lingerie yet with your dress?! Oh no! "What if it hangs out, what if it doesn't flatter my body or the dress?" Don't fret just yet; there is still time to add all the finishing touches to make this day as perfect as you've dreamed it to be.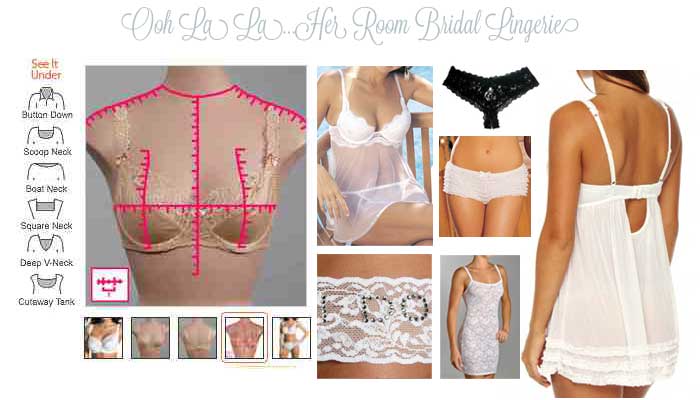 When you shop for your bridal lingerie it is imperative to find pieces that work not only with your dress, but with your body type; just remember to keep in mind "right fit for body type." Finding the perfect bridal lingerie by all means is not easy, but the search is worth the beautiful results. If you chose an A-line gown (or princess gown), which is flattering for nearly every figure, you'll be able to avoid the shaping undergarments that also provide support and opt for comfort due to the gowns forgiving shape. Now, if you've opted for a mermaid style gown you'll want to go for high-wasted shaping lingerie to help accentuate and flatter your shape and curves; remember though, try to stay away from underwear that will poke through and show seams or lines in your gown.You may have gone for the fairytale idea in regards to your gown and chosen the ballgown style. If this is the case, you'll want to accentuate your waistline, try a bustier corset or even a waist cincher…yup, time to suck it all in.
Whatever wedding dress style you chose, it is sure to fit you perfectly and the right lingerie will just add all the special touches you desire to make you look even more beautiful on one of the most important days in your life."
Take advantage of the holiday weekend to find your perfect fit. You've already found the right man which many would argue is hardest part, right?! ;) Happy shopping!


Want to create her dream marriage proposal? We have the perfect way. Contact The Yes Girls to get started on your personalized marriage proposal, wedding plan, vow renewal, anniversary or date night today! We're so excited to work with you!