I am in absolute awe of these engagement rings from Michellia Fine Jewelry! The collection is full of incredible detail and romantic design… just breathtaking!! LOVE!!
"At Michellia, we pride ourselves on impeccable design excellence, spending countless hours sketching, prototyping, and iterating upon unique concepts until our jewelry turns out as uniquely beautiful as the person it adorns. A testament to Michelle's classical art background, the iconic Michellia style is heavily influenced by the Art Deco and Art Nouveau movements from the Edwardian and Victorian Eras, from which the streamlined geometric elements and nature-inspired motifs have been long ingrained into our modern culture and collective reality. Paying tribute to the best of the old and new worlds, our designs seek endless inspiration from nature, history, mythological tales, classical literature, along with a strong appreciation for the beautiful details in our everyday surroundings. By combining rich symbolism with unexpected materials, we commit to creating non-traditional fine jewelry that are elegant, timeless, and effortlessly beautiful."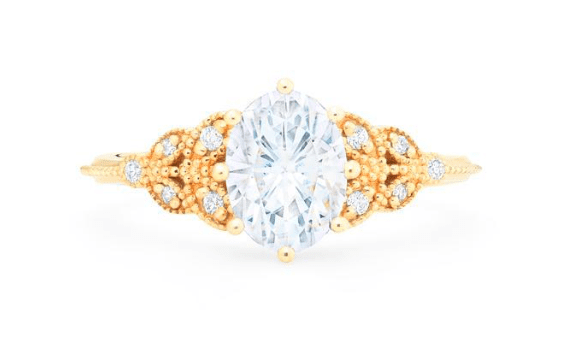 A refreshed version of our favorite Evanthe design, our classic floral series is a charmed fusion of bohemian romance and artistic harmony. Our signature floral lace setting has been updated with a more muted profile, accentuating the elegantly floating center stone that transitions seamlessly into the vintage-inspired leaf details. An utterly enchanting design, it can almost make flowers bloom when her finger touches yours.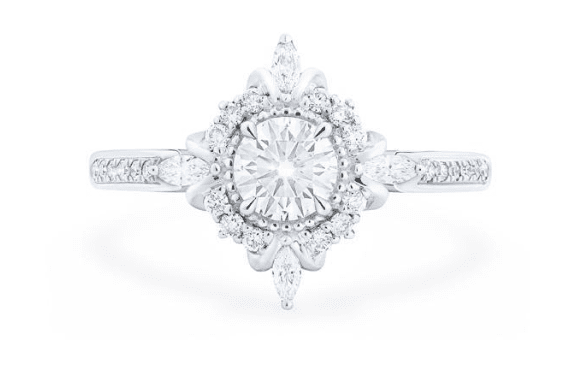 A lovely sister to our signature Alessandra design, Astrid is designed for those who prefer a more delicate profile without compromising the art-deco inspired exquisiteness. Despite its size, Astrid's petite center stone is adorned with flourishing diamond accents, forming the striking visual effect of a much more pronounced vintage bloom. It doesn't always take a screaming multi-carat diamond to get noticed; as seen in Astrid, it's about staying at the very center of one's strength to make the boldest statement.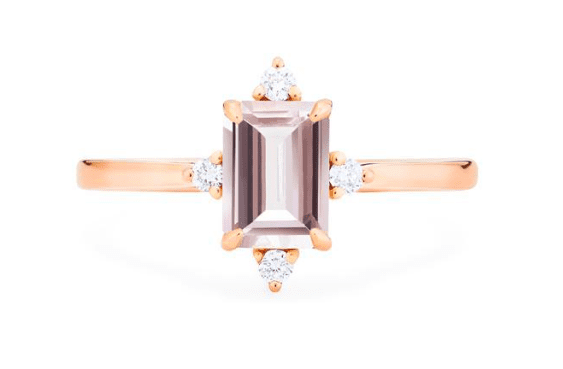 Characterized by clean lines and organic precision, Justine is our effort to fuse a hint of mid-century glamor into an unmistakably modern silhouette. Showcasing mirror-like brilliance of the emerald cut center stone, the setting is raised slightly with our signature vintage details to allow for versatile band pairing, while the accent diamonds add just enough subtle sophistication to reflect contemporary styles and classical sensibilities alike.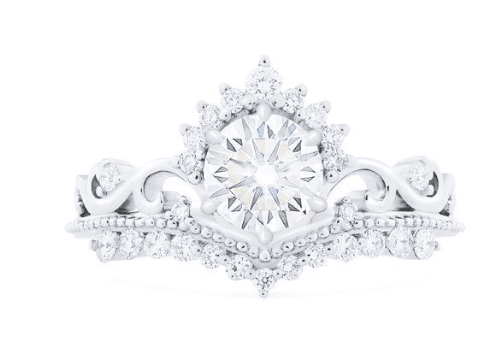 Known as the Goddess of Light, Theia is the mother of the Sun, the Moon, and the Dawn in the world of Greek Mythology. Inspired by the ancient tales, our Theia collection features radiating halo diamonds both above and below the goddess-inspired crown silhouette, adding timeless brilliance and luminance to the center gem, as did the Greek Goddess and her three children to the earthly sky. A modern translation of divine strength and beauty into one, our iconic Theia is dedicated to all the incredible women around us who bring their inner light to the world, shining brightly for all to see.