Many of us dream about how our wedding day will be from an early age. When you're engaged to the person you love and your big day is just around the corner, it's only natural that you will want to look and feel your best.
Whether your wedding day is months away or a matter of weeks, here are five tips that will have you glowing and shining on the most special day of your life.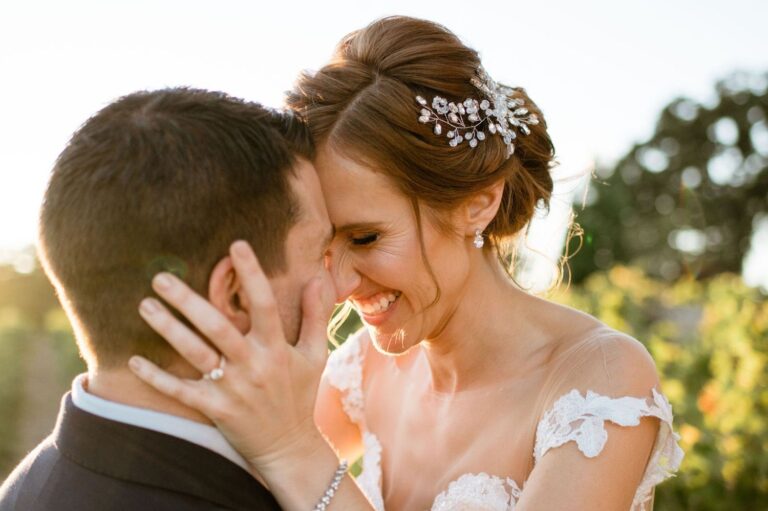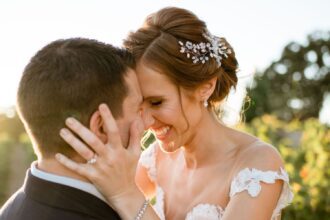 image: Danielle Bennink Photography
Make Exercise a Priority 
No matter how soon or far away your wedding day is, getting into the habit of performing regular exercise is key. Any wedding-related stress and nerves can be combated by physical activity, helping to reduce anxious thoughts. Regular exercise is beneficial for your mental and physical well being and can decrease your risk of heart disease, help you to manage your weight better, and boost concentration and energy levels. Physical activity also promotes collagen production, which keeps your skin healthy and glowing.
Get Enough Sleep

The last thing you want is to be tossing and turning the night before your wedding and waking up feeling restless and fatigued. When we don't get enough sleep, our eyes can appear puffy, so getting enough shuteye before your big day is crucial. While it's normal to have pre-wedding jitters, there are several things you can do to take your mind off things, such as practicing relaxation techniques like meditation and guided imagery. The mattress you sleep on will also have a huge influence on your quality of sleep. This covers the top bed-in-a-box brands that provide maximum comfort and relaxation (that you may want to check out as soon as possible!)
Make Changes to Your Diet

If time is on your side regarding your wedding day, there are lots of dietary changes that you can make for the better. Planning your big day will likely consume most of your thoughts, meaning you're more likely to reach for junk food that's quick and convenient. While they may give you the initial boost you need to plan and prep, the negative health effects processed foods have on your body are worrying. Eating junk food regularly can increase your risk of obesity, chronic diseases, and be terrible for your skin. Instead, you should incorporate plenty of fresh fruits and vegetables into your diet, which can leave your skin looking healthy and radiant.
Drink Water

In addition to making changes to your diet, you should never neglect drinking water. The best thing you can do for your skin is to drink eight glasses of water a day at a minimum, which will not only keep you fresh and hydrated but help your skin stay youthful and elastic. If you have a few months before your wedding day arrives, you will have plenty of time to get into the habit of drinking water. We all want our faces to look silky smooth as we walk down the aisle (especially when all eyes are on us!), so factoring plenty of water into your diet is key.
Use the Right Products

For your skin to look its best on your wedding day, it's vital that you use the right products and follow a good skincare routine. Cleansing regularly, exfoliating, and moisturizing can all help in keeping your skin looking glowing and youthful. On the other hand, avoid extra exfoliation, as it may also harm and won't give you expected results. This is a common cause for many brides, as, in order to glow on their special day, they sometimes overdo their routine and get bad results instead. To not harm your skin, try products that are made of natural ingredients such as goat milk, aloe vera, or calendula. For instance, soaps made of goat milk contain lactic acids and vitamin A that will nourish your skin and keep your skin barrier in a healthy state. If you have oily skin, aloe vera soaps can be a good choice, as they remove all the extra oils without drying out your skin. If you are hesitant about the products that will work for you the best, do your own research a lot. You may even benefit from making an appointment with a dermatologist who is an expert in skincare.
Planning a wedding can be highly stressful and take its toll on your mind and body, so to ensure you're looking radiant and fresh for your big day, prioritizing your health and making use of the tips above will make sure that you're the most beautiful bride in town.
Post by: Joniel Suezo