"So I really just show up and get down on one knee?"
Yes!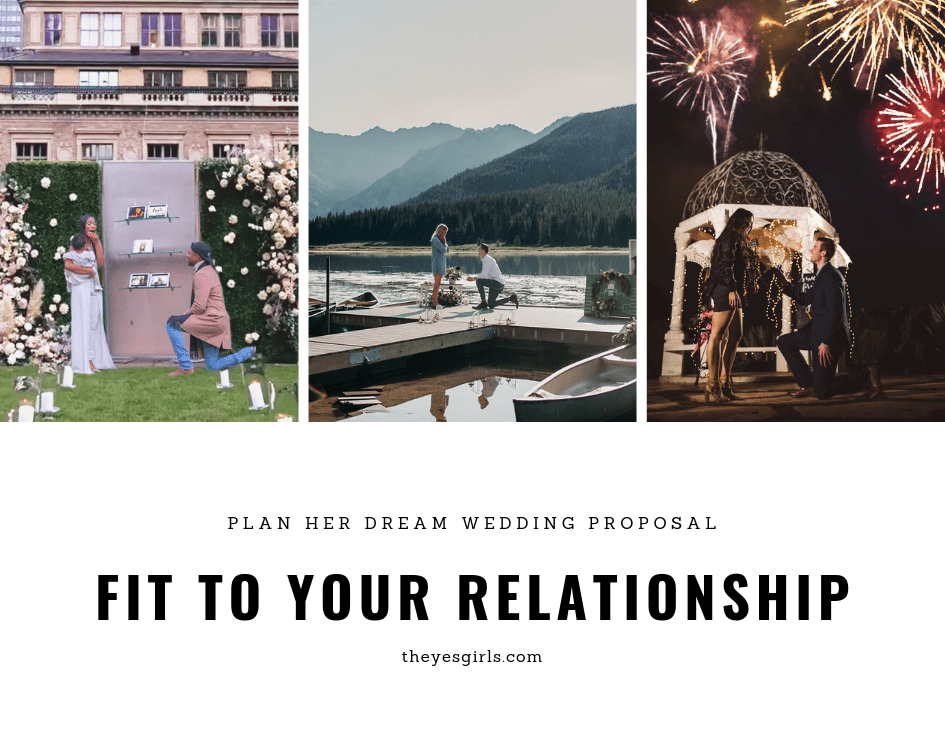 &
1 IN 3 WOMEN ARE DISAPPOINTED WITH HOW THEY WERE PROPOSED TO.
Worried she won't love your proposal idea? Looking to plan her dream proposal?
Let's ditch the "insert couple here" scenario and make it ALL ABOUT YOU TWO. Why? It's your love story and this moment should reflect your relationship, memories, and her favorite things.
Bottom line. Whether you're looking for an intimate and special evening or a grand gesture to show your love, we catered the proposal ideas to YOUR relationship. When your future fiancée walks into that perfect proposal location, she'll know every piece of décor, the flowers, colors, memories, and more were created just for her.
HOW IT WORKS
Step 1. Fill out our relationship questionnaire so we can get to know you two (trust us this is so worth it). If you have some elements you want to include, we'll tie those in and then some. If you have a certain budget or timeframe in mind, we take that all into account.
Step 2. Our incredible Creative Team brainstorms and sends you two completely custom marriage proposal ideas catered to your relationship and budget (NOT from a stockpile list of ideas) within (4) business days. Your ideas will include all the step by step thoughtful details and a photo board so you can envision your memorable moment.
Step 3. Let's chat about it! We include a 10-minute consultation to review your specific ideas, go over any questions, and give you your best next steps to bring your favorite proposal idea to life. Whether that's The Yes Girls planning, booking all the vendors, and coordinating your proposal to a tee (aka upgrading to our planning package) or giving you a Step By Step To Do list, links and tools you need to book the necessary vendors and personalized pieces, we don't leave you hanging.
Feeling a little less stressed? Now let's make it happen! This is us giving you a virtual high five!
WHAT DO OUR CLIENTS HAVE TO SAY?