If you plan to pop the question this Halloween, don't forget to add your own spin on the proposal so it's personal to you and her. Even if it's a spooky day, romance is still required. Here are three easy ways to enhance your Halloween marriage proposal BUT don't stop here. These proposal pointers just the sprinkles on the cupcake.
Maze Engagement from Becca Rillo Photography
1. Rather than just carving out will you marry me?, have personalized letters in each representing different moments of your relationship. The last pumpkin can ask her to turn around. Better yet, set it up at a pumpkin patch where she has to find the personalized ones. Will make for great photos. 
Photo from Wedding Republic
2. Trick or Treat? If you plan to go around the block with some kiddos for Halloween, you can use that in your favor. Go to a row of houses and as each door open, the resident will hand her a king size piece of candle (and add a gorgeous burnt orange rose) that will spell out a special message to her like "Baby Ruth" you're my "sweetheart" you are worth more than "100 grand", etc. to lead up to the big moment.
Photo from Oopsey Daisy
3. If you both love scary events then end the haunted house with a romantic twist like this guy below. If you aren't a fan of "scary" then set up a cool scene at a corn maze where the map leads her through moments in your relationship that include the ups and downs, just like getting through a maze; you will always be in it together.
Photo from ny daily news
Also, before we end our post today we wanted to send a big shout out and thanks for the awesome feature on You Plus Style!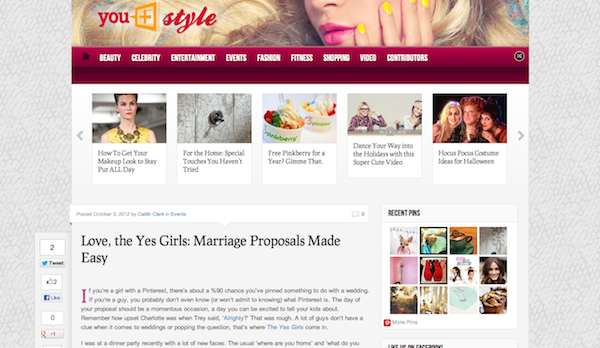 – – – – – – – – – – – – – – – – – – – – – – – – – – – – – – –
Heather Vaughn is the founder of The Yes Girls who's in love with helping men create marriage proposals that are not only romantic but completely personalized to their relationship. The Yes Girls are thrilled to pioneer the proposal planning industry. You may recognized them from their work on Travel Channel, Style Me Pretty, and KTLA News to name a few. Contact us to get started on your custom marriage proposal today.


Want to create her dream marriage proposal? We have the perfect way. Contact The Yes Girls to get started on your personalized marriage proposal, wedding plan, vow renewal, anniversary or date night today! We're so excited to work with you!