Last week I shared with everyone where Aaron and I will be headed for our honeymoon! (If you missed it, click here to catch up.) So to keep that theme going, this week I'm sharing some tips and things to think about when you're planning your honeymoon!
Think About Your Flight Time. This may sound silly, but I cannot tell you how many brides I have worked with that plan to leave for their honeymoon at 6am the day after their wedding! That means that you have to be at the airport at 5am, which means leaving the hotel by 4:30… I mean who wants to get up at 3am when you probably didn't even go to bed until 1!? No one. That's the answer! So think about the flight departure times!
Plan Your Travel Days. For me, I knew that I would want to have a couple of days after the wedding to "come down off my wedding day buzz" and relax before hitting the beach. I also want to be able to make sure that all the gifts got back to our home, my dress was being taken care of, etc etc. I'm a planner and a Type A personality to knowing those things were taken care of would help me to relax and enjoy my honeymoon more. SOOOO, Aaron and I will not be leaving for our honeymoon until 6 days after our wedding. We will take a week to be at home together and do a little "staycation" and then fly out to the Caribbean to enjoy the beach together!
Pack ahead of time. And what I really mean by that, is pack early! If you are leaving the day after your wedding then you don't want to be stressed about your suitcase the day of your rehearsal! So start packing early on and you'll be all set. (That includes throwing in all your incredible lingerie from your bachelorette shower!)
Don't change your name yet! I know some gals are super anxious to get their name changed and get started on that process, but do not do it before your honeymoon. ESPECIALLY if you're traveling out of the country! Your passport must match your drivers license / id / credit cards so being in the middle of that name changing process when you're in Mexico just will end up being a headache.
Things to do. We all know what happens most on a typical honeymoon, but you'll also want to make sure to pack some non-sexual things to do together! Throw in a deck of cards, or a great Table Topics stack, or even a couple of DVDs into your suitcase. The worst case scenario is that you don't use them; but wouldn't you rather have them and note use them, than want them while you're away?!
BE TOGETHER. This one I cannot stress enough. Put away your cell phones! Do not get on Facebook or Twitter or Instagram. Just enjoy each others company! For most couples, a vacation like this (that's all about the two of you and you're all alone) is a rarity! Remember to soak up every moment of your newly-wed bliss and enjoy.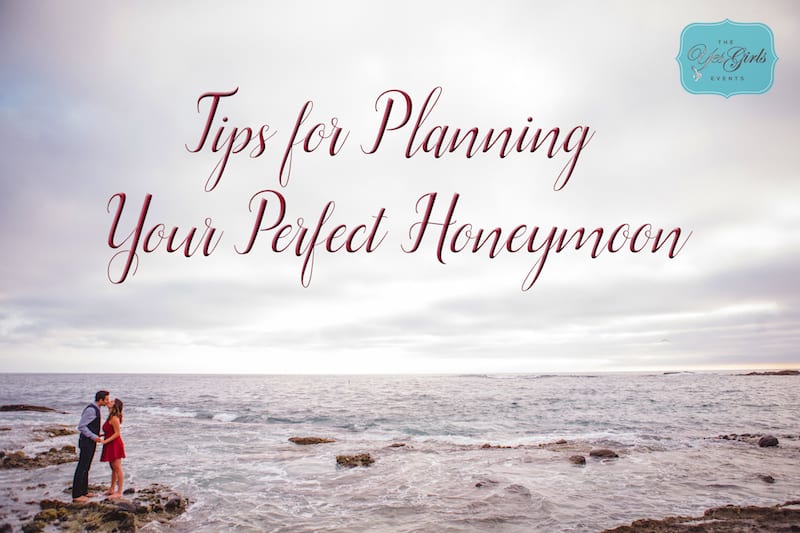 Want to create her dream marriage proposal? We have the perfect way. Contact The Yes Girls to get started on your personalized marriage proposal, wedding plan, vow renewal, anniversary or date night today! We're so excited to work with you!