Today we are sending out the first copy of our Yes Girls newsletter. If you haven't had a chance to sign up, consider this a friendly reminder. We are waiting to send out the newsletter to our subscriber list until later today! If you are wondering what the newsletter will entail let's just say Valentine's Day is a comin', thoughtful anniversary ideas, and what to expect for 2012. Check out a sneak peek below or read here. Below shows you exactly how and where to subscribe!
Avoid Valentine's Day Cliches With Thoughtfulness: A Few Cute & Doable Ideas for Your Valentine.
Send her/him an old school Valentine's Day card and candy. Why not pretend you are back in grade school and give her/him a box of sweethearts and card that says, "Date tonight? Check Yes, No, Maybe?" You can write the dinner reservation time on the back of the candy box.
(See newsletter)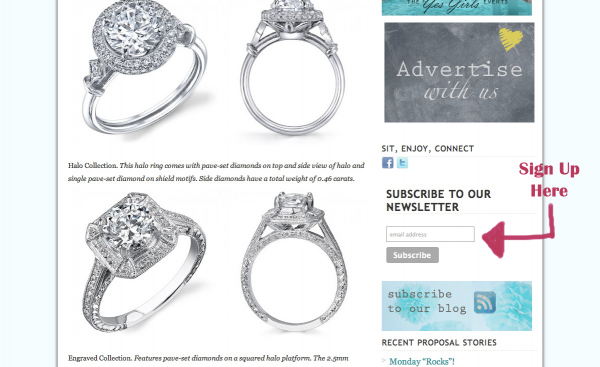 Thanks for signing up! Valentine's photos above courtesy of Etsy.
Love,



Want to create her dream marriage proposal? We have the perfect way. Contact The Yes Girls to get started on your personalized marriage proposal, wedding plan, vow renewal, anniversary or date night today! We're so excited to work with you!