Timeless, classic, unique. These adjectives are all ones that come to mind when thinking about vintage engagement rings. Many couples decide to go this route for a couple of reasons. Whether it is loving the classic styles that have still remained beautiful through the years, or having a unique piece that you won't see on anyone else. For many people vintage engagement rings also bring piece of mind because the diamonds are conflict free and are getting rehomed.
The four factors when searching for the right engagement ring, whether it is vintage or not, are the 4 C's: clarity, cut, color, and carat. Any gem consultant or dealer should be able to assess the jewelry and diamonds, and point out any flaws within the diamond. Many flaws cannot be picked up by the naked eye, but they should still be honest. For any diamond around one carat or larger, certification papers should be present. Getting the ring appraised and evaluated by another party is also a good idea to ensure that it is worth the price.  The different eras can be broken down by time period, this will make it easier for you to locate which style you want to focus on.
Victorian Era 1836-1901
This period was named because of Queen Victoria's reign of England. Her influence of her family is shown with these rings with the romantic designs in the shapes of hearts, flowers, and birds. Opal was the popular and favorite gem of the queen, but halfway through this time period diamonds were discovered. Engagement rings from the Victorian era are influenced by nature and have a romantic classic look. (Image Source Here)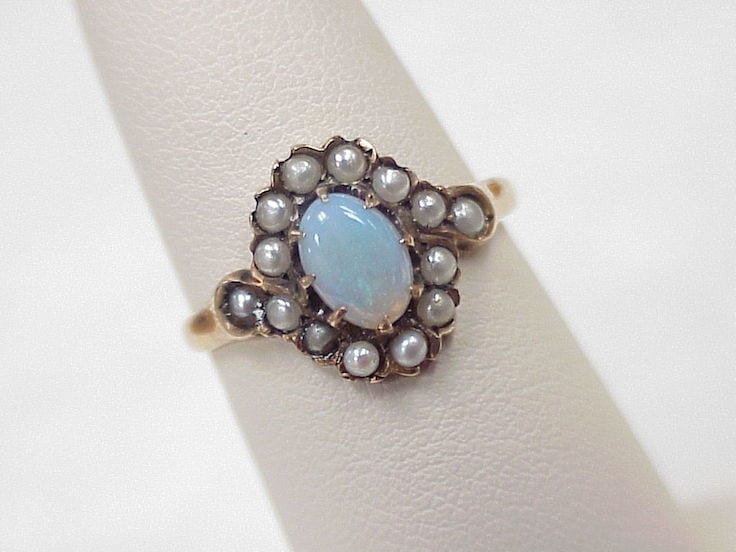 Edwardian Era 1895-1914
King Edward of England and his Danish bride enjoyed high levels of craftsmanship, as well as fine filigree work. Diamonds and platinum as well as delicate and cosmopolitan designs are popular from this period. (Image Source Here)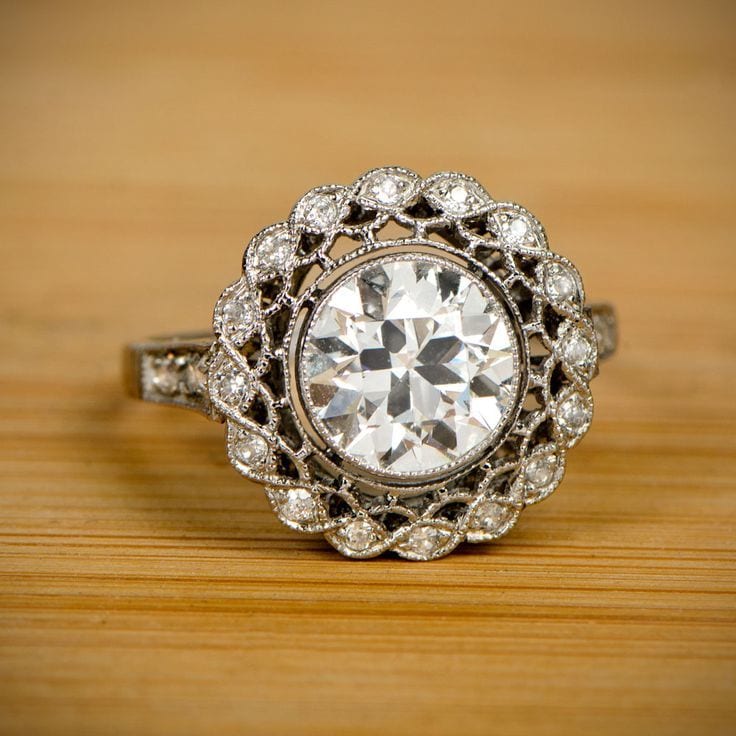 Art Deco Era 1920-1939
This period marked a huge shift in style. The Art Deco period showcases bright colors and sharp lines in contrast to the romantic and delicate markings of earlier eras. This time period was effected by the jazz era and pop culture was a large influence on the edginess of this new jewelry design. Liberation, innovation, and trend setting are all words that can describe this era. (Image Source Here)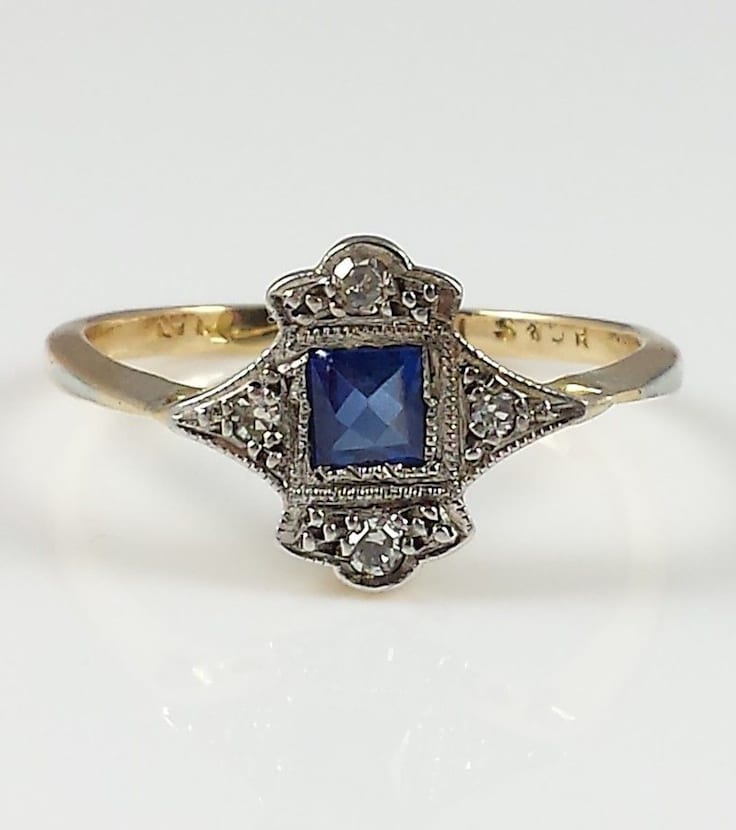 Retro Era 1935-1950
This era is well known because of its placement during the Great Depression and World War II. Synthetic rubies and sapphires became popular, as well as chunky, square, and illusion settings that gave the appearance of a larger stone. Tiffany & Co, Cartier and Van Cleef & Arpels made themselves known during this period. If you are looking for a classic ring that could be seen on the Hollywood elite this era is for you. (Image Source Here)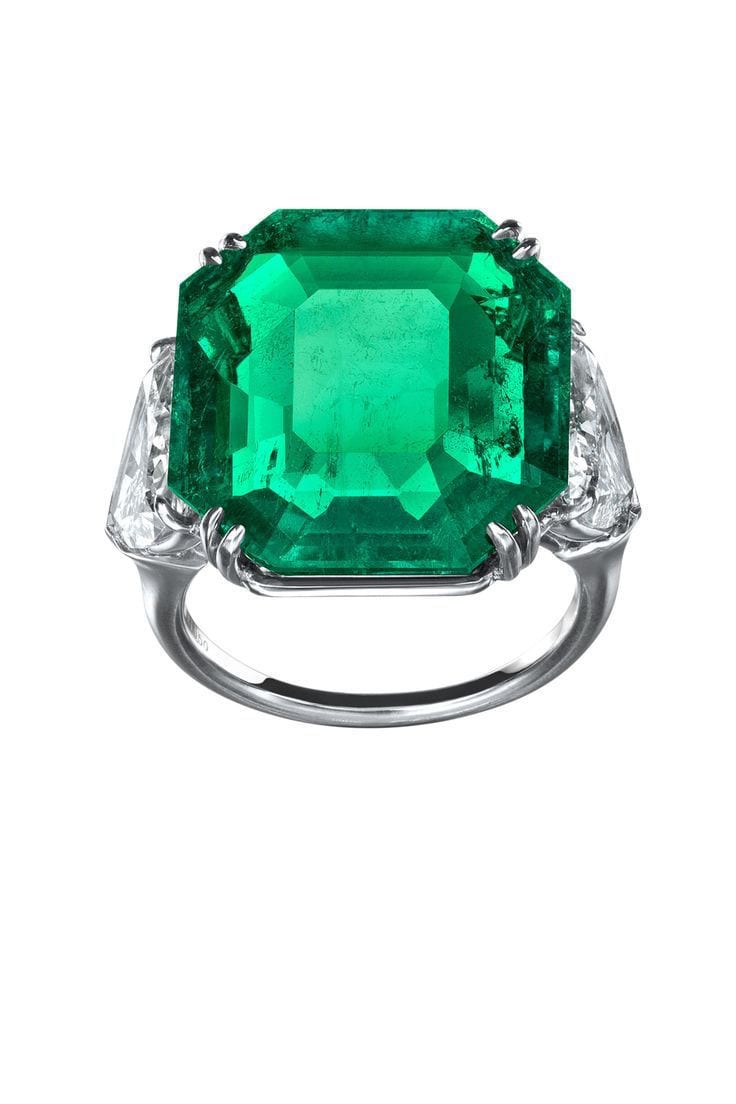 Places to purchase antique engagement rings are antique jewelry shops, estate sales, jewelry stores that resell for customers, Trumpet and Horn, Etsy, Libertons, and 1
st
 Dibs. Antique engagement rings are perfect for any timeless, classic, and unique bride who wants a ring with a story.


Want to create her dream marriage proposal? We have the perfect way. Contact The Yes Girls to get started on your personalized marriage proposal, wedding plan, vow renewal, anniversary or date night today! We're so excited to work with you!