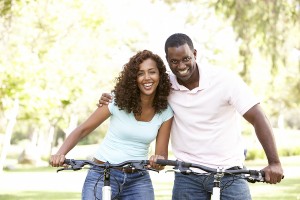 Ask a couple who has been married for 25 or 50 years what keeps their relationship alive and they usually tell you that they have important things in common. When you first see a man you think is attractive, it may be animal magnetism that draws your attention to him, but that is not enough to keep you together over the decades.
There has to be something more than attraction or fascination that keeps a couple together. Couples who share the same values have a bond that goes beyond physical attraction. It is a very important foundation for their relationship.
If you are from a family with strong ethnic or cultural heritage, then you need to find a man who shares that background. Otherwise, your relationship will be strained each time his family values and yours collide.
You may be conservative and he is liberal – which makes for lively conversations. But if your political beliefs are radically different, this is going to impact how well your friends mix and how you live out your beliefs.
Differences of opinion can be healthy – and even exciting. But differences that tear at the essence of the beliefs about who you are and your place in the universe become divisive and quarrelsome in any relationship.
Perhaps the best way to find a mate who shares your most treasured values is to go where kindred spirits can be found. Maybe that is at a certain church or synagogue that represents your spiritual beliefs.
If you are politically inclined, join that party's local group and work on campaigns. If you are passionate about health causes or helping others less fortunate, there are many groups you can involve yourself in to meet a like minded guy. Champion causes you care deeply about and meet others who feel the same way.
If you are an avid hiker or runner, join MeetUp groups for those activities. As a matter of fact, MeetUp can be one of the best ways to find someone who enjoys the same things. There are groups for everything! Movies, Dinners, Wine Tasting, Rock Climbing, Book Clubs…you name it, there is probably a MeetUp group for it!
Why go to a bar where you never know who's being their real self? You will find a better dating pool from people who share your values, beliefs, ethnicity or culture, and in the meantime, you will enjoy doing things that are meaningful to you. When you meet a guy that enjoys the same things and is involved in similar activities, you are setting the stage for a life time of happiness.
Love,