To an outsider, marriage proposals may seem like a "trivial" thing to be concerned about right now. For anyone who's been looking forward to proposing over the next month, however, the thought of canceling their amazing proposal plans or even having to push the proposal off further is heartbreaking. Considering the majority of our clients travel for their proposal, it's fair to say that many wedding proposals will now be canceled or postponed until the chaos of COVID-19 is over. Sometimes, though, the most memorable proposals come from being flexible and creating something amazing out of the environment you're in. So, have your travel plans changed or are you stuck in quarantine? Here are some at home quarantine marriage proposal ideas to enjoy you still have a sick proposal (pun absolutely intended!)
Need creative and custom at home quarantine marriage proposal ideas? We've got you!
---
Recreate what you would be doing (if you weren't on lockdown).
What were your original proposal plans? Or what would you be doing on a typical Saturday (or enter your proposal date here). Would you be heading to your routine movie date? Recreate a luxury movie theater in your very living room by filling apothecary jars with her favorite candies and snacks (YES, candy is still on most grocery store shelves as far as I've seen!) You can fill your favorite couch or lounge chairs with all of the pillows and blankets in your house, or better yet, create a sweet blanket fort with string lights, rose petals, and candles to set the mood! If you have technical skills (or know someone that does) you can even create a slideshow of your memories together to play on the screen as you walk into the room to propose! Hunker down in a room "for work" and instead do a quick secret set up!
SHOP THIS LOOK HERE– GOLD BAR BART, PINK CHAMPAGNE GLASSES, PALMS, BOHO DECOR, ETC.
Would you be on a tropical vacation right now if travel wasn't banned? Grab a beach umbrella, two lounge chairs, a few palms (you can order these for $10 each at Ikea) and some fruity cocktails, and recreate your beach vacation right there in your home! You could also have a tropical-themed romantic dinner for two, and set the table with palm leaves, candles, and orchids to help transport you out of the house and into your forbidden destination! You can order your takeout from your favorite local restaurant, and enjoy each other's company before you get down on one knee!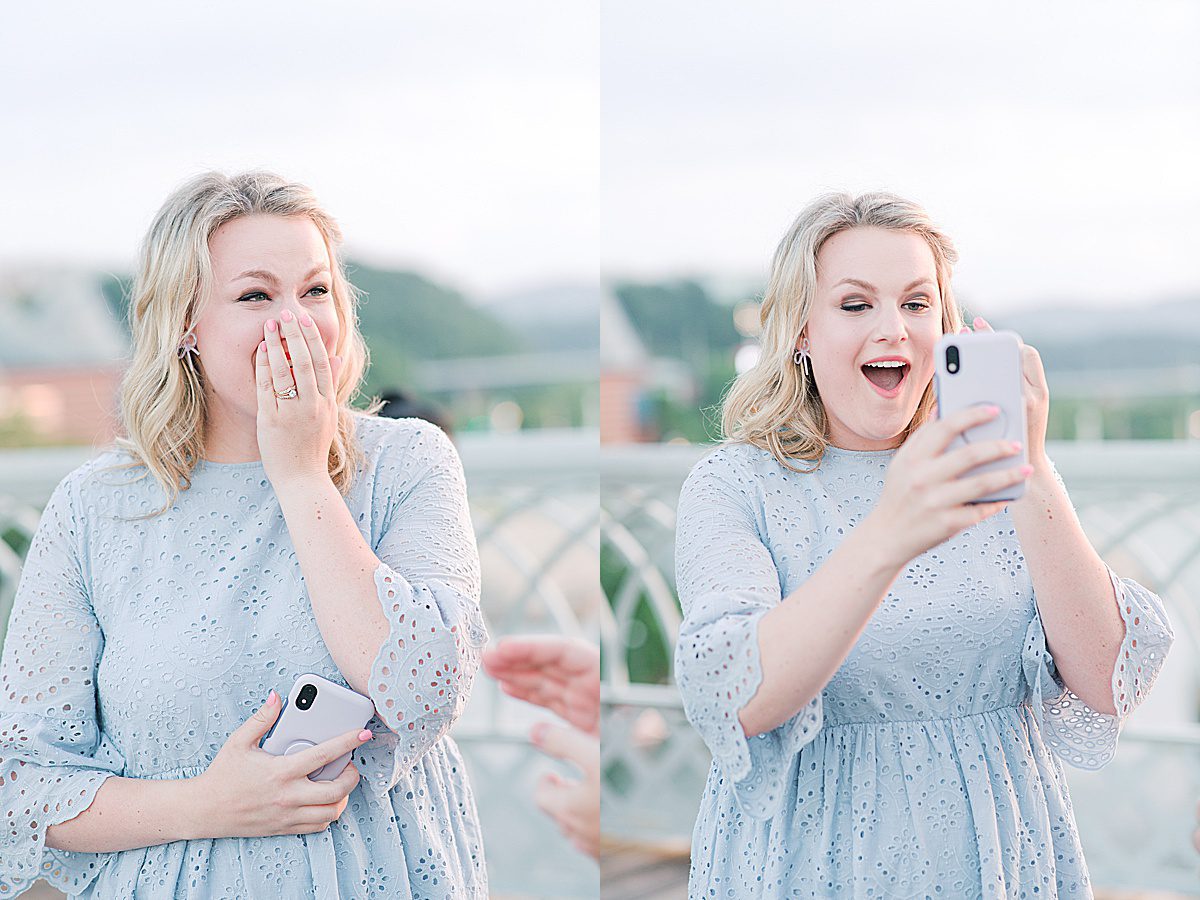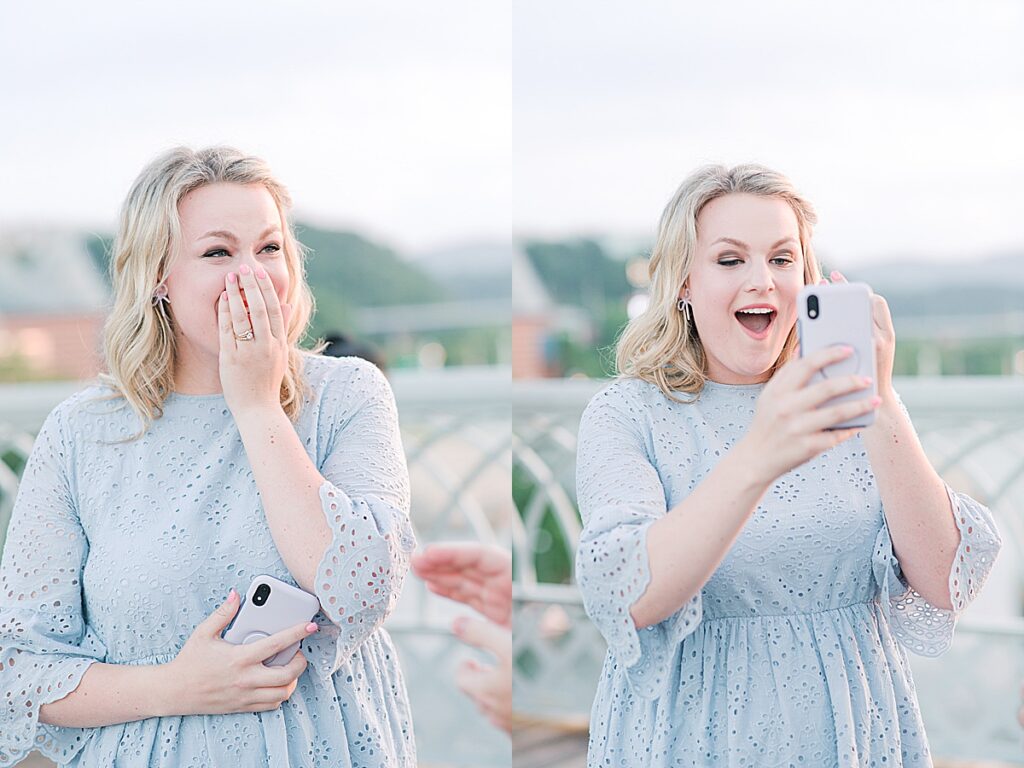 Do your typical weekend plans include hanging out with friends or other couples? Plan a "virtual hangout" where you "meet" each friend or couple for a drink via Facetime or Skype. As you "meet" with your friends, instead of just chatting about everything that's going on, your partner will be shocked to find that each one has a clue, leading them to somewhere in the house. At each stop, they can find a sweet memento with a love letter. The final "couple" can actually be her parents (or anyone close to her) as they give her the final clue. This can lead her to the backyard, or somewhere where you can have a small set up of flowers/candles/etc. waiting. This is where you can get on one knee and propose!
Engraved Wine Glasses for your proposal here.   |    Photo credits : 1, 2
Were you planning to head to Napa for a romantic weekend with your Hunny? Plan a wine tasting at home! Create a custom wine tasting menu with enough bottles of wine for each year/month that you've been together. You can label the wine bottles "Year 1", "Year 2", "Year 3", etc. (You can hire a local calligrapher to help with this… more information below!) On your wine tasting menu, you can list the memories that you've had together for that year… "Year 1: Met, fell in love, took our first vacation together, etc." If available, you can spread flowers around the space to add a romantic ambiance! Of course, your last bottle will represent the current year or month, so the menu can say "Creating our favorite memory yet!" When she reads this, you can get on one knee and propose, followed by a wine-filled celebration at home!
UPDATED: REAL LIFE QUARANTINE PROPOSAL HERE! Completely private proposal at Napa winery planned by The Yes Girls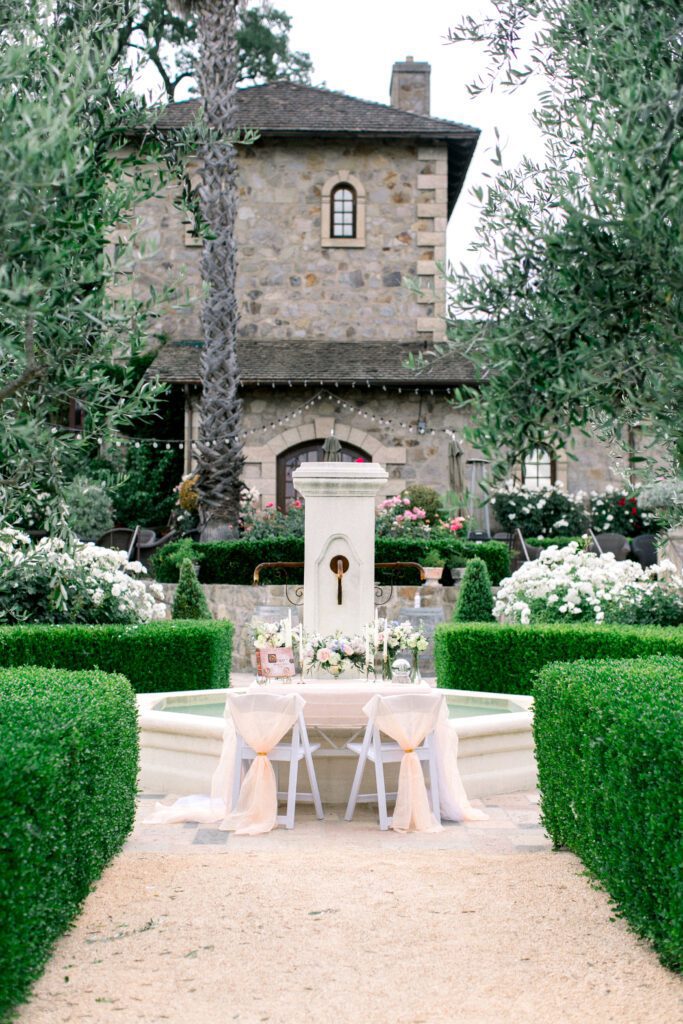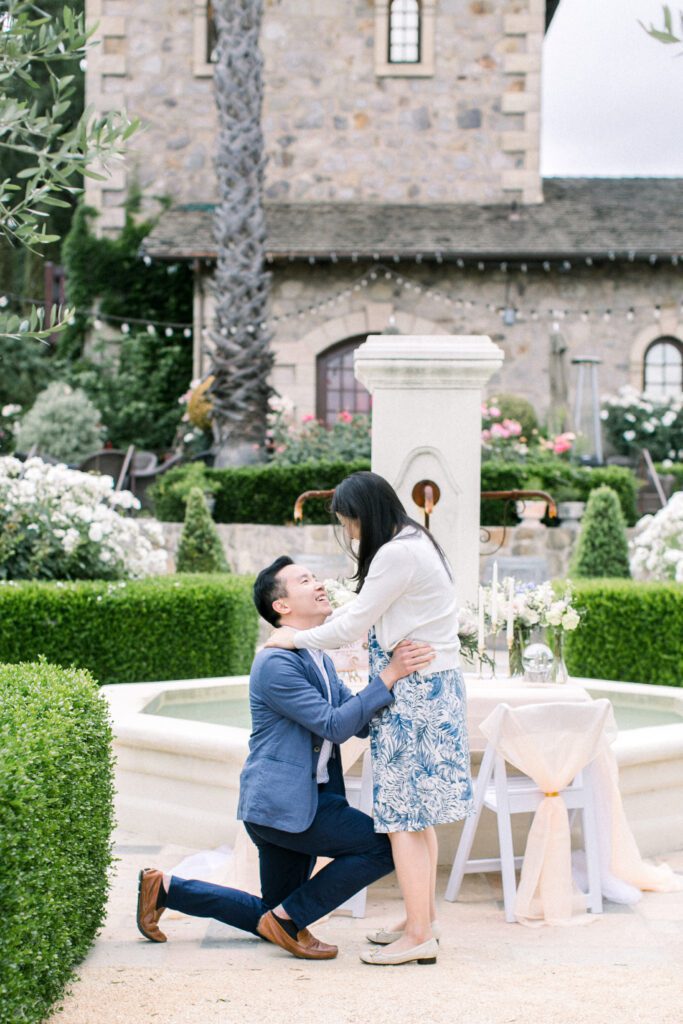 Photo Credit- Esmeralda Franco
Team up with local small businesses and vendors to bring your amazing moment to life!
If your city isn't on full lockdown, reach out to local florists, artists for decor, calligraphers, etc. to ask them to be a part of your proposal via delivery. Since any event over 50 guests is banned from most cities, many vendors are losing their income that they were banking on from Spring weddings. There are so many artists and creatives that would be happy to help you make this once-in-a-lifetime moment amazing!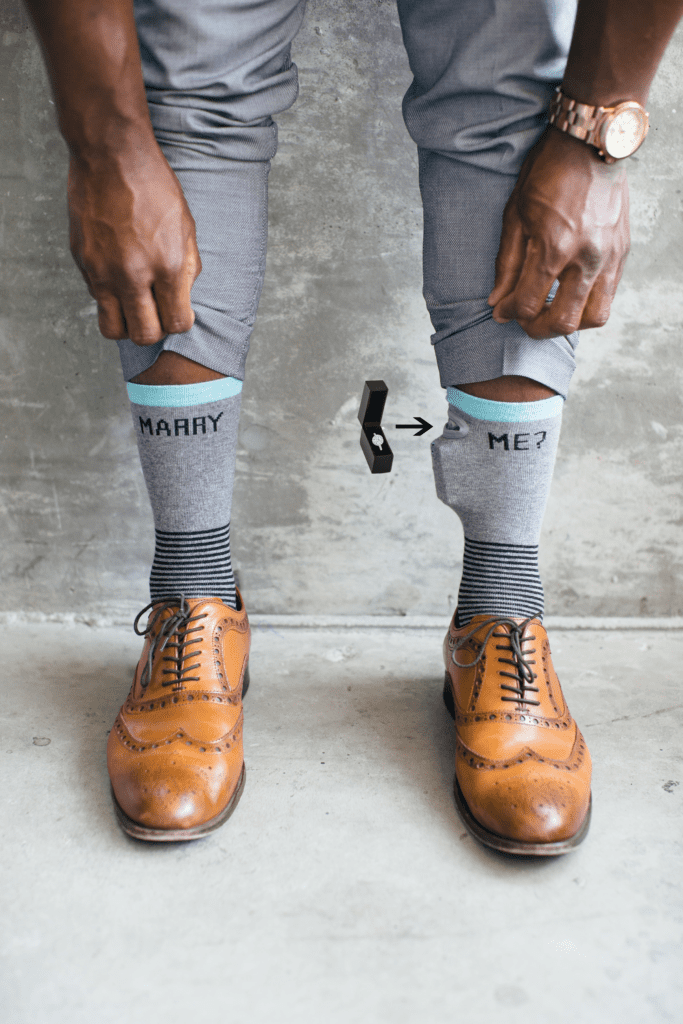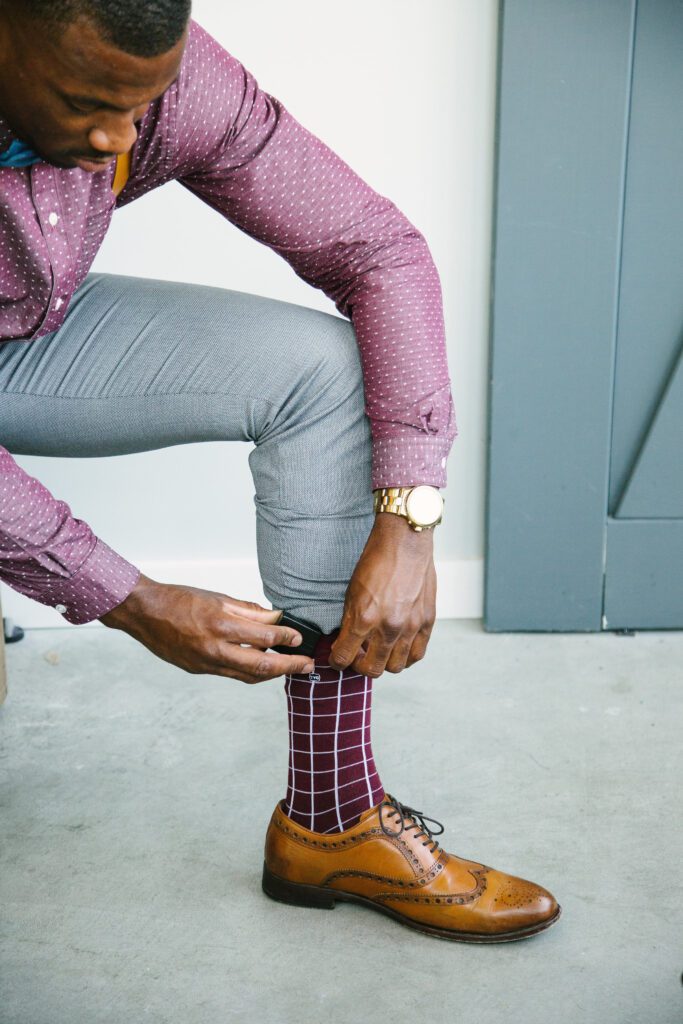 Hide The Ring Box – 
Keep the ring box hidden so your proposal stays a surprise. We recommend hiding the ring box in Box Sock, which has a pocket in the sock specifically made to hide your ring box. A discreet thin ring box is also available and fits perfectly inside the Box Sock's pocket. Our favorite is the Marry Me? sock but there are tons of patterns to choose from.
Check out Blue Nile's article on How To Plan A Proposal During a Pandemic for additional ideas and advice.
ring
Want at-home quarantine marriage proposal ideas completely custom to your relationship and situation? That's our specialty!
You can book our Package 1 here, where you can fill out a quick questionnaire for us to get to know you a little better. From there, we'll come up with two completely custom proposal ideas that you can do within your budget, time frame, and most importantly- location! We can give you all of the tips and tricks you need to bring your proposal to life, as well as a step-by-step to-do list, and our vendor contacts for any small businesses that would be willing to help you out in a time like this!
ring
Happy Proposing!