With as many engagement rings as I find, I always circle back to Gabriel & Co.! I absolutely love the creative designs and unique detailing! So much variety between the classic and modern touches; all while embodying such romance and elegance! Check out my favorites!!
"Gabriel & Co. engagement and wedding rings are among the finest in the world. We select only the highest-quality diamonds, and each ring is designed with superior taste, style, and craftsmanship. Your relationship is unique. Your ring should be, too. You can custom create your own or choose from our stunning array of styles. The inspiration for our products comes from every corner of the world.
Our jewelry is born from diverse cultural influences and little-known pockets of artistic creativity. We oversee every part of the production process, maintaining strict standards and an extraordinary attention to detail. We transform the world's finest metals and stones into a stunning collection of jewelry for our customers."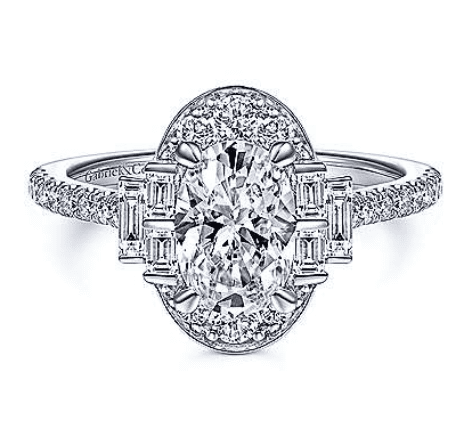 Art Deco 14K White Gold Oval Halo Diamond Engagement Ring
Drawing inspiration from the Art Deco era, this oval cut engagement ring setting features an unparalleled diamond halo utilizing   round and baguette stones. Additional diamonds line the scalloped 14k white gold shank for a total of 0.54 cts.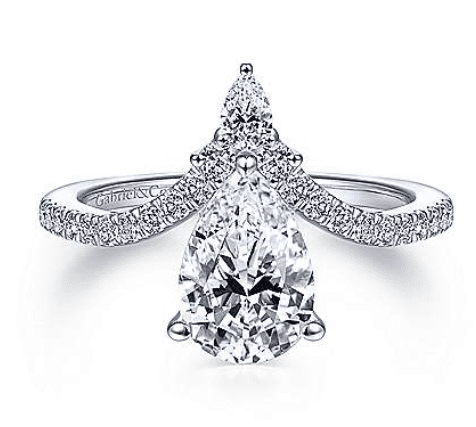 14K White Gold Free Form Pear Shape Diamond Engagement Ring
Accentuate your 1ct pear shaped center stone in a new and unexpected way with this 14K white gold free form setting. The apex of the v-shaped band is adorned with a cluster of round and pear shaped accent stones while smaller pavé diamonds line the upper shank. Dare to be different with this 0.27ct diamond engagement ring.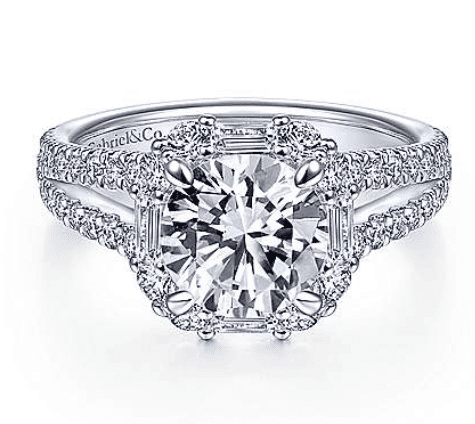 14K White Gold Cushion Halo Round Diamond Engagement Ring
Envelope your round cut center stone within a romantic cushion cut halo creating a whimsical combination of shapes. The halo itself features a mix of round and baguette diamonds. A subtle split shank band lends itself beautifully to this modern yet classic 14k white gold engagement ring.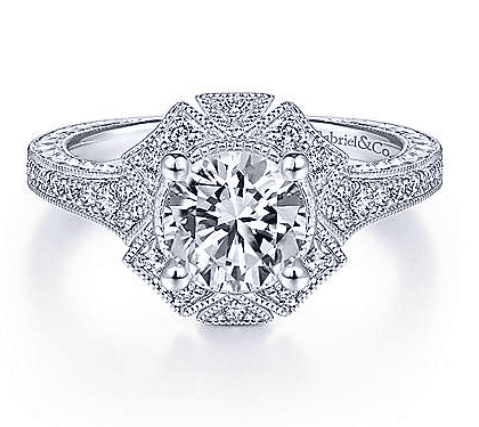 Unique 14K White Gold Art Deco Halo Engagement Ring
This commanding round cut engagement ring features a non-traditional diamond halo in a bold X shape. Graduated diamonds line the reverse tapered 14K white gold shank with precise engraved detailing. With its geometric shapes and heirloom quality migraine borders, this 0.26ct diamond ring is a modern descendent of the Art Deco era.