When you ask a friend about where she met her new guy and she says, "through an Online Dating site," are you surprised? Or are you comfortable with the fact that online matchmaking is the new pickup scene for singles?
Either way, more and more people are meeting online and developing lasting relationships.
Some actually result in marriage and we're talking marriages last beyond the weekend!
We get everything online now, so why not a date? One advantage the local bar has over online matching is that you can actually see each other. In the online world, you can literally re-create your identity to be anything that you want to be.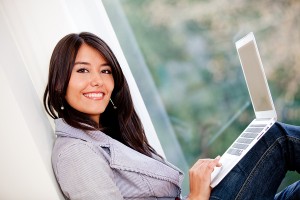 Caution:
It is important to be aware of the downside of online dating. You can bet that many people in the online dating scene exaggerate their looks or accomplishments. Anyone who has done online dating can tell you about their experiences where the photo did not look anything like the person they met.
Whether the photo had 30 pounds electronically edited off their thighs or turned a beer belly into six pack abs, the reality looks nothing like the promise in the photo. This is where you gracefully bow out and tell your online dating service that potential match is closed! If someone isn't truthful about themselves before you ever meet them, how can you possibly expect them to have good character and integrity in a relationship?
Have you ever heard the stories of a guy who says he works with the executive team in a high powered financial trading company? That makes his potential matches think he is a stock broker or an executive? He hopes that is what people think. The fact is, he does work with the executive team – he delivers their mail. He is the mail clerk and does coffee runs for the executive team meetings. So he is not exactly lying, but he sure is trying to portray a different scenario than the truth, however.
The Positive:
Let's face it though, it is hard to find a like minded match these days without trying online dating services. While you do hear the horror stories, there are also plenty of great stories where people truly meet their soul mate. So why not give it a try? As long as you are cautious and realistic, you can actually meet someone wonderful. If you are sincere about meeting a date online, then put your real self out there, too. Don't do what you hate from other people and make yourself out to be something that you aren't.
Post a current photo, preferably one that shows the real you. Forget the glamour girl shots with wispy feather boas and teased hair. If you are a tee shirt and jean jacket kind of girl, then put that photo on your profile.
List your occupation honestly, but do not give too much information (where they might be able to track you down). You can say that you are in an entry level banking job without saying you're a morning teller at Maple Street Branch of XYZ Bank.
Be honest about your preferences. If you only want to date guys from your same cultural, ethnic, religious or philosophical background, then say so. Why waste their time (and yours) by not adding all of the qualifiers that are important to you?
It is better to get a few select responses from guys that you would consider dating than an email box full of answers from guys who aren't really your type. At the end of the day, you want to meet someone to have some fun with and hope it goes towards a good relationship. Be smart, trust but verify…and you just might find that diamond in the rough!


Want to create her dream marriage proposal? We have the perfect way. Contact The Yes Girls to get started on your personalized marriage proposal, wedding plan, vow renewal, anniversary or date night today! We're so excited to work with you!