Five Bad Habits to Break Right Now
By Michelle, Guest Blogger
Nothing kills a good first impression faster than evidence of a bad habit. So if you have any of the following bad habits, do yourself and your dating life a favor and quit them right now. You'll look better, feel better, and be much healthier in the long run if you take care of yourself and find healthy substitutes for these habits. Besides, how is anyone supposed to care about you when you don't care for yourself?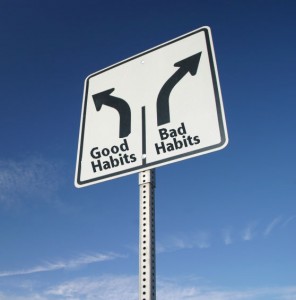 1. Smoking: Need I say more? Smoking yellows your teeth, ages your skin, and is getting more expensive every day, and it's like telling the world you're addicted to nicotine. Plus, it smells.
Also, the smell clings to every surface wherever there's smoke, so even if you do get rid of the smell on you, it's still where you live. The only women who aren't going to mind are the ones who are smokers themselves. But there are so many more women who are non-smokers, why narrow your options?
2. Drug or alcohol abuse: No man who wants a really great girlfriend is going to ask her to put up with his addictions. If she cares about you, she will be scared and angry about your drug use.
If she hasn't gotten to know you yet, as soon as she finds out about an addiction she will start thinking of you differently, and not in a good way. If you use drugs, even marijuana, get help and break the habit. The same goes for drinking alcohol to get drunk.
3. Cruel remarks: If you're in the habit of cutting other people down, stop. Women are looking for a sense of humor, but not at someone else's expense. If you speak disparagingly of other people, especially women, you might someday say something cruel to a girlfriend. Nobody wants to be insulted, especially not women. And very few women will put up with insults in a relationship.
4. Messiness: When you step into your home, does it look like a bomb went off? Are there piles of papers, dirty dishes, and laundry lying around?  When people are messy it says that you don't have your life together. It tells others that you don't respect yourself or others enough to maintain a neat and clean lifestyle. Cleanliness is an important habit to develop if you are a messy person. No woman wants to be in a relationship where she will feel like a maid.
5. Unhealthy eating habits: Whether you eat too much, too little, or just the wrong things, you need to start taking care of yourself if you want a girlfriend. One of the most straightforward ways to take care of yourself is by watching what you eat.
Talk to a doctor about the goals you should have with your health. Then, substitute better foods and eating habits for the ones you currently have. If you eat a lot of something unhealthy, try different things until you find something that's just as good.   Substitute one healthy thing per day until you are eating mostly whole foods. Step away from the Doritos!  If you take care of yourself, break your bad habits, and show that you're a confident, positive, and smart guy, you'll be ready to date.
Love,
The Yes Girls


Want to create her dream marriage proposal? We have the perfect way. Contact The Yes Girls to get started on your personalized marriage proposal, wedding plan, vow renewal, anniversary or date night today! We're so excited to work with you!