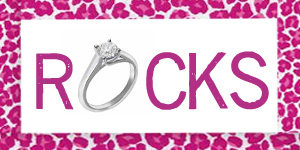 Hello everyone, welcome to another Monday "Rocks"! I hope everyone had a great weekend! I found and fell in love with Ross Simons' jewelry… each piece in the collection is individually unique and absolutely beautiful! The rings are all vintage… which I love, but more than that, each piece is one of a kind! If you are looking for an antique engagement ring, you will for sure love this collection. Check out Ross Simons' collection…
Give the woman of your dreams the ring of her dreams with this vintage 1.39 cart diamond engagement ring! The center diamond is European cut in classic fashion, while two trios of .10 ct. t.w. brilliant-cut diamonds illuminate the band. Sweep her off of her feet with this 18kt white gold ring. I love the side diamonds on this ring, they look like stairs leading to the main event!
A gorgeous 5.90 carat Estate diamond solitaire engagement ring from the 1970's, this round brilliant cut diamond solitaire makes an unforgettable statement of love! In all its magnificence, this gorgeous diamond ring is the ring that epitomizes devotion and romance. Polished platinum ring. Although the ring appears more simple… the creative detailed setting, holding the stone, gives it a romantic and special feel.
This diamond engagement ring is a breathtaking question-popper. Terraces of diamonds ascend to an emerillion diamond peak, not to mention the dozens of diamonds on the band. All told, diamond weigh in at 2.00 ct. t.w. Radiant and refined. 14kt white gold ring. This ring is more loud and looks "chunky", which I typically don't like but this ring is still feminine… I love all the little diamonds to make up a gorgeous ring!
We are proud to present this exquisite 1.53 ct. t.w. certified diamond ring. This is the one to choose when the occasion calls for the most perfect diamond ring – a ring she'll treasure forever! Accent diamonds total .44 ct. t.w. Delightful openwork detailing adds to the breathtaking charm and vintage-style appeal of this ring. Ring is presented in 18kt white gold. I have never seen this particular setting before and it's so unique and gives this piece character… love it!
I hope you guys enjoyed this week picks! For more wonderful pieces and more information visit the website! Have a great week!

Love,


Want to create her dream marriage proposal? We have the perfect way. Contact The Yes Girls to get started on your personalized marriage proposal, wedding plan, vow renewal, anniversary or date night today! We're so excited to work with you!