I'm not even sure how to start this blog post… Leo's proposal was such a wonderful dream that actually creating this post has become an incredible "pinch me" moment. It's been a year in the making, months of planning, weeks of creating, hours of meetings, and a few questionable instances of will we exceed his expectations and more?!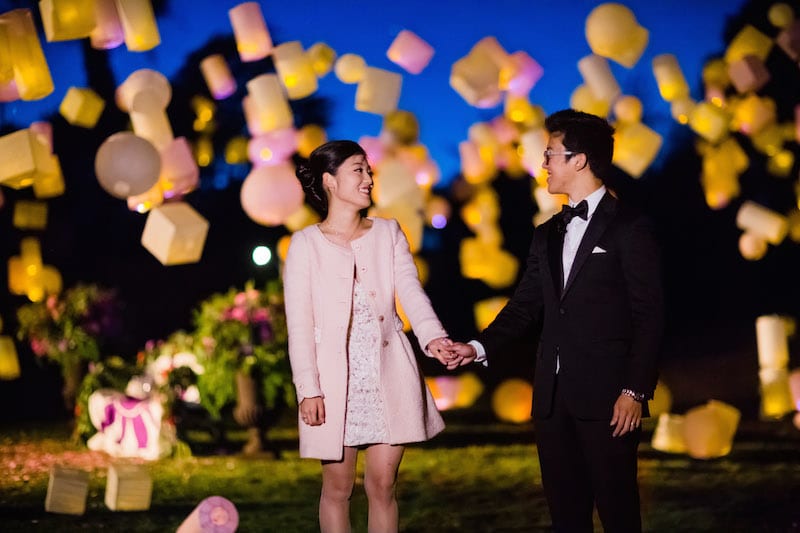 Leo knew he wanted to create this dreamy moment from Disney's Tangled and he was willing to do whatever it took to make it happen. Literally. Once we started planning we quickly learned the fire lanterns from that magical scene in the movie are totally illegal now in the United States. So we talked about flying Leo and Yukyung to an exotic vacation and planning their fairytale proposal there (side note- floating lanterns are prohibited in multiple countries); however more so than the lantern debacle, something wasn't clicking just right with that option. Their romance has blossomed and grown in San Francisco and taking this next step into marriage really wouldn't have been as perfect anywhere else. We decided then to get creative and contact a lighting company to have them create the scene with mock floating lanterns. And it worked!
All of the vendors came together perfectly for this moment and the images below are breathtaking. Make sure to stop by next Thursday to see their beautiful fairytale video that was created from this proposal as well! Seriously I cannot stop gushing and loving on this proposal!!! So without further ado…
Adding the final touches before it's go time. Or shall we say "yes!" time.
She has arrived! The nervous and excited Leo awaits his fairytale princess.
I think it's only appropriate end with… "And so they lived happily ever after!"
San Francisco Marriage Proposal Vendor Love:
Wedding Proposal Planning: The Yes Girls Events
Photography: Damion Hamilton Photography 
Videography (coming next week!): Blue Penny Films