Most of the time, for guys planning the proposal doesn't come into mind until the ring is purchased and burning a hole in his pocket! One thing guys tend to forget is saving and budgeting for not only the engagement ring but for the proposal. Guys, you just spent thousands of dollars on a beautiful engagement ring so why not give the ring and your girlfriend the presentation (aka the proposal) they deserve?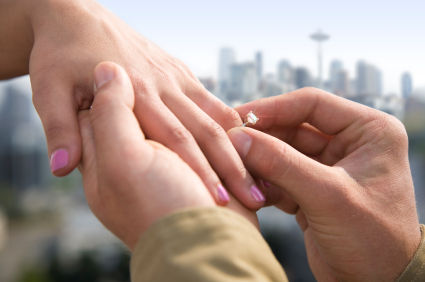 As you save for the engagement ring set aside a proposal savings, so you can afford a photographer, florals, dinner, proposal coordinator or any other vendor that will make your proposal enjoyable for you both. The engagement ring will last an entire lifetime but so will your proposal story. You don't need to spend thousands of additional dollars but it is good to be conscientious and prepared to spend a few dollars for her dream engagement! She'll be forever grateful!
Which vendors are worth booking for a successful proposal? Photographer and/or videographer so you have that moment captured forever. You'll want to have reservations or a permit at the venue you plan on proposing whether it's an art museum or a dance studio. Florals and musicians can be a nice touch; the good news is, there are ways to save in these two areas. Have a friend buy and arrange flowers from Costco or ask a musician friend to serenade at the proposal, if hiring a professional pianist for one hour is out of your budget. We always encourage those proposing to incorporate 3-5 of her favorite things such as flowers, music and photos. Contract an event coordinator so you don't have to worry about all the vendors and details being in place the day of. Making multiple phone calls while you're with your girlfriend will get suspicious, which is where a coordinator comes in handy. They communicate all those day-of details for you.
I hope this encourages gentlemen to start saving for the ring and their marriage proposal. Ladies if you have a best friend or brother, do diligence and pass this handy tip onto them.
Love,



Want to create her dream marriage proposal? We have the perfect way. Contact The Yes Girls to get started on your personalized marriage proposal, wedding plan, vow renewal, anniversary or date night today! We're so excited to work with you!