Do you guys love Audrey Hepburn as much as I do? My mom and I have been obsessed with her glamour and fashion for years and I can't remember a time when I did not love "Breakfast at Tiffany's". When this San Francisco client first told us his girlfriend was the perfect combination of "Martha Stuart meets Audrey Hepburn" I was sold! Heather and I immediately agreed that a Saturday breakfast with the Tiffany-blue-box theme was the right way to go!
Since you can't buy Tiffany boxes (it is firmly against their company policy), Heather made these boxes and then we added the real ones that we both personally had. Then she draped pearls and jewels over the table and boxes and arranged breakfast pastries with white hydrangeas all around. The final touches came with quotes from "Breakfast at Tiffany's" including the framed one seen below in the picture. It said:
Paul Varjak: [about Holly and Jose] So you're getting married, then?
Holly Golightly: Well, he hasn't really asked me, not in so many words.
Paul Varjak: Four you mean?
Holly Golightly: Huh?
Paul Varjak: Well that's how many it takes: will you marry me?
It may have been cold and raining, but the San Francisco Palace of Fine Arts Rotunda was the perfect backdrop for this fabulous event. Enjoy this little sneak peek… "That's right. I'm just CRAZY about Tiffany's"!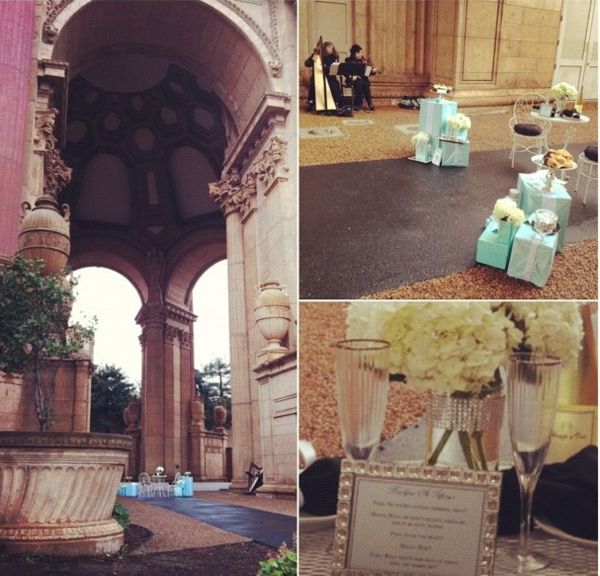 Want to create her dream marriage proposal? We have the perfect way. Contact The Yes Girls to get started on your personalized marriage proposal, wedding plan, vow renewal, anniversary or date night today! We're so excited to work with you!