You, darling, are the main character of your bridal story and the queen of your wedding day. This special day must have you adorned in a way that expresses your personal style and more importantly, speaks goodwill to your new union.
Your dress, shoes, and hairstyle are the canvas to paint YOU into your day. Amidst this symphony of self-expression, your jewelry takes a step further by being more than exquisite adornments, but also profound symbols that encapsulate your deepest desires for your marriage.
As a wedding jewelry professional, I've noticed that for the longest time, brides-to-be and lovers have gravitated towards floral motif jewelry. But have you ever wondered why? I did some digging and learned something amazing that I'm excited to share with you. After this read, I'm confident that you'll be convinced that floral motif jewelry is the perfect jewelry choice for your wedding day look.
What Type Of Wedding Theme Should A Floral Motif Jewelry Be Worn?
Any wedding theme. It's obvious that floral motif jewelry is nature-inspired and this might make us quick to think that it's best suited for an outdoor or informal wedding or for a bride who prefers that type of aesthetics. However, floral motif jewelry is so versatile, alluring, and loaded with so much significance that it can be worn to any type of wedding theme and would slay on any outfit.
What Does A Floral Motif Jewelry Represent In A Marriage?
Flowers in itself are one of the oldest depictions of love and romance. Nevertheless, each floral type embodies its own unique meaning, which are designed into jewelry. Floral motif jewelry is overall graceful, feminine, and timeless. Below are 3 major symbolic meanings to adorning floral motif jewelry on your wedding day:
Floral motif jewelry reflects the essence of purity. This is derived from the unblemished quality of nature which signifies your love as untainted.

Floral motif jewelry conveys abundance and fertility. Flowers and plants are known to always grow and this evokes a sense of growth and prosperity in every sphere for the union.

Floral motif jewelry represents a blooming relationship. A marriage can be representative of a new beginning that would evolve, thrive, and live, which is what nature does.
4 Exquisite Floral Motif Jewelry From Sweetv Collection
1. SV Marquise-Shape Leaf Bracelet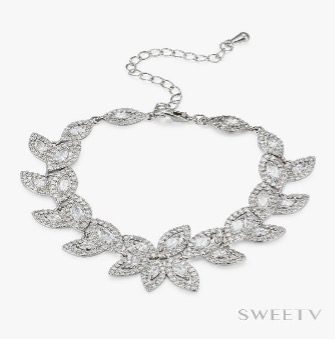 This exquisite bracelet sits elegantly on your wrist with an everlasting charm. Available in rose gold and silver, it features dainty, white round-cut cubic zirconias set on a petal frame. Each petal is beautified with marquise-shaped CZs.
2. Georgia Tiara-Halloween Series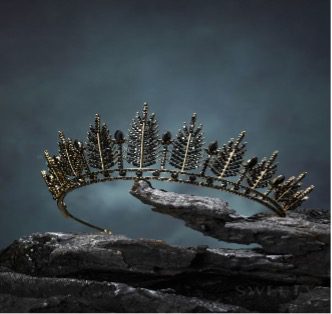 Not just any crown, the Georgia Tiara-Halloween Series is coated in an unparalleled regal, gold brilliance. It artistically embeds dainty, black cubic zirconias into a plant-like design, exuding an aura of ethereal enchantment.
3. SV Marquise Chandelier Earrings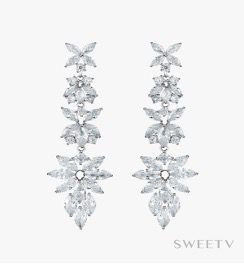 This wallflower-inspired masterpiece is designed meticulously in order to adorn you with a mesmerizing splendor. It features white and glowy marquise-shaped CZs set nicely into perfect petals.
4. SV Back Pendant Necklace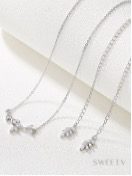 This excellent silver piece showcases an alluring leafy design created from white, marquise-shaped CZs. This necklace offers a one-of-a-kind appearance for the bride as it glues any gazer with the backdrop addition.
Conclusion
Floral motif jewelry is any type of jewelry that features plant or flower designs/motifs that are artfully incorporated into its overall design. Floral motif jewelry is a great depiction of love and holds other significant messages, which have been discussed in this article. Floral motif jewelry blends well with any type of wedding theme and style preference. It's a must-have for every bride-to-be to have. To get a quality and unique piece, head over to Sweetv.com to make your purchase. Happy shopping!
Written by: Precious Martins