To be honest, I'm still shocked there was a proposal on The Bachelorette last night! Chris has to be a pretty stand up guy and completely in love to have watched those last episodes and still be gushing over Des. Nevertheless, it came down to Chris popping the question and once again, it kills me we cannot get our hands on the planning of The Bachelorette proposal. For the guy who loved giving gifts and wrote her a poem every date, there is so much they could have incorporated to make it more personalized to Chris and Des.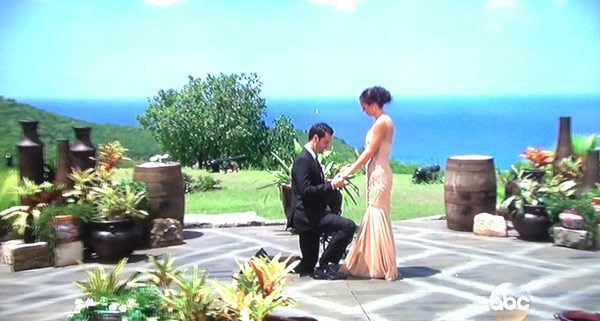 Photo from Hollywood Life
However, instead of pinpointing the non-proposal details this time, I have to give Chris props on his proposal speech! Here are a few tips from Chris' proposal to Des that other guys getting ready to pop the question can take away from their (shocking) yet sweet engagement.
3 ways to make your perfect proposal speech (like "The Bachelorette"):
1. Create a theme for your proposal speech. For example, Chris started off many sentences with "I loved seeing you _____". He pointed out the things he loved and noticed about Des by starting it off with the same phrasing.
2. Reflect on favorite memories. If you are nervous about your proposal, start it off by recalling your favorite memories together. Examples could be, "How I saw you light up around your family" or "How we talked until the sun starting coming up on our third date." Jot down the memories and read them over and over so when it comes time to drop down on one knee, it will come naturally. It's totally fine if you have to write it down in a note and read it out loud to her as well.
3. Make future promises. Not just for the proposal day, or a year from now, but far into the future. Nothing says "Will you marry me?" like the long term commitment you are promising. As Chris asked, "Will you have kids with me? Will you grow old with me forever?" Make promises for your future and she will fall in love all over again.
Chris who is already an eloquent speaker didn't have to stress over the engagement ring either. Des is rocking a 3.5-carat Neil Lane diamond and platinum engagement ring worth $75,000. Wowza!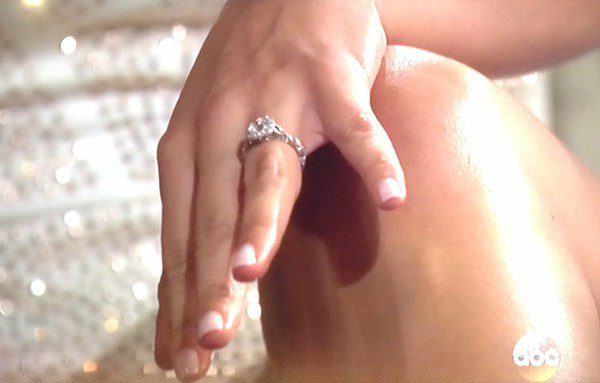 Photo from Hollywood Life
And on a final note…JUAN PABLO was announced the next Bachelor and every girls heart melted….


Want to create her dream marriage proposal? We have the perfect way. Contact The Yes Girls to get started on your personalized marriage proposal, wedding plan, vow renewal, anniversary or date night today! We're so excited to work with you!