Ladies- this week's article is about something near and dear to all of our hearts… especially at this time of year.  You guessed it!  We're talking about Target.  Everyone knows that going into Target for one thing never ends that way, and shopping there on pay day is a dangerous road none of us need to go down (but somehow we always do.)  Target has a way of selecing their products so perfectly that we need every single thing, and this Fall's Harvest Collection is no exception.  Full of plaid, wood textures, and metallics, each item transports you to a log cabin in the woods, surrounded by friends and family, homemade comfort food, and the smell of the wood stove burning in the background.
This is exactly why we love these products for hostess gifts.  Each collection of items bring their own warmth and thoughtfulness, while still being affordable enough for the average family.  To package each set, buy a medium-sized wicker or wood crate.  Carefully place items in the basket, add a bottle of wine, and finish the basket off with a handwritten chalkboard tag and ribbon.  And voila… You've created the perfect hostess gifts for every occasion this Fall.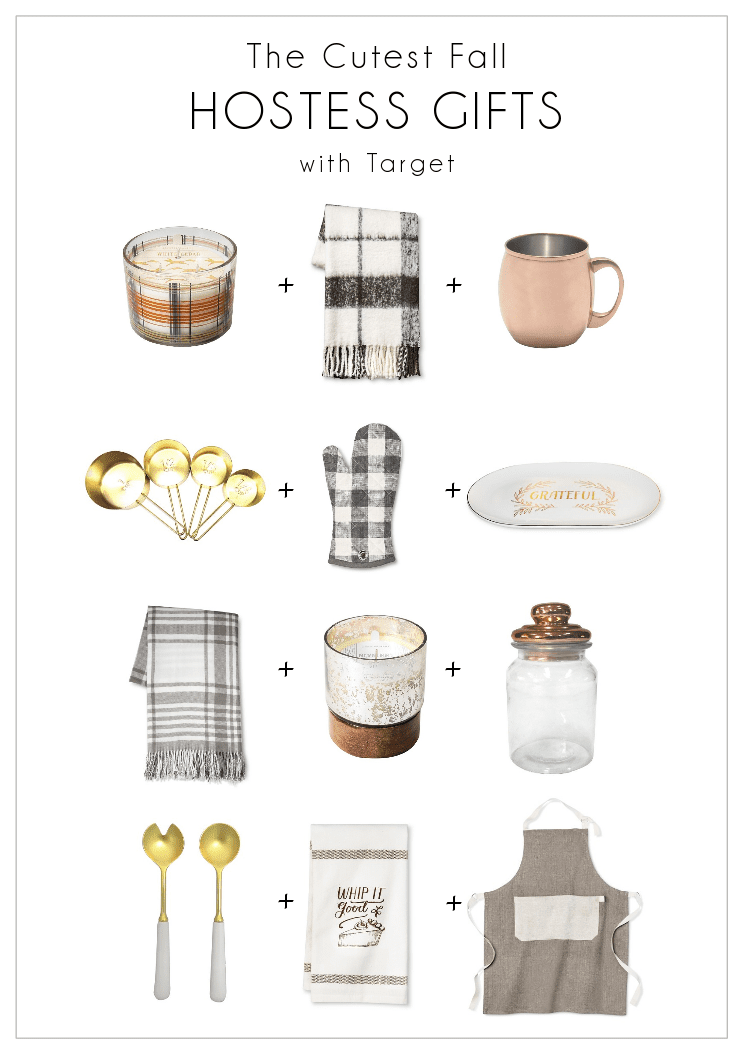 Harvest Candle in Plaid $12.99
Throw Blanket Faux Mohair Plaid- Threshold $29.99
Moscow Mule Copper Mug- Threshold $9.99
Gold Measuring Cup- Threshold $5.99
Woven Plaid Oven Mitt, Grey- Threshold $5.99
"Grateful" Oval Serving Platter Porcelain White/Gold- Threshold $24.99
Threshold Oversize Plaid Throw- Grey $19.99
Filled Candle Silver and Wood $16.99
Copper Mason Jar Spritz $10.00
Porcelain & Gold Serving Spoons- Threshold $8.99
Printed Flour Sack Whip It Good Kitchen Towel White- Threshold $3.50
Yarn Dye Utility Apron Gray- Threshold $15.99


Want to create her dream marriage proposal? We have the perfect way. Contact The Yes Girls to get started on your personalized marriage proposal, wedding plan, vow renewal, anniversary or date night today! We're so excited to work with you!