When planning aspects of your wedding ceremony, your relationship should be reflected throughout. If your ceremony is outdoors where wind could be an issue, or you want to try something a little less traditional, a unity candle might be something to choose an alternative for.  Here is a list of ideas.
Tree planting ceremony This is very symbolic as you both are planting your roots together. This creates a nice keepsake. Some ideas are bonsai trees, house plants, or flower bulbs to let your love blossom and grow. (Image Credit)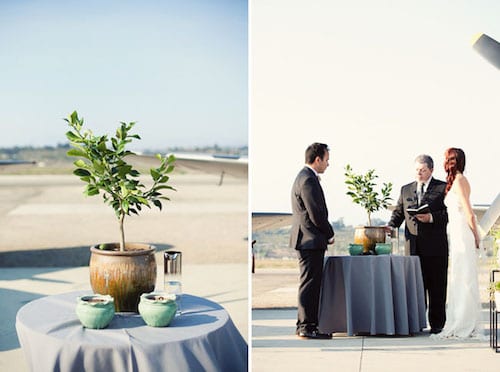 Hand/foot washing ceremony Serving each other is an important aspect of marriage, which this ceremony visualizes. The washing of each others hands and feet symbolizes washing off the previous life and continuing into married life renewed and refreshed. (Image Credit)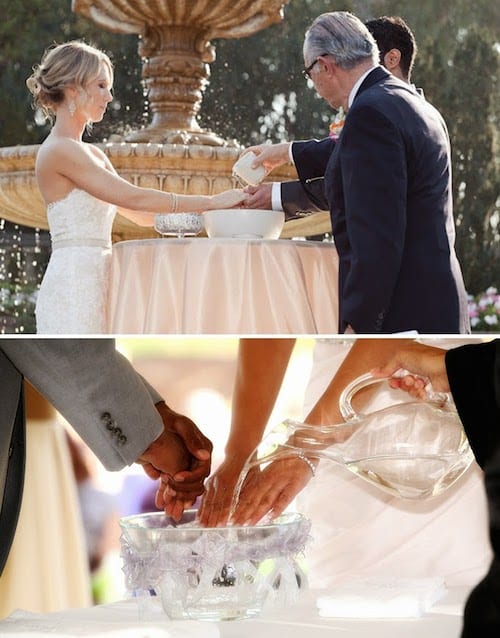 Lantern send off This makes for a very good photo opportunity, and can be done at your send off, or during the ceremony. (Image Credit)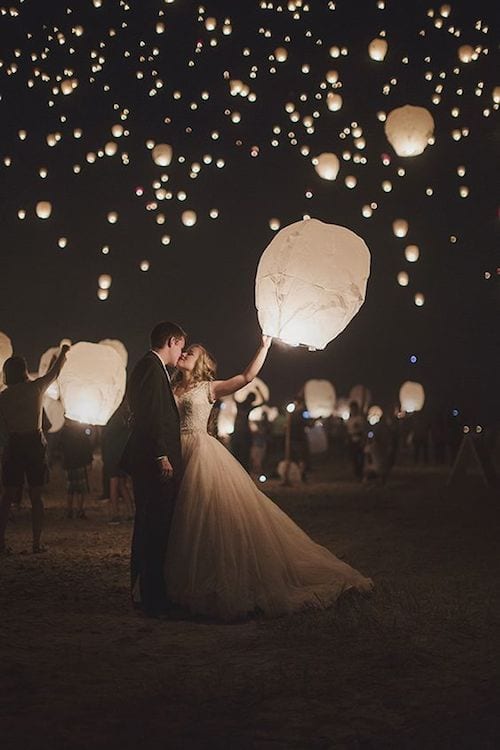 Rope braiding Past, present, future. The Holy Trinity. Whichever symbolization matches your personal beliefs, this is a beautiful keepsake that will look good in any home. (Image Credit)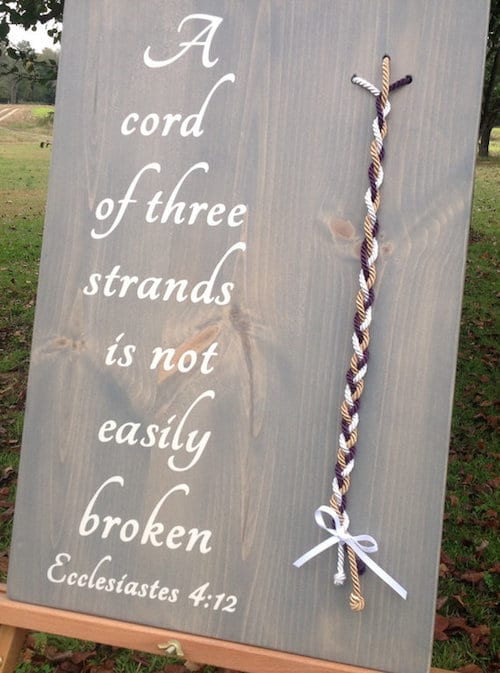 Canvas painting Swirling colors from your wedding color palette are a great concrete visual for showing how the two of you are blending and mixing your lives into one masterpiece. Just be careful not to spill on your dress! (Image Credit)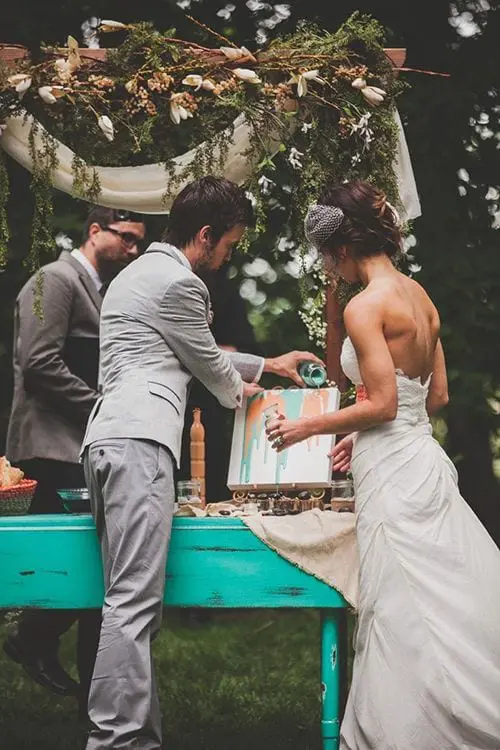 Wine mixing If wine tasting is a hobby you both share, this is a great option. Mixing any two types of wine and both sipping from the cup is a great symbolization of your two lives merging together.  If your wedding is more casual, Jack and Coke, or any other mixing is a great way to add personalization to your ceremony. (Image Credit)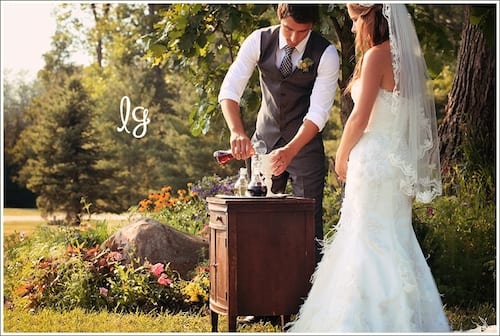 Marriage box This trend has become very popular in the last year. Writing a letter to each other and sealing it in a box with a bottle of wine as a time capsule of your wedding day is a great way to remember this day and cherish it into the future. Some save this for "their first fight", while others may save it for their first anniversary. Either way, it is a fantastic way to commemorate the occasion. (Image Credit)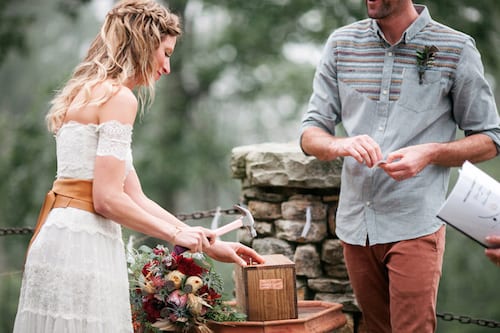 Reverse Unity Lighting We've all seen the unity candle lighting, but have you seen a candle lighting among the entire congregation? This is a beautiful way to visually see everyone that is supporting you in your marriage. (Image Credit)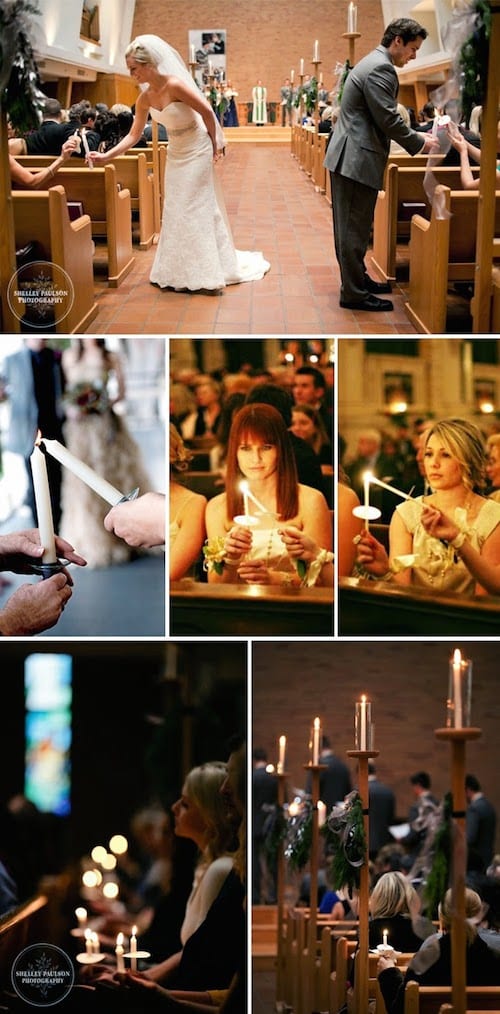 Hand binding ceremony This is an old Celtic tradition dating back to 7000 BC in Ireland that is literally representing you "tying the knot."  You may incorporate "something new, something borrowed, something blue" into this with different ribbons items, or charms. You can hand out ribbons to those in the audience you can come up to the altar to be a part of the ceremony by fastening the ribbons on your hands, or you may use natural and organic bindings such as vines and flower garlands. Your wedding colors can easily be incorporated into this, as well as momentos from your relationship such as sea shells, gifts from each other, pieces of jewelry intertwined in ribbon, etc. (Image Credit)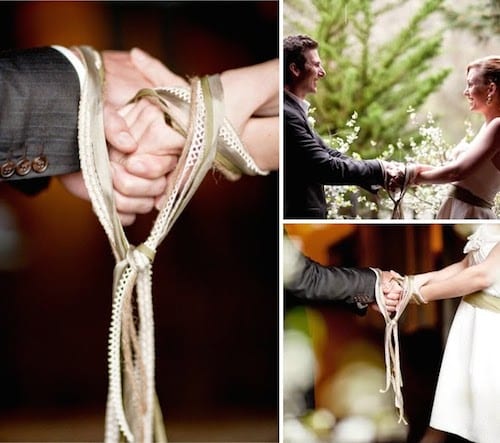 The ceremony is such an intimate and special part of your big day, and we hope that you find the perfect way to symbolize your two lives merging as one.