Registering for your wedding is like taking a trip to Target.  You go in all excited with your mind set on a few staple items, and you end up walking away with a thousand random things you thought were cute, but will never use.  While you and your soon-to-be spouse are wandering the aisles, it can be easy to get caught up in the looks and ideas of certain items, rather than the practicality.  You might love the idea of gilded dinnerware, however if you're planning on using a microwave or dishwasher, the set will most likely never leave the cabinet.  The same goes for every other bundt pan, vase, or china tea set that we convince ourselves we need, and then shove in the back of the cabinet until it's garage sale season.  In this occasion, other people will be spending their money on you, so it's important to narrow down what you want, need, and don't really need.
Here is a printable checklist for your Wedding Registry shopping experience, courtesy of The Yes Girls! :)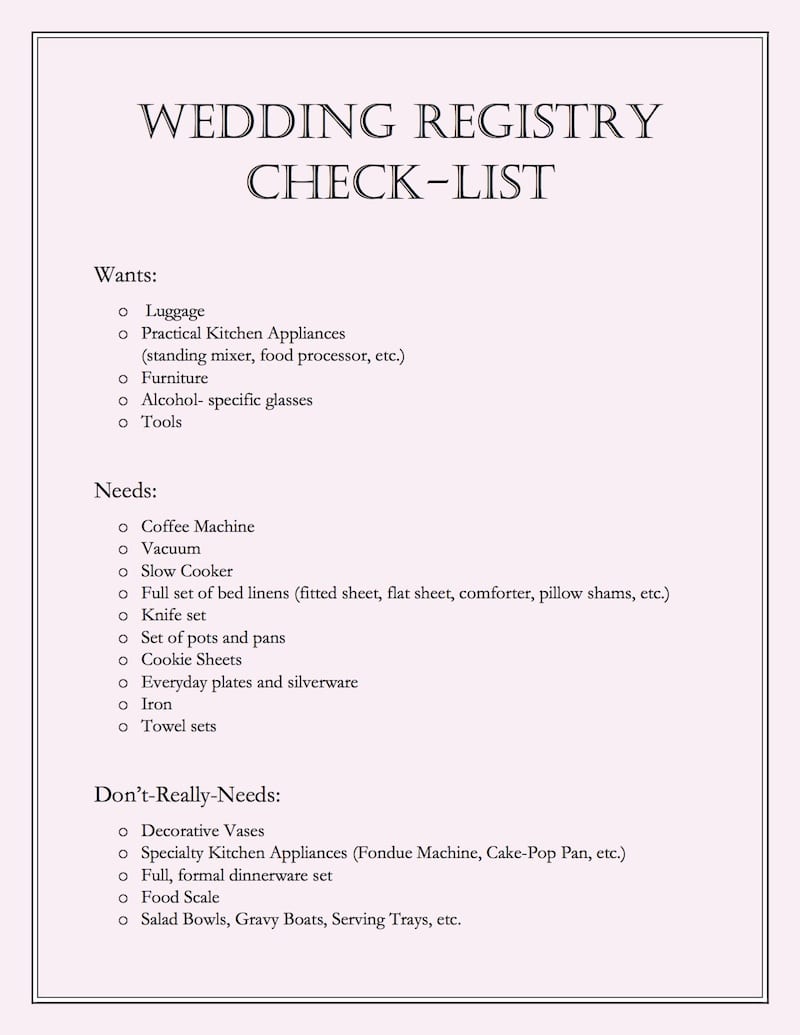 One small note from Heather:
While you certainly don't need 10 decorative vases, it is nice to get some cute decorations for your home on your registry. After the wedding it is much easier to convince your husband that you need to splurge on a set of knives, verses those Pottery Barn pillows that you loved. ;)


Want to create her dream marriage proposal? We have the perfect way. Contact The Yes Girls to get started on your personalized marriage proposal, wedding plan, vow renewal, anniversary or date night today! We're so excited to work with you!