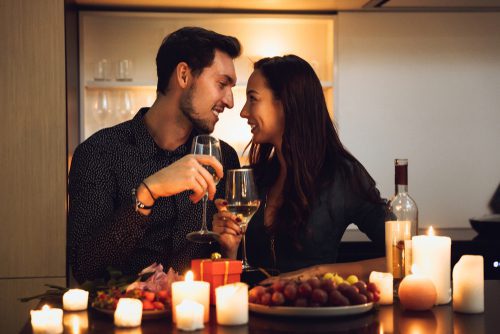 Date nights are a wonderful way for couples to reconnect. But sometimes, between balancing time with hectic jobs and even the complete indecision of where to go out, planning a date night can be a challenge. One solution: Instead of making it a bigger ordeal, take some of the weight off both your shoulders and have a romantic at-home date night! At home-date nights are a great way to remove certain distractions and invite each other to decompress and be themselves, especially in a new relationship. So whether you're married and have been together for a while or are just getting to know one another, here are 12 romantic at-home date night ideas you and your partner are sure to enjoy.
1. Get Dressed Up
Even though you're self-hosting your romantic at-home date night, you can still look stunning! Slip into a casual dress or a fancy kimono-style robe with some lingerie or a sexy bra beneath. Getting dressed up at home can make any night more memorable. Ask your partner to do the same and you'll both feel as if you were transported to a special event or a spa-like retreat.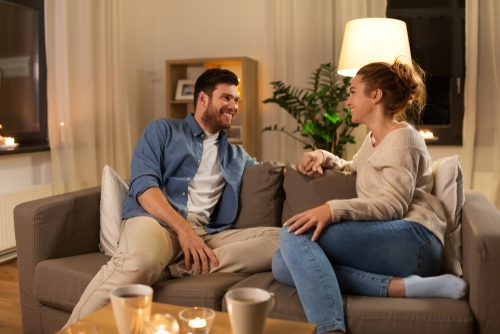 2. Unplug and Engage in Meaningful Conversation
The first step for creating a romantic at-home date night is to unplug and disconnect from devices. There's nothing that disrupts a romantic mood faster than seeing a stressful work-related email or a text message from mom. So put your phones on silent in another room and be present with one another. Date nights are the perfect time to check in on each other and discuss deeper emotions and new dreams and ambitions.
3. Enjoy a Delicious Dinner
Food ignites the senses, so be sure to indulge in a delicious dinner for your romantic at-home date night. Fortunately, there are many ways to do so at home! If you enjoy cooking or baking, break out the wine early and have fun preparing a meal together.
One clever way couples can cook together is to replicate a favorite dish from the restaurant of your first date or a meal from an amazing trip you took. Even if you can't recreate it exactly the way your taste buds remember, it's sure to bring back lots of memories. If you're not much of a cook, you can always order delivery from your favorite restaurant or simply order a pizza. Enjoy eating a meal in bed or lounge about in your cozy robes!
4. Dine Out Al Fresco
Whether you have a spacious backyard or a small balcony, you could also take your meal outside and dine al fresco. Spread out a blanket or even break out a small cafe table and chairs, taking in the fresh air and romantic sunset. After the sun goes down, light some candles to set the mood. Put some ambient music on in the background, or even set everything up with dinner and a movie, breaking out the laptop and streaming something to watch in the background.
5. Try Couples Yoga
Create an open space in your living room or bedroom and try out some couples yoga positions. You can find many couples yoga video tutorials on YouTube. Pick out some comfortable activewear and roll out the yoga mats. Even if only one of you is flexible, it's a nice way to bond over a good laugh.
6. Set Up a Home Spa
Another romantic at-home date night idea is to bring the spa into your own living room or bedroom. Get into robes and light a scented candle or turn on an essential oil diffuser and give each other a deep or relaxing massage. You can even find heavy, smooth stones to create your own hot stone massage. Not only does it soothe aching muscles, but it provides a level of intimacy.
7. Watch Late Night Shows
According to a study published in the journal Personal Relationships, sharing laughter together as a couple improves relationships. So watch late-night shows or some stand-up comedy and share in the jokes. This little trick also helps break the ice during the early stages of a relationship. After time, you begin to understand your partner's unique sense of humor, getting to know them better.
8. Create the Perfect Playlist
Who needs a concert or party when you have your living room? Create the perfect playlist and have your own private dance party. Just remember to mix up the songs and choose everything, even a few that are more sultry and slow.
9. Create Art Together
Grab a sketchbook or an entire canvas and create some art together. Set up a table with still life like a bowl of fruits or create whatever comes to your imagination. Even if neither of you has an artistic bone in your bodies, you can still have a good laugh. You never know what can make for the most romantic at-home date night ideas.
10. Have a Movie Marathon
As you enjoy dinner, you can also watch some movies. Why not make it a double feature or movie marathon and complete that epic trilogy? However, if you and your partner have drastically different tastes in cinema, just be sure to alternate between each other's favorite movies.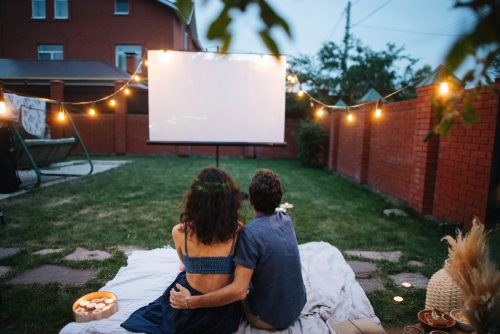 11. Set Up a Projector in the Backyard
While you enjoy your movie marathon, set up an outdoor projector in the backyard and watch movies under the stars. This super romantic idea also complements backyard camping nicely. Spread out some comfy blankets and pillows and break out some popcorn and candy as you cuddle closer.
12. Plan a Future Trip
While many of these ideas are for romantic at-home date nights, as you enjoy each other's company, dream up a faraway future trip. Whether it's a quick weekend getaway like a trip to Lake Tahoe where you check out the best Tahoe restaurants or a far-flung destination, plan a romantic trip just you and your partner can look forward to. Watch movies or shows about the city or country to get ideas and a must-see bucket list going.
It doesn't take a lot of effort to create a romantic at-home date night. An at-home date night can be completely spontaneous, allowing each of you to take off some of the pressure. The point of any date night, after all, is to spend quality time together.
Click here to download The Yes Girls' Date Night Kit  perfect for romantic at-home date night ideas.
About the author:
Carolina Perez works in the sales and marketing department for Leonisa. Carolina recognizes opportunities and turns prospects into clients creating a long-lasting business relationship, and recognizes opportunities to increase brand audience through outreach and influencer marketing. She is passionate about satisfying customers needs and loves to enhance customers' experience. She is a knowledgeable multitasker and enjoys working on new projects.
Carolina loves spending time with her family, enjoys exercising outdoors and super passionate about the fashion industry!