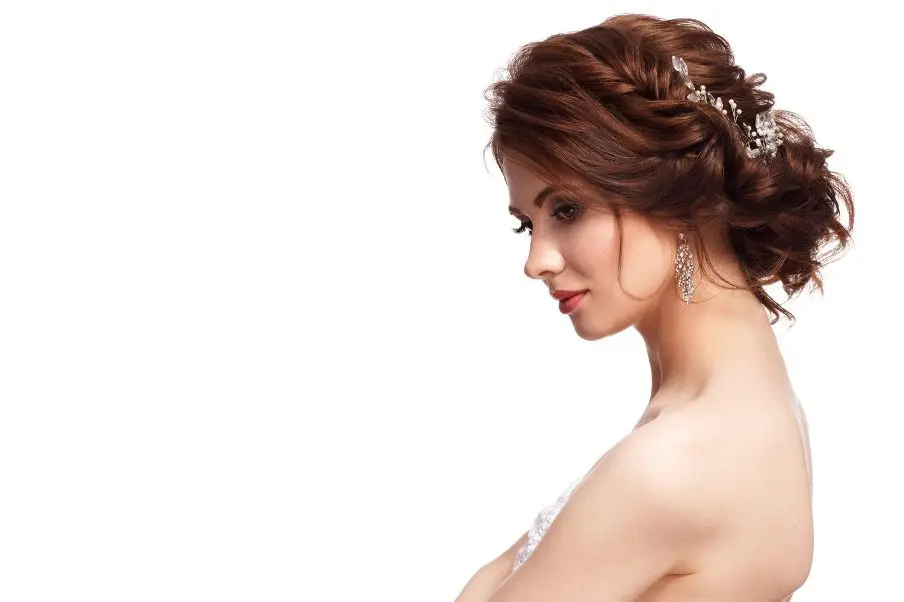 There are many reasons to wear your hair up instead of down for a wedding. These could vary from personal preference to your wedding attire, to the weather and not wanting your hair touching your body. The good news is there is a limitless amount of wedding updos and ways to style your hair that would achieve just that.
From DIY hairstyles like the basic ponytail, to classic and timeless elegance like chignons and French braids. Bangs and face framing tendrils can turn a minimalist updo into a masterpiece. So, whether you'd like to make a bold statement or carve beauty out of simplicity, there are a number of wedding updo hairstyles you can choose from.
Scroll on to discover our favorite wedding updos for every hair length, texture and face shape.
Glam Half Updo
A half updo will give you the best of both worlds. This is especially helpful for brides who want wedding updos but not completely. This updo wedding hairstyle will have your hair out of your face and pinned back, but still have your hair fall behind. It can fall straight or in curls, or even in a braid. If you are used to wearing your hair down but still want it up, this could work for you.
Space Braids
If you'd like to make a statement on your big day with a cool and funky look, then this could be an option. Space braids are a great choice for a casual, bohemian or even Gothic wedding. This bun hairstyle for wedding combines braids with buns in a slightly messy updo. Leave out a few face framing tendrils and you add some elegance to this unique look.
Low and Effortless
Low wedding updos have a romantic look. Something about gathering the hair at the nape that gives it a chic and elegant appearance. Make it loose and non-fussy and it will look even more sophisticated. There is a unique beauty in an effortless and yet intentional wedding hair up do. With a good tie and tasteful hairpins, you can create a slightly messy bun with or without a middle or side part.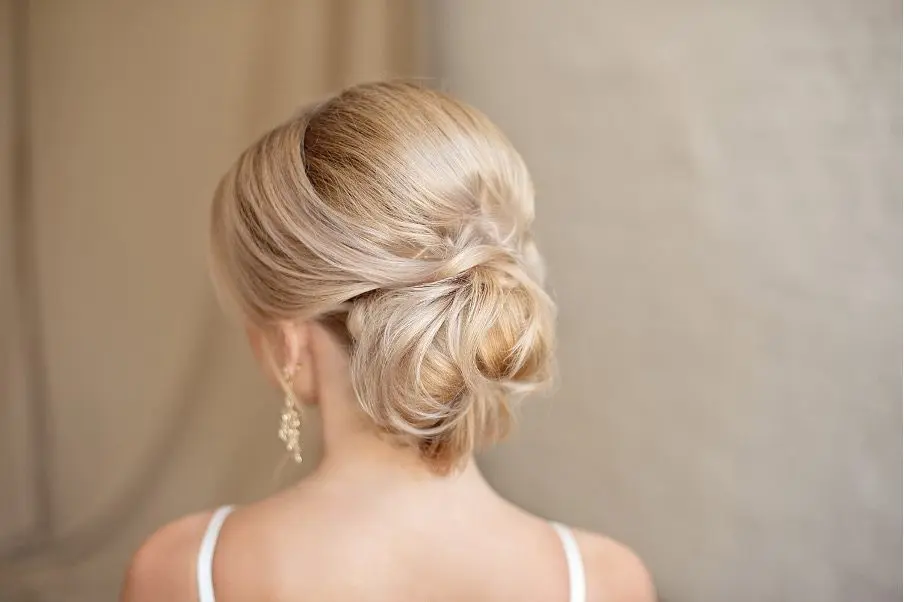 photo credit: shutterstock
High Bun
Another way to make an eye-catching statement is with a sleek high bun. This will give you an updo front and back. Create a minimalist and towering bun in a tight updo that calls for attention. With its high fashion feel, this wedding updo hairstyle can be achieved with sleek straight hair, curly hair, or even wavy locks.
Straight hair however would be best to achieve a sleek look that can be locked in with a freeze spray. Use extensions if you need thicker and longer hair for a more structured bun.
Curly Bangs
Bangs can add some perspective to an otherwise boring wedding updo. If you have naturally curly hair, or would prefer curls for your big day, then this adorable hairstyle is a great option. Curly bangs frame your face in a most elegant way, creating a delicate profile. Pull the rest of the hair into a low or high bun or even a loose chignon and you would've created an effortless and yet chic look for your big day.
French Twist
The classic French twist will always be a great choice for a wedding bride updo. It can be worn messy and effortlessly, or sleek and structured. Either way, it is an elegant bridal hairstyle that looks good paired with most any style of wedding attire.
High Ponytail
Want a simple DIY updo wedding hair that doesn't look so simple? Then try a high ponytail. While this hairstyle is best achieved with bone straight hair, it can work beautifully with a variety of hair textures, including wavy and curly. You can use a hairpiece to achieve a longer or fuller look if necessary. With the use of a flatiron it is sure to look seamless.
Tucked French Braid
Add even more elegance to this timeless bridal hairstyle updo by creating the French braid and tucking it in at the base by the nape of the neck. This style gives the illusion of a braid that has no end, or even beginning. A slightly loose braid, it would look great with wavy, curly or sleek straight hair.
Low Messy Chignon
The ultimate loose updo for a wedding, this hairstyle combines the effortless look of a low updo with the elegance of a messy chignon. A hairstyle that can be DIY'd at the last minute, it can be easily achieved with a blow dryer, flat iron, hair tie and bobby pins. Leave out a few wisps of hair framing the face to finish the exquisite look.
Wavy Pony
Lots of people don't think about ponytails when considering wedding updo styles. This is understandable as a ponytail flows down, but technically, it's still an updo. A chic and elegant one at that. Apart from the fact that it is easy to DIY, there are several ways to style it. Your ponytail can be sleek, flowy with waves, or even curly.
Updo with A Band
Whether you're styling a high ponytail, side bun or messy middle bun, you can jazz up your look with a chic headband. Hair accessories make all the difference sometimes and simple variations like a jeweled, silk or floral headband can make all the difference to your overall look.
Fishtail bun
It can't get more classy than a bun and a fishtail combined. This is perfect if you want a low bun for a wedding. Twirl a structured fishtail into a bun, secure with bobby pins and you're done. Chic and easy, the perfect combination.
Achieve the best wedding updos to fit any type of hair length, texture or wedding attire. Discover the hairstyle that would be perfect for walking down that aisle.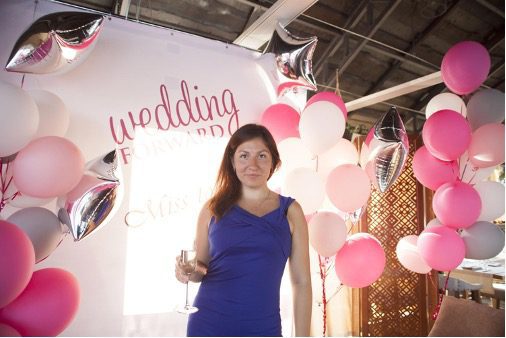 Svitlana is the chief editor and in control of all Wedding Forward content since 2017. She started writing in 2012. She is an expert in details concerning venues, gifts, ceremonies, music, and everything about real weddings. If you want to collaborate with us, send her an email. She spends her leisure tasting dishes, discovering new restaurants, and staying fit through yoga!